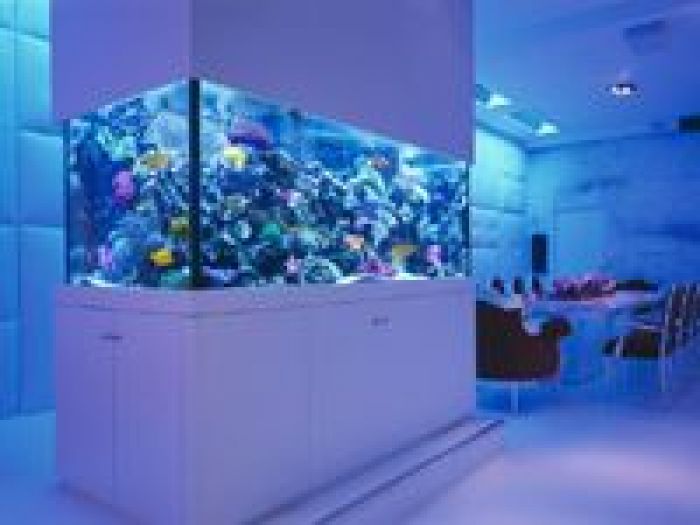 Home Décor:
Founded in New York City in 2002, custom aquarium and pond company Okeanos Aquascaping has announced some exciting new additions to their luxury aquatic services.
Okeanos Aquascaping offers cutting edge designs in their custom built tanks made of glass and acrylic tanks enclosed using wood, brick, granite or stone. For more than 10 years, the company has been integrating their compatible exotic aquarium life statement pieces into luxury homes, commercial entrances and offices, and travel destinations.
The company is now offering customers the unique opportunity to travel the world with Okeanos Aquascaping and pick out their own fish, coral and livestock for Okeanos to replicate and install in a customized environment.
On the five-star experiential vacations, Okeanos customers will have the opportunity to view exotic fish, coral and other livestock in its natural habitats and have Okeanos install a replication in the customer's choice of location, whether it is a private home or office.

The team at Okeanos feature artists with the ability to transform any environment into an exotic aquatic oasis.

Some of their most exclusive projects that can be found within the tri-state area include:

1. In the lobby of 45 Broadway (NYC) resides a 50' wide x 30' long (x 2' deep), 20,000 gallon indoor pond with a waterfall, stocked with more than $30,000 of Grade-A Japanese Koi fish.

2. In the entrance of a building at West 51st St. and 10th Ave. (NYC) is located one of the largest live reef aquariums (10' long) in a public area with a dedicated filter room and an assortment of the most beautiful fish and live coral from different islands around the world.


3. A private home in Southern New Jersey hosts a 7' x5', 550 gallon reef aquarium custom built out of starphire glass and housing some of the most exotic and expensive coral and fish (more than $100,000 worth), which separates the kitchen from the study and is viewable from both sides.

In addition to design and installation, Okeanos also offers their clients maintenance, thanks to their proprietary filtration system, which is hand-built, customized for each aquarium they create.

Most recently, Okeanos had the privilege of installing a one-of-a-kind, 800 gallon, custom-built, glass reef aquarium into a newly constructed private home in Brooklyn, New York for a 20-year aquarium hobbyist.

The $150,000+ project is prominently featured in the family room of the home and contains a live reef, exotic fish and coral. The aquarium contains some of the most beautiful live rock in the world from the island of Kupang.

"We're so excited to have completed this project as it's the largest glass reef aquarium in a private residence in New York City," says Noam Kamelhar, Principal, Okeanos Aquascaping. "We built everything on-site since it was too large to carry into the house. We've built a client's dream -- and given him everything he ever wanted in an aquarium. Everything we did was carefully planned, and executed to perfection."

In addition to offering customized aquariums as well as weekly to monthly aquarium and pond service to the tri-state area and unique luxury vacation opportunities, Okeanos also offers public and private educational seminars about exotic livestock and pond and aquarium environments.

For JustLuxe Carly Zindermann