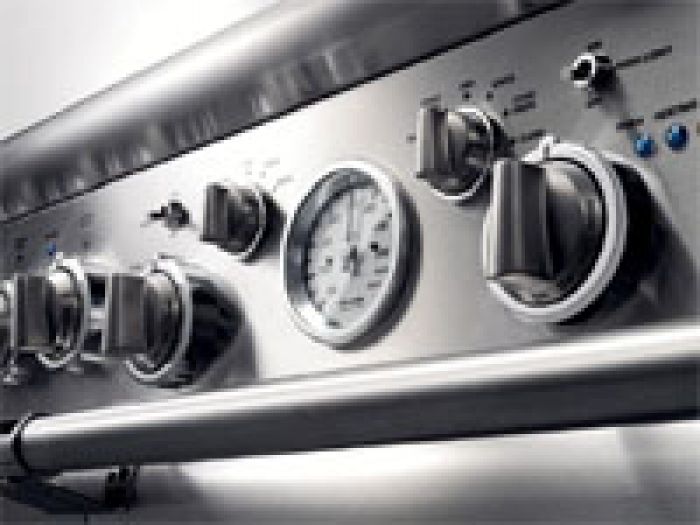 Today, the function of the kitchen has expanded to include not only the preparation of food, but the enjoyment of it and the entertainment of your guests. Thermador has been putting a twist on traditional kitchen appliances for decades, pointing out to the design world that the kitchen should no longer go overlooked, and that your appliances are just as much a part of the look of your kitchen as are your table and chairs.
Founded nearly one hundred years ago by William E. Cranston, the company has undergone several evolutions. From an original focus on manufacturing electric items such as portable and built-in electric room heaters, Thermador produced their first cooking products in the 1930s, allowing them to expand production considerably.
But the 40s is the decade that saw arguably the most influential innovation in home cooking appliances of our time. In 1947, Thermador created the first wall oven with a matching built-in cooktop, which forever changed the way food is prepared at home. Now, Thermador does it again with an array of kitchen updates that are as technologically stunning as they are beautiful.

To start things off, Thermador celebrates its ingenuity and unmatched creativity in the kitchen with the fourth generation of their patented Star Burner. Featured on the Pro-Harmony Range and ProRangetops, the Star Burner is an ingenious alteration of the traditional circular burner.
The burners are now raised, for effortless cleanup, and utilize an increased output for spectacular performance.

Matching the level of graphic impact of the standout Star Burners is the truly eye-catching Sensor Dome Infrared Sensor Technology now available in their induction cooktops. Catering exclusively to the delicate art of cooking, Sensor Dome technology makes mastering difficult tasks and recipes a little easier.

The sensor uses infrared technology to measure the temperature inside a pan and keep it precisely where you want and need it; whether that is frying with the industry's most powerful heating element or simmering for long periods of time. In addition, the unique, induction cooktops feature endless safety measures, such as warning when pots and pans are hot to the touch, turning burners off if they are left on for a long period, and alerting you if there is no pan on an active element.
| | |
| --- | --- |
| But after all the fun of cooking is over, there is always that dreaded, final stage: clean up. Of course, Thermador has thought of this, too. Created specifically with demanding chefs in mind, the Sapphire High Performance Dishwasher has been designed to handle everything from your most delicate tableware to pots and pans that would usually need hand washing. | |
With the Crystal Protection System, which utilizes a built-in water softener to neutralize water hardness, you are safe to wash crystal with spotless, sparkling results.
As a trusted and esteemed brand, Thermador has shown us time and time again just how worthy they are of their high praise, and this August, they have reminded us once more. With technology and a look so unbeatable, we are left wondering: what could possibly be next?
For JustLuxe Kate Prihoda