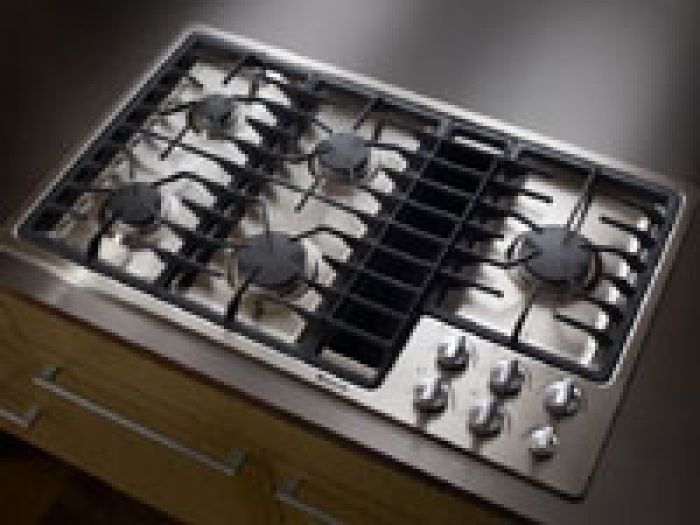 Luxury Kitchens:
Jenn-Air, the luxury home appliance brand that first introduced downdraft ventilation back in 1965, has launched a new collection of innovative wall oven models. The wall ovens are the highlight of a new, high-end line of appliances offered by Jenn-Air and can transform any ordinary kitchen into a place where masterpieces are sautéed, seared, and served.
The new line of appliances feature stylish wall ovens, available in 27-and-30-inch models and include single, double convection, non-convection and microwave/wall oven combinations. Offering advanced LCD touchpad controls the ovensboast some of the most powerful convection elements on the market today. The 7-inch color "touch anywhere" control screen -- the largest in the industry -- provides convenient food-specific convection modes, pan and rack suggestions, as well as the option of selecting temperatures from rare to well done. Additional features include a "no preheat" option and a dual-fan convection element rated at 6,800 watts, which allows the chef to roast evenly on multiple racks in significantly less time.
The line also includes downdraft cooktops with the option of an exclusive duct-free downdraft kit that allows for the high performance Jenn-Air® downdraft ventilation system to be installed in virtually any home, including high-rise apartments and condos, without a major remodel to accommodate ducting; .a built-in microwave drawer that opens and shuts with a push of a button; a fully-integrated flush built-in refrigerator with a 42-inch French door bottom-freezer configuration; and an extremely quiet, reengineered dishwasher designed to reduce water and energy consumption.


According to Juliet Johnson, manager of Jenn-Air brand experience, those who know and love Jenn-Air products will find even more to appreciate with this new collection.

"And those who aren't yet familiar with the brand, and who take the time to compare these products to those of our super-premium competitors, are likely to be converted," said Johnson.

Whether you're a budding chef cooking for a family of four, or a master skilled in the culinary arts, the new high-end line of Jenn-Air appliances promises to make time spent in the kitchen not only more efficient, but also more fun.

For JustLuxe Christina Stewart