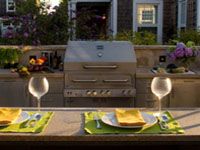 A Passion for Outdoor Cooking
Bringing Gourmet Lifestyle Outdoors Since 1906

Home Décor: Eating brings people together, and as a result the kitchen is often referred to as the heart of the home. Quickly rivaling the kitchen, the outdoor kitchen has, in recent years, gained popularity as the place for families to spend time together, entertain and enjoy their home. This trend has given way to an array of choices for creating an outside oasis to custom fit your lifestyle. Heading the pack of brands that have established themselves as a premier luxury name, Kalamazoo Outdoor Gourmet offers high quality, customization and modern technology in grills, outdoor refrigeration and more. You can find the whole line at KalamazooGourmet.com

Kalamazoo has roots in the sheet metal industry that go back to 1906. Originally producing steel for farming and pharmaceutical purposes, the company maintains a level of quality that meets and surpasses the toughest standards for construction as well as durability. Officially named Kalamazoo Outdoor Gourmet in 2005, the brand is highly recognized by award-winning chefs. Naturally, Kalamazoo is favored for its superior quality, but the innovation offered speaks volumes as well. Offering some of the best in outdoor kitchen appliances, Kalamazoo also offers features virtually unknown in the industry.

| | |
| --- | --- |
| | Leading the pack for innovative products for your outdoor kitchen, Kalamazoo's Hybrid Grill offers the ability to cook utilizing gas, charcoal or wood. Most chefs, both novice and professional, have a very opinionated take on how to grill. For many, it is a craft that incorporates not just flavors and ingredients but preparation as well. The Hybrid Grilling Drawer System offers the utmost in customization, from cooking style to custom cooking surfaces. In fact, when it comes to cooking surfaces, owners have the choice of combining different patterns designed for preparing specific foods; they can even have a custom design cut out. The "Meat" pattern offers the widest slots, while the "Fish" surface has the smallest, providing more |

contact surface. There is also a "Vegetable" pattern that allows cooks to grill their veggies without fear of them falling through. Each surface is cut from solid slabs of ?" stainless steel. Cleaning couldn't be easier, as every Kalamazoo product is the highest grade stainless steel; feel free to simply hose it down.

A brand known for its exclusivity and wide array of products, Kalamazoo Outdoor Gourmet takes pride in helping their clients create the ultimate outdoor kitchen. Unlike many manufacturers that use seals around their outdoor cabinets, Kalamazoo offers seamless rain gutters, simultaneously channeling rain water away from cabinet openings and offering protection from mold. Every cabinet or drawer is designed to protect items like fine linens from the outdoors. Anything you feel comfortable keeping in your kitchen is just as safe in your backyard.

A variety of refrigeration products are also available, offering more cooling power and less energy consumption than other major brands like U-line or SubZero; they are manufactured by industry giant, Perlick. Perlick is known simply as the best in the culinary world, outfitting establishments from fine dining institutions to sports stadiums. Refrigeration options include wine chillers, beverage centers, drawers, keg tappers – that can accommodate up to three kegs - and combo sets.
 

When it comes down to it, Kalamazoo Outdoor Gourmet offers the absolute best in outdoor kitchen products. Everyone has different wants and needs for their ultimate backyard environment and Kalamazoo caters to each individual to create a customized and unique space. >From pizza ovens or smoker boxes to grill accessories, the brand offers everything you need to create the perfect setting in which to relax, entertain and enjoy your backyard.

Of course, you needn't take our word for it. In speaking of his own Kalamazoo Grill, James Beard Award-winner and Top Chef Masters Winner, Rick Bayless stated, "I may never cook indoors again."

Inspired? The Kalamazoo Website offers an Outdoor Kitchen Design Checklist to get started. Visit KalamzooGourmet.com to begin building the outdoor kitchen of your dreams.

For JustLuxe Courtney Driver