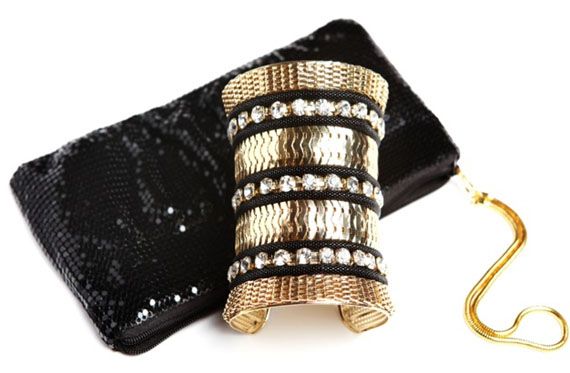 JustLuxe has jewelry on the brain this season and for good reason. Sparkly statement pieces like oversized cuff bracelets, bold pendant necklaces or flashy cocktail rings can dramatically transform an ordinary outfit into something incredible.
It's a quick fix for a girl on the go and an easy solution for lifting spirits and inspiring nods of approval and compliments from strangers wherever you go!
Want to add some sparkle to your
summer style
? Look no further than Australian jewelry designer Chrissy L for glittery costume jewelry that lends a fabulous dose of luxe to any outfit. Designer Chrissy Leighton is a fashion-forward Aussie with an eye for style. She initially designed jewelry with a hopeful purpose — to dress her mother in her designs once she beat cancer — and she did just that!
Quickly thereafter, Leighton found a strong following of friends, associates and socialites clamoring for her unique pieces and the Chrissy L line was born. From slinky metal chain necklaces to jewel-encrusted rings, Chrissy L jewelry flaunts trendy details with eccentric design.
There's a piece in her sizable collection that every woman can appreciate. The line has been seen on stylish celebrities including Tina Fey, Shontelle, Melanie Brown, Amber Lancaster, Jennifer Lopez, Rihanna, Britney Spears and Eva Longoria, just to name a few! If that's any indication, it seems safe to say that Chrissy L sparkly stunners are certainly star-worthy.
Her current 'Impossible Princess' collection for spring/summer 2011 exudes a new direction for the label — a luxurious bohemian vibe fused with glitz and glamour for the posh jewelry aficionado. A quick glance at this collection and you'll be dreaming up tropical weekend getaways and exotic outfits to accessorize with. Having spent considerable time traveling around the world, Leighton shows those global influences in her pieces.
"The color palettes across the pieces play with the staple colors my clients have come to love. This season we used vibrant turquoise, coral, yellow, white, browns, creams and black mixed with the customary Chrissy L bling and a dash of boho luxury," the designer explains.
"From vintage shopping in New York, to living the glam life in Los Angeles and spending time in a hectic pace like Hong Kong, I really captured a wide range of moods in my collection. Each place really influenced parts of this collection. The pieces are almost diary entries in my travels abroad this year!" Leighton explains proudly.
Chrissy L ranges from $80-300 and is sold at fine retailers including Neiman Marcus, CUSP, Nordstrom, Fred Segal Santa Monica and online at www.chrissyl.com.
And because we're exceptionally smitten with Chrissy L, we've arranged an exclusive giveaway for JustLuxe readers! We've got three Obsession Cuff Bracelets (comes with a fabulous glomesh bag pictured above) up for grabs for three lucky winners.
To enter our glamorous giveaway simply 'Like' Chrissy L on Facebook
HERE
and answer the following question on their wall:
What's your dream piece of jewelry?
Tell us about an inspiring piece of jaw-dropping jewelry you either own or would like to own and what sort of stylish ensembles you would pair it with. Get creative, it'll pay off. JustLuxe will pick the top answers and gift the winners brand new Chrissy L bracelets — just in time for summer!
Enter now!
Comments must be recieved by June 3, 2011 11:59pm EST, winner will be notified by June 7, 2011.
Terms & Conditions