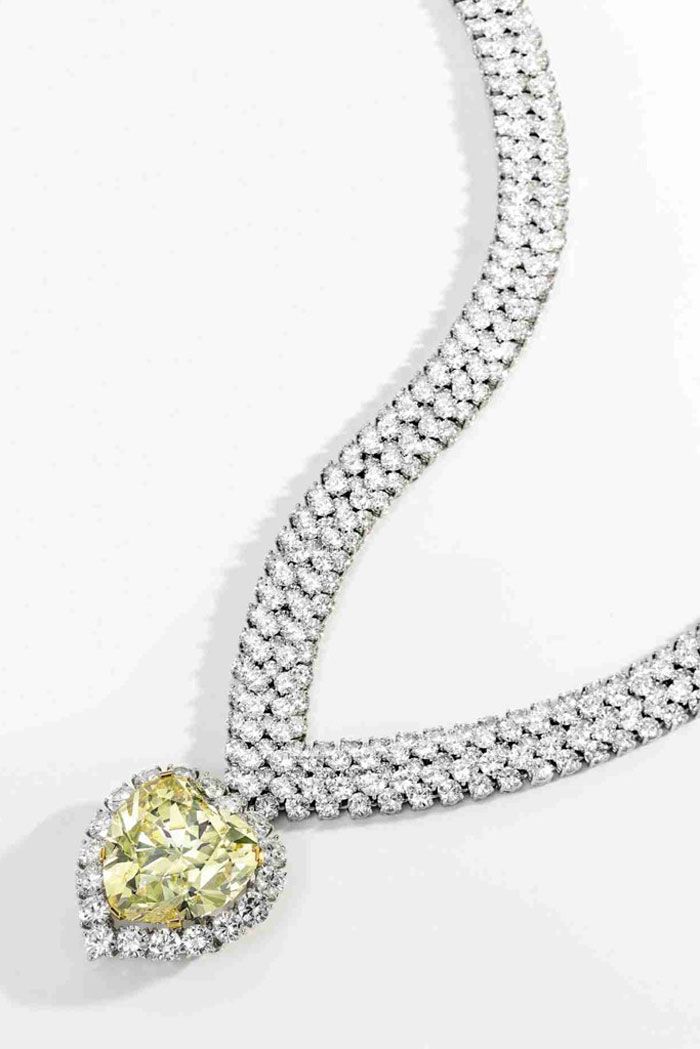 Photo Courtesy of Sotheby's
Makeup maven and businesswoman Estée Lauder was perhaps one of the most driven and successful women of her time, co-founding her eponymous namesake cosmetics company along with her husband Joseph Lauder. This multifaceted woman also holds the special distinction of the only woman on
TIME Magazine's
1998 list of the 20 most influential business geniuses of the 20th Century. While Lauder may have been hard-hitting when it came to the business world, she most definitely had a soft spot for delicious
luxury accessories
and beautiful baubles.
Estée Lauder's mammoth 47.14-carat fancy intense yellow diamond that had been privately purchased (most likely through her lawyer, Maître Suzanne Blum in Paris) from her friend, the one and only Duchess of Windsor, is certainly a testament to her exquisite taste. Originally worn as a ring by the Duchess, in 1978 it was refashioned for Lauder by Van Cleef & Arpels (renowned for their expertise in precious stones) in New York as a diamond pendant necklace.
This jaw-dropping, heart-shaped stunner will be one of more than 35 dazzling jewel pieces that together are estimated in excess of $13 million, and will be auctioned by Upper East Side auction house, Sotheby's, as part of its Magnificent Jewels auction in New York on December 5th.
Seeing as philanthropist, daughter-in-law and later Senior Vice President of the Estée Lauder Companies, Evelyn Lauder, has been credited for making the pink ribbon a symbol of breast cancer awareness, proceeds of these gorgeous gems going under gavel will appropriately benefit The Breast Cancer Research Foundation (as do many of her auctioned goods.)