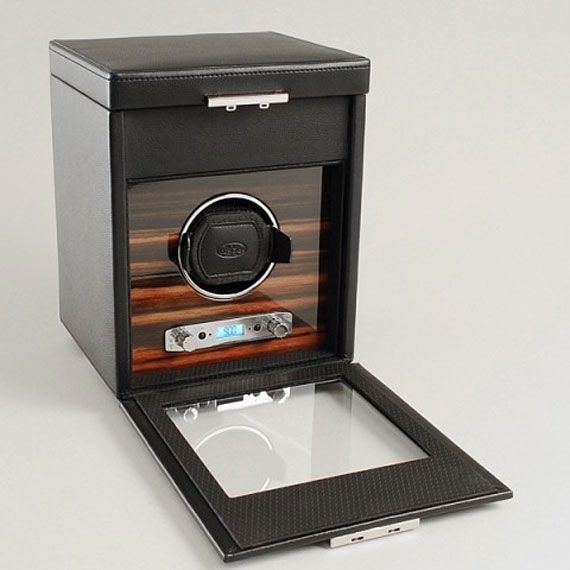 Photo Courtesy of Wolf Designs
You can't wear your Rolex and Breitling at the same time. Well, you could, but it might be a little excessive to wear more than one
luxury watch
at once. While sporting your model of choice out on the town, make sure that the rest of your collection is being well-cared-for at home with a luxury watch winder.
Wolf Designs
Meet Wolf Designs. The brand specializes in watch winders and has created an entire line of gorgeous versions so you can leave your worrying behind. Simply place your timepiece in one of these beauties like the Roadster Single Watch Winder with storage and you will know it is in safe hands while you're away.
Wolf Designs
The Single Module 2.7 Watch Winder is made of solid wood encased in a textured material complete with black pebble finish and deep padding. The faceplate has an exotic wood veneer while the exterior hardware is made of shiny chrome. Place the watch inside the new cuff, which will then lock into the rotator drum to ensure it is securely in place.
Wolf Designs
While this sleek unit is winding your elegant timepiece, it can also house up to three additional quartz or automatic watches in the additional storage compartment. We love how the display screen powers on and stays lit for 20 seconds when control knobs and buttons are being utilized or when the chrome plate is touched.
Wolf Designs
As for rotations? You can set the winder anywhere from 300 up to 1,200 rotations and even double the turns per day if it is set on bidirectional. Just turn the knob to the "on" position and the LCD screen will illuminate with rotation settings (which can be selected in increments of 50) by pressing the "+" or "-" buttons. While we prefer to run the unit on the included 3.3V adapter, there is also an option to use D-cell batteries if you plan to be on the road for a long period of time.