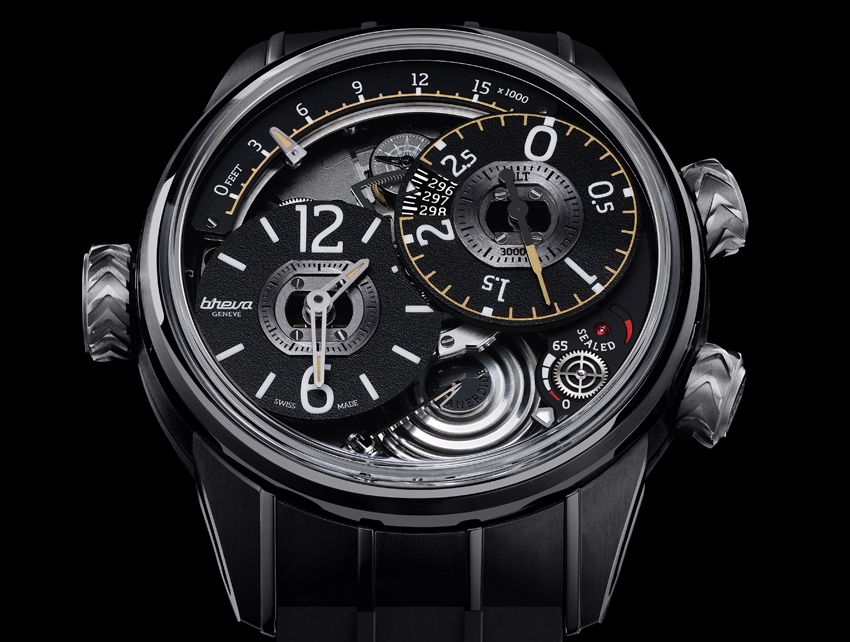 Photos Courtesy of Breva
Calling all the Richard Bransons of the world, Breva has released a new timepiece just for you. To combine your love for adventure and luxury, the Swiss brand has created the Génie 02 Air, a unique blend of both functional altimeter and handsome watch that will cater to even the most discerning thrill-seekers. Whether you spend your weekends skiing in the Alps, jumping out of planes—or just want people to think that you do—you'll probably want to check this new piece out.{start-jlvideo}1687,640,361,thumb{end-jlvideo}
Released for Baselworld 2014, the Génie 02 Air is a unique and, let's be honest, fairly manly looking timepiece. In a black titanium casing, the multiple dials and markers display both time and altitude—using barometric pressure to calculate elevation from sea level to Switzerland's highest peaks. Through the use of a small air valve (that must be open to accurately indicate altitude), two aneroid capsules are placed at the base of the dial to register air pressure and give back accurate readings. For those who have a penchant for aviation, the altitude of some of the world's most popular airports are engraved around the perimeter of the case back including Sydney, New York, Tokyo, Kuala Lumpur, Geneva, Dubai and Paris, for easy readings.
Developed by Breva, the aneroid capsules inside the watch were created specifically for wristwatches and are repeatedly exposed to both high temperature and pure oxygen for extended periods of time to "maximize thermal conductivity and oxidation resistance." And while all this fancy science might tempt some daredevils to spontaneously base-jump off of cliffs for fun, it's probably best to make sure you've double checked your altitude first. Since the Génie 02 Air makes its calculations based on atmospheric pressure, variables such as weather can affect the readings, and should be calibrated beforehand at a known altitude with a known pressure—just to be safe.
With all the cool stuff you can do with this watch, it's pretty easy to forget how awesome it looks, and generally speaking, people are going to be a lot more interested in watching you perform the chicken salad on your snowboard (it's a real trick—we looked it up) than the accessory strapped to your wrist. But you will notice, and that's why it's important that this timepiece has a little style. Housed in black titanium, the watch features a 44.7 mm face, sapphire crystal casing on both the back and front displays, and indexes and numbers in three-dimensional Super-LumiNova. The altitude corrector sits at two o'clock, the air valve at four o'clock and the winding setting crown at nine o'clock. Water resistant up to 30 meters, the Génie 02 Air also comes with a natural rubber strap with attitude scales available in either metric or imperial measurements. Entirely Swiss made, this timepiece has been limited to 55 pieces and is priced at $132,000.