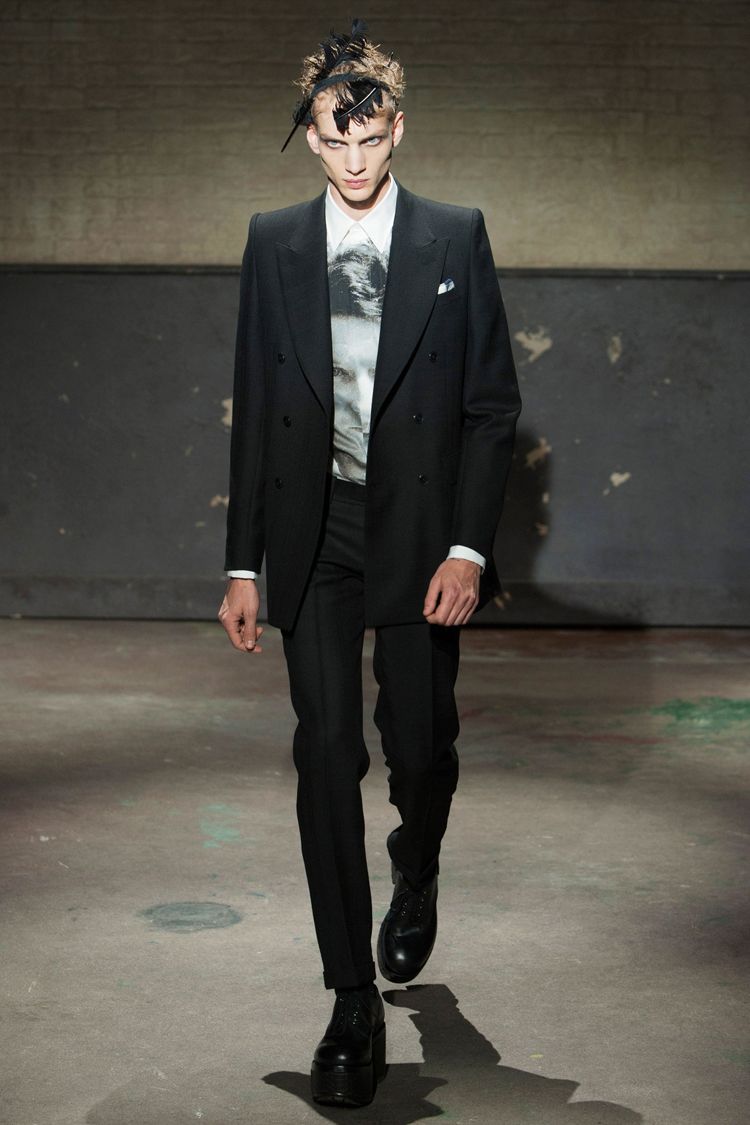 Photos Courtesy of Alexander McQueen
Despite heavy facial prints, scrappy feathers and knee-skimming, pleated kilts, the men of the Alexander McQueen Fall 2014 runway looked high fashion in the dark way that we've come to expect from the British fashion house. Hosted in London at the Welsh Chapel, the collection was designed by creative director Sarah Burton as a way of tapping into the past, channeling a time of melancholy and rebellion seen through a monochromatic palette and elements of British punk.
Heavy with long coats and pants in hues almost consisting entirely of black, each piece is well tailored and could easily hold its own as a statement in any wardrobe. Styled together, plaid kilts, pants and blazers were overwhelming, especially in pink hues, but somehow worked in the overall aesthetic of the show, giving a fun rock'n'roll edge to a collection that for the most part maintained a somber attitude.
Coats, shirts and blazers are imprinted with images of John Deakin's photographs of Lucian Freud and Oliver Bernard, while others bare lines from Bernard's poetry, giving the collection a more spiritual effect, making it more meaningful than pure teenage angst and melancholy. It made each model a rebel with a cause.
The dramatic trenches, three-piece suits and double-breasted coats are very angular both in form and design; some pieces visualize this geometry through the use of patterns including tartan, gold stripes and large square prints. As a whole the line feels ominous; an esoteric collection meant to be worn and appreciated by fashionable young men with reasons for disobedience and discord.