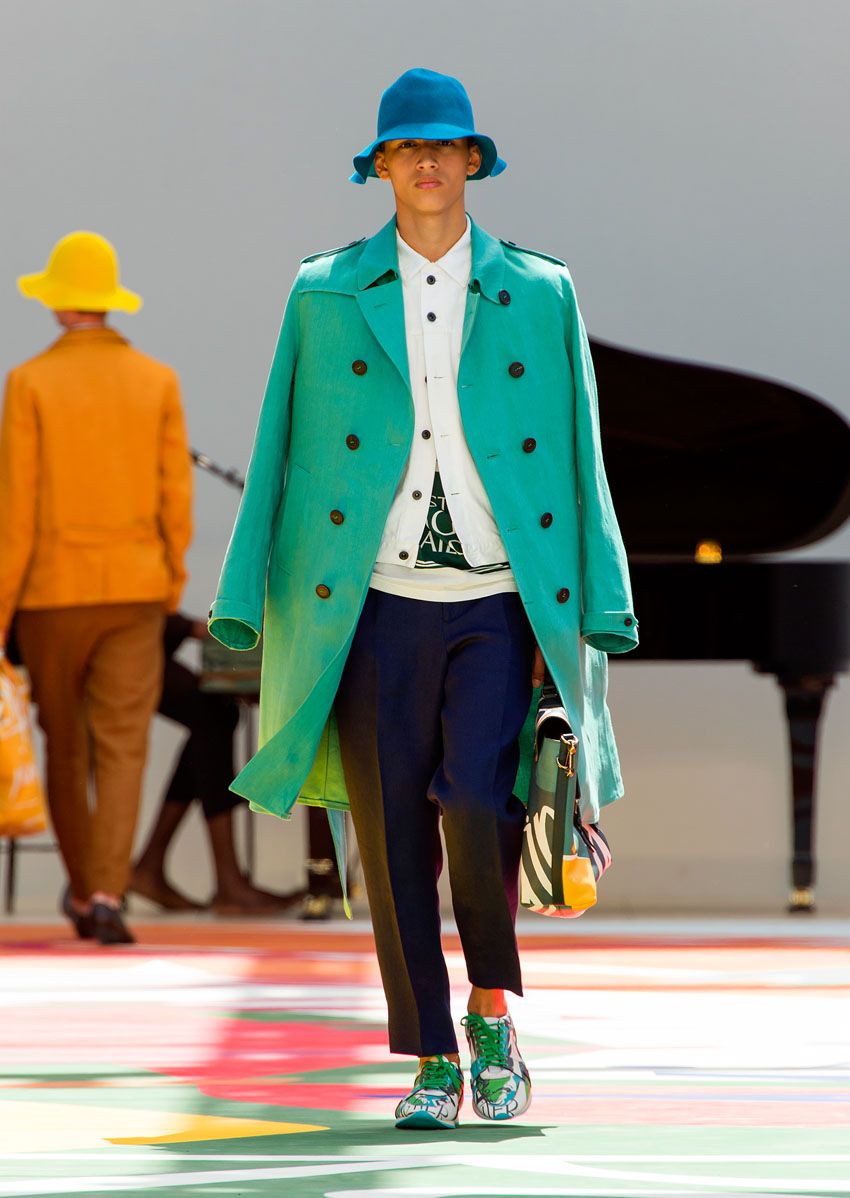 Photos Courtesy of Burberry
Taking the idea of spring to heart, the men's Burberry Spring/ Summer 2015 runway collection was an explosion of colors inspired by novelist and travel writer Bruce Chatwin. Playing off this artistic and literary idea—similar to the women's "Bloomsbury Girls" collection—the lineup included jewel-toned coats, floppy hats and handbags that could put any woman's closet to shame. In the vein of a true Burberry show, it was more of an event than a catwalk, complete with live music, celebrity attendance and integrated social media shopping.
Titled "Book Covers & Bruce Chatwin" the collection was a bright cluster of color, illustrations and prints, many of which were busier than most men could pull off in one outfit. The more demure looks from the beginning of the show, were much more wearable with solids in muted greens, deep blues and soft plums that are beautiful for the transitional periods between winter and spring, and summer and fall. As dark shades made way into brighter, lighter tones, the collection became distinctly summer with casual khakis, soft cardigans and lights layers that seemed perfect for the mid-June day.
Looks were well-tailored, yet casual and kept a definite air of summertime bliss about them. Jackets varied in length from short to calf, and pants were all cropped or cuffed, letting their brightly colored sneakers peek out from underneath. Everything was loose, but while other labels have been sending oversized monstrosities down the runway, Burberry steered clear of ill-fitting and settled on relaxed. Basically, we could imagine spending a day with these guys in the park, letting them read to us while we idly sipped on a glass of wine.
Speaking of sitting on a sunny lawn and spending time with good-looking men, A-list celebrities were in attendance including office-favorite Tom Felton, who was looking irresistible in a leather Burberry jacket. Other celebs included fellow actors Sam Reid, George MacKay, Joe Dempsie, Bolin Chen, Engin Hepileri and Raymond Lam; British musicians Tinie Tempah, Dan Gillespie Sells, George Craig and George Barnett; model Jourdan Dunn, producer Al Turki, and British presenters and DJs Greg James and Nick Grimshaw. Playing for the show and star-studded crowd was Will Joseph Cook, whose soulful music gave beauty to the designs on the runway.
Always a leader in blending tech and fashion, Burberry partnered with Twitter for a more integrated experience where followers were sent calendar reminders about the show, sent gallery-card photos so users could view multiple designs at once, and of course hosted the video for fans to stream live worldwide. For one week outerwear and bags are available for preorder (until June 24) and are handmade and personalized with nameplates—plus early shoppers will have their hands on the collection within nine weeks—long before other fashion lovers can get these pieces. We're not going to tell you what to buy, but getting your hands on one of these book bags might not be such a bad idea—we'd steer clear of those bucket hats though.