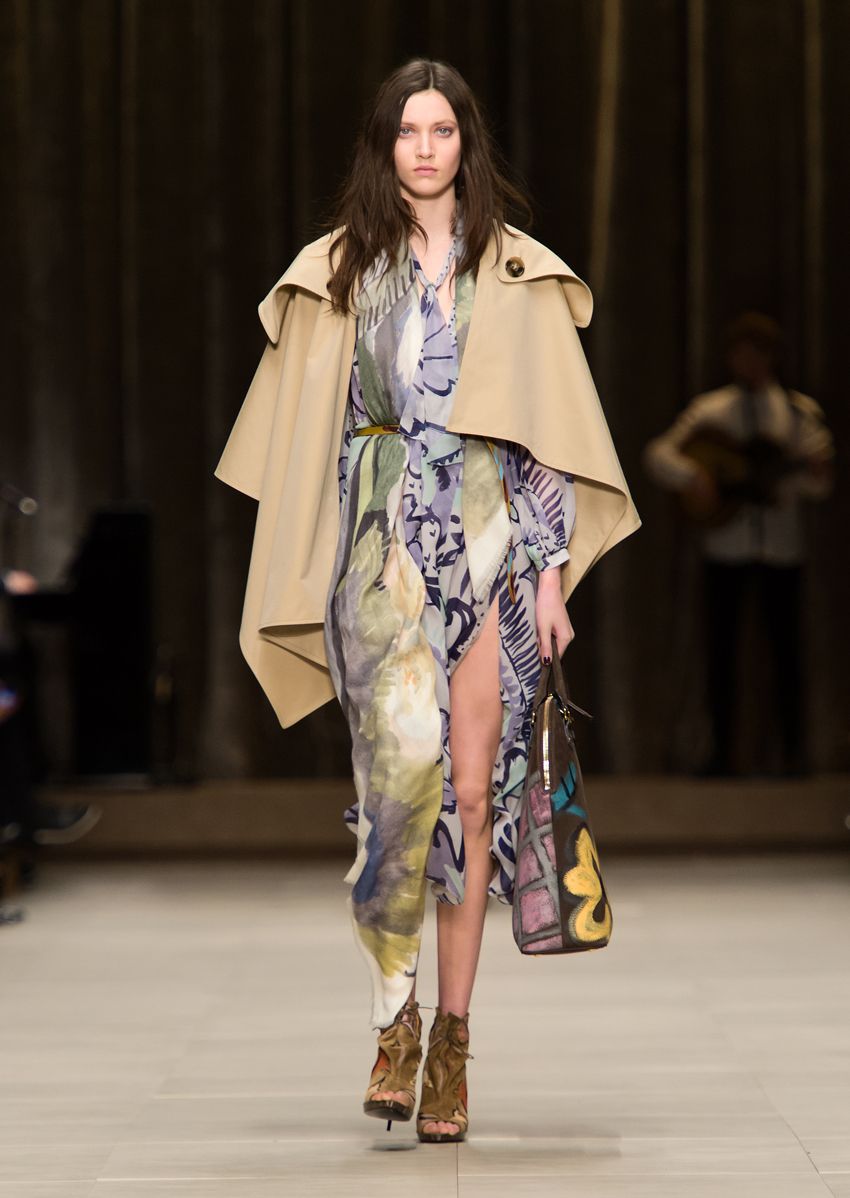 Photos Courtesy of Burberry
The Burberry Prorsum Fall 2014 runway during London Fashion Week was a beautiful, transitional collection that moved seamlessly between summer, autumn and winter. The artsy vibe of the Burberry Men's Fall 2014 collection was mimicked in the watercolor prints, bright scarves and hand painted bags that ran through the women's line. The silhouettes and colors were distinctly feminine with nipped-waist coats, belted shirtdresses and layers of material that looked delicate instead of frumpy.
Titled The Bloomsbury Girls, the show called upon the influence of the Bloomsbury Group which included writers, philosophers and artists like Virginia Woolf, E. M. Forester and Duncan Grant.These intellectuals were Christopher Bailey's inspiration for the collection, along with the Bloomsbury estate, with this showcase marking the beginning of the partnership between Burberry and the Charleston Trust, in hopes of protecting the cultural landmark.
A large portion of the collection is hand painted, with relaxed silhouettes and accessories that include ponchos, blankets and The Bloomsbury bag. English-woven cotton gabardine, hand-painted leather, silk and suede gave the collection a layered, transitional look, as if these women were too focused on their own intellectual undertakings to be bothered with anything more than throwing on a blanket when autumn came.
Our favorite thing about the collection, aside from the heartfelt inspiration, was how everything moved. It didn't just come down the runway—it floated, it swayed, it practically danced around the models ankles in a way that made them seem like they were pulled from a romance novel—nothing moves like that. Even if you aren't a fan of these artsy, pastel prints (but how could you not be), these dresses will make you feel like the heroine of your own love story.
We love the direction of the brand; from Spring 2014 to this current collection the colors are consistent and this lineup moves well through each season. These pieces are meant for layering and combining with one another in a way that doesn't look overdone. Plus, all the accessories including the monogram blankets are already available online, which is perfect because we're not patient enough to wait until fall to grab these throws.