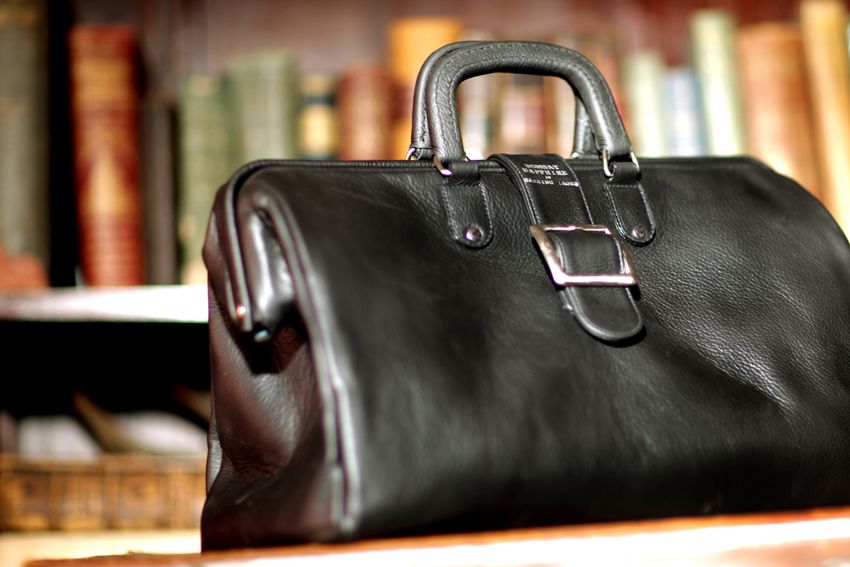 Photo Courtesy of Barking Irons
You know that moment when you find a new store you love and almost want to keep it a secret because it's just that awesome? That's kind of how we feel about Barking Irons. The brand has a pretty cool cult following among celebs like James Franco and has that don't-give-a-damn attitude you likely haven't rocked since college. There's band tees, peacoats, relaxed polos and the most awesome bag we've ever seen for a guy. Hear us out—seriously this is not a murse by a longshot, and will probably impress your friends with the manliness of it all. It's right up there with well-groomed mustaches and chest bumps during the Superbowl.
On the outside this bag channels 19th century doctor's satchels with a soft pebbled leather and stainless steel hardware, and on the inside—wait for it—a fully stocked bar kit. Impressed yet? Bombay Sapphire and Barking Irons teamed up to create the ultimate man-bag that comes fully equipped with everything you need for a night with the bros—bar spoon, paring knife, juicer, muddler, Japanese strainer, ice pick, jigger, traditional strainer, shaker and glass. Gin not included.
OWN IT | $495