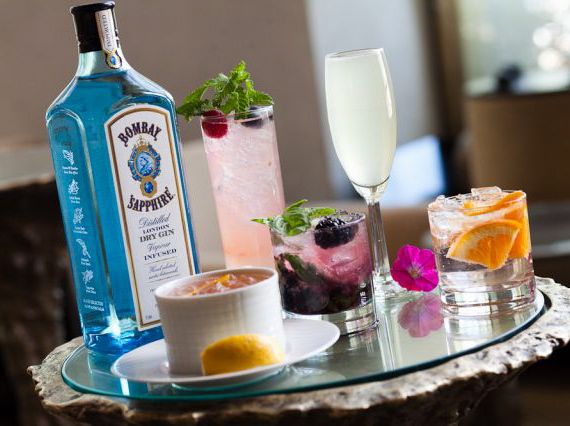 Photo Courtesy of Bombay Sapphire
In honor of its 250th anniversary, Bombay gin is partnering with fellow famed British heritage brand Cunard on a new
collection of cocktails
featuring Bombay Sapphire. The collaboration is also timed to coincide with the birthday month of Queen Victoria, who graces the distinctive blue Bombay Sapphire bottle.
The captivating cocktails will be available aboard the Cunard liner bearing her name as well as the flagship
Queen Mary 2
and
Queen Elizabeth
. The signature offerings include The Queen's Bouquet, an homage to the myrtle customarily used in the royal wedding bouquet since Queen Victoria's marriage in 1840.
This cocktail is among a few that are exclusive to Cunard Line's Commodore Clubs, elegant lounges featuring a nod to Cunard's maritime heritage with sweeping views over the bow. Here guests may also enjoy a Bombay Sapphire version of afternoon tea on the high seas with the Sapphire English Tea or The Middleton Fizz named for the Royal Family's newest member.
Additional royally-inspired cocktails will be available in the ships' other bars and lounges and will feature a touch of playful lavishness. As a nod to Kate Middleton's sapphire engagement ring, there's The Royal Sapphire, while the Windsor Tonic is more in Prince William's line.
With a unique combination of 10 hand-selected botanicals from around the world, Bombay Sapphire is created using a signature vapor infusion process that imparts a refined and perfectly balanced taste. Here's a sampling of the regal recipes available exclusively in the Commodore Club:
The Queen's Bouquet
Ingredients:
1.5oz Bombay Sapphire gin

4 mint leaves

3 basil leaves

4 blackberries
1/2 oz honey syrup

Muddle all and build/stir through with cracked ice in a stemmed rocks glass. Garnish with a blackberry and sprig of basil.


Sapphire English Tea



Ingredients

1.5oz Bombay Sapphire gin
1/2 oz earl grey infused Honey Syrup

Dash of angostura bitters
Orange zest

Muddle orange zest and stir all with ice in a Boston glass. Serve over one large ice cube in a tea cup. Garnish with a wedge of lemon on the saucer.


The Middleton Fizz


 Ingredients

1.5oz Bombay Sapphire gin
1/4 oz Benedictine liqueur
1 teaspoon of sugar substitute

1/2 oz fresh lime juice
4 blueberries
3 raspberries

Shake all with ice and serve in a Collins glass over ice and top with Prosecco. Garnish with assorted berries and mint sprig.

See our picks for Best Fine Spirits