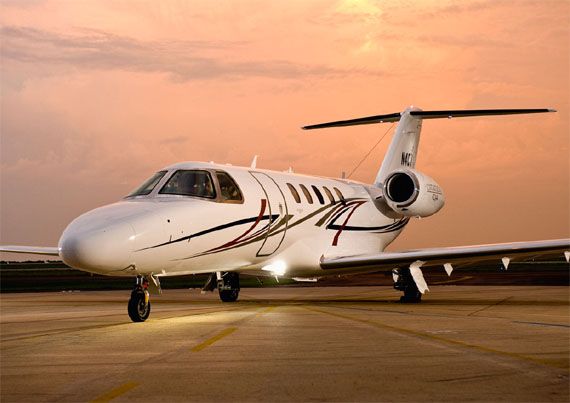 Photo Courtesy of Cessna
With nearly 200,000 satisfied customers, Cessna is the world's top manufacturer of business jets. The Cessna Citation line of aircraft is the most popular private jet globally. There currently are eight models in the skies.
Since we recently spoke with
Steve O'Neill, the founder and CEO of CitationAir by Cessna
, the firm's private aviation company, this seemed like the perfect time to show off the entire fleet of Citation models.
Citation X
The first Citation X was delivered to PGA-golf pro Arnold Palmer in August 1996. The eight-passenger private jet, which is powered by two Rolls-Royce AE3007C1 engines, has a nautical-mile range of 3,070 miles and travels at more than 600 mph. One year later the Citation X had already reached one million flight hours.
Citation Sovereign
The delivery of the first nine-passenger Citation Sovereign occurred in September 2004. Bringing it to the market was a six-year process, as the Sovereign was first introduced in 1998. The plane's range is 2,847 nautical miles and its maximum speed is 527 miles. It has a Honeywell Epic avionics system and two Pratt & Whitney PW306C engines. One hundred were sold by November 2006.
Citation X LS+
The Citation XLS+ came to the market rather quickly, as it was announced and first flown in 2007. The XLS+ was on the market in 2008. Its range is 1,858 nautical miles and the top speed of the aircraft is 440 knots. Twin Pratt & Whitney PW545C engines provide the lift and the avionics system is a Collins Pro Line 21.
Citation CJ4
The Citation CJ4 flies like a big jet but is as cost-effective as a smaller lightweight model. It is luxuriously spacious and comes equipped with the Venue Cabin Management System, which along with climate control includes XM Radio and Blu-Ray DVD capabilities. Its nautical range is approximately 2,000 miles and it has a maximum speed of 501 miles per hour. Two Williams FJ44-4A engines and a Collins Pro Line 21 avionics system power and control the eight-passenger jet.
Citation CJ3
The Citation CJ3, which was delivered in December 2004, had reached 100 units sold by August 2006. The six-passenger jet features a Collins Pro Line 21 avionics system and two Williams FJ44-3A engines. It has a maximum speed of 480 miles and a range of 1,875 nautical miles.
Citation CJ2+
The Citation CJ2+ was first announced in 2004 and was delivered in 2006. The seven-passenger CJ2+ has a Collins Pro Line 21 avionics system and two Williams FJ44-3A-24 engines. It has a maximum speed around 480 miles per hour and a range of 1,613 nautical miles.
Citation Mustang
The Citation Mustang was first announced in 2002. The first Mustang was delivered in April 2007. Forty-six of the four-passenger jets were sold by year-end 2007. Two Pratt & Whitney PW615F engines and a Garmin G1000 avionics system enable the aircraft to reach a maximum speed of more than 390 mph and to have a range of 1,150 nautical miles.
Citation CJ1+
The five-passenger CJ1+ made its first flight in 2004. Fifty-nine planes were moved by year-end 2007. The range of CJ1+ is 1,300 nautical miles and its top speed is 448 mph. It has a Collins Pro Line 21 avionics system and two Williams FJ44-1AP engines.
For more information, visit
Cessna.com
.