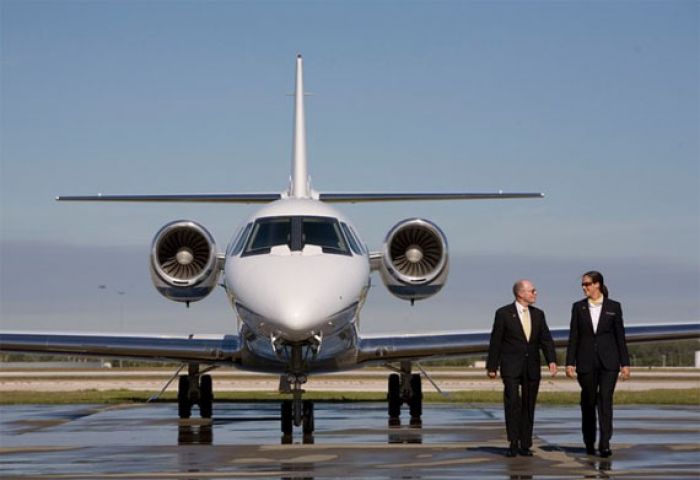 Photo Courtesy of CitationAir by Cessna
Steve O'Neill, the founder and CEO at
CitationAir by Cessna
is optimistic about the future of private jet travel. The company announced that it is expanding its services in Europe and the Middle East. The firm also recently invited back to work all pilots it had furloughed in 2008 due to the economic conditions. The private airline, which is owned by Cessna, the manufacturer of the world's top selling line of business jets, is thinking forwardly.
It has been that way since its launch in 2000. CitationAir has won the coveted Robb Report Best of the Best award for a
private jet
travel company an unprecedented seven times. However, despite all its success, the outfit in 2009 opted to launch a new business model and changed its name to CitationAir from CitationShares. While it would seem risky to change what is currently working, it is apparent that the company's mission to remain at the top is an ever-evolving process.
Steve O'Neill recently chatted with JustLuxe about CitationAir's new flight patterns and his views on the private aviation industry.
JL (JustLuxe): So, is business back to the same level it was prior to the recession?
SO (Steve O'Neill):
We have seen a resurgence and business is coming back. I don't think we'll get back to the levels of early 2008 so quickly, but we are seeing the return of individual private travel along with business travel. We did see the sales of many of our products increase markedly in 2010, as well as a reassuring increase in hours flown on our fleet.
JL: Which part of CitationAir was affected most, business or leisure traveling?
SO:
Considering our business is largely split 50/50 between individual and business travel, both segments were about equally impacted. It's not always easy to distinguish between the two; we oftentimes have customers who purchase an aircraft for their business but also use it for personal trips.
JL: Is business travel the largest part of the business?
SO:
Our products and services appeal to both business and leisure travelers. But, given that our products offer efficiency, time savings and convenience, we largely appeal to the busy business executive for whom time is money and getting there and back in the most efficient manner possible makes good business sense.
JL: From the launch of this company in 2000, Citation is a seven-time winner of the Best of the Best award from the Robb Report. So, what prompted the revised business model and name change to CitationAir by Cessna from CitationShares in 2009?
SO:
As our customers' needs evolved, we realized we needed to as well. We no longer only sold shares on Citation aircraft (hence our original name, CitationShares); rather, our selling and operating model was significantly different than any other in the industry and our product portfolio had grown significantly. Our old company name and brand no longer adequately reflected the scope or breadth of the products and services we offered to individuals and corporate customers, which are all supported by one operational platform and serviced through a single relationship with one company. People also didn't realize that we were a part of Cessna Aircraft Company, the world's largest manufacturer of business jets.
JL: As a private aviation company, from a quality control perspective, it would seem simpler to manage one brand of aircraft than several. What do you see as the main advantage, or advantages, to exclusively using one brand of aircraft?
SO:
We have seen many advantages of using exclusively Cessna Citation aircraft in our fleet. Not only does it allow for lower operating costs; it ensures we are able to run a smooth and seamless operation and maintain our commitment to safety and reliability. All of our Citation aircraft are serviced and maintained by Cessna Citation Service Centers throughout the country by Cessna's expertly trained staff.
JL: CitationAir offers four different programs for its customers. Which program is the most popular?
SO:
That's hard to say. It really depends on each customer's needs. We recently introduced a unique new program called Jet Access, to which we've seen a tremendous response. Jet Access offers the financial benefits of fractional ownership with zero capital commitment and no ownership of an asset. We offer a Jet Card program for those customers who aren't looking for a capital investment and only fly about 25-50 hours. We also sell fractional shares for people who generally fly 50-plus hours privately. And, we offer whole aircraft Jet Management for those customers who want to own an entire aircraft, have us manage it for them, and earn a revenue stream by allowing us to use the aircraft to support the needs of our other customers.
JL: There are a few private aviation companies that are offering a hybrid service, meaning they offer regularly scheduled flights similar to a commercial airline with private jets. The programs are being marketed as being a more affordable option for executive travel. So, and please pardon the pun, do you think that this is a service with wings?
SO:
I think it's too early to tell. It takes a lot of commitment and resources to deliver a superior private aviation experience and, personally, we find that our customers moved away from commercial travel because they value the privacy, flexibility and our commitment to have a plane available to meet their needs where and when they need it.
JL: I went onto Facebook and noted that CitationAir started a business page at the same time as its name change and the revision of the business model. I am officially the 229th person to "like" your page. Honestly speaking, there was not too much activity there, with the last post being made on May 9. I also noted that you are on Twitter as well. Are there any plans on expanding the firm's use of social media?
SO:
We are still in the "discovery phase" when it comes to social media. Our current Facebook page is mainly utilized by staff, media and the private aviation industry. If we make a commitment to social media, we want to be absolutely certain we are able to put the right resource behind it and ensure that we provide something meaningful and valuable through the medium.
JL: Do you think there is any value at all in social media, such as receiving feedback from customers or trying to deepen the relationship with your clients? I am asking because I read on CitationAir's website: "We'd like to hear from you."
SO:
There is always value in hearing from your customers — the good and the bad. We need to know what they like about us and what we can do to improve their experience with us. We have very personal relationships with our customers and they often call me or my team directly when they want to tell us something. If we enter the social media space, we will enter it with dedication, but we want to be very clear first that it is a medium our customers value and use.
JL: Recently, the chief marketing officer at General Motors, Mr. Joel Ewanick, began tweeting on Twitter directly. He was trying to assess if it were feasible to revive a car model, the El Camino. Could you see yourself or your CMO doing something like that?
SO:
I'm not sure. Our customers and potential customers tend to want a more intimate conversation with us — which we are always happy to accommodate. This is all part of our social media discovery phase.
JL: Are there any other social media outlets, that is, aside from Facebook and Twitter, which are being used?
SO:
No, not currently.
JL: What is it that makes CitationAir by Cessna one of the best in the private aviation business?
SO:
Our culture is one built on customer service. And this culture permeates not only our pilots, who ensure unparalleled attention throughout the customer journey, but also everyone in between. We call it our "Yellow Tie" service, and it is certainly something that sets us apart. Everyone says they offer the best customer service; we like to encourage people to ask around. The next time you're in an FBO, ask the people who work there who they believe offers unparalleled service; chances are our name will come up. Our innovative product line has been designed to allow us to be consultative, and truly listen to what our customers need. Because of the breadth of products, we are able to support our customers' needs, even if they change over time. Finally, our relationship with Cessna gives CitationAir a high level of financial stability, flexibility and responsiveness to meet the market demands and our customers' demands.
JL: Thank you for talking with us, Steve.