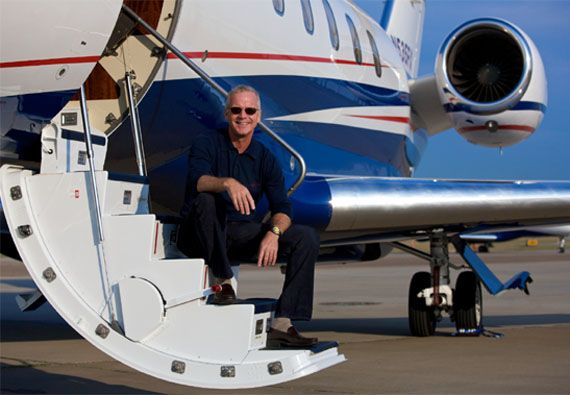 Photo Courtesy of Flexjet
Over the past two months, JustLuxe has spoken to two top-level executives from two of the most prominent private-aviation companies in the industry. Both sources have reported to us that they have seen an increase in sales.
Fred Reid is the president at
Flexjet by Bombardier
. Flexjet is the fractional ownership, jet cards and charter brokerage services division of Bombardier, which is the world's largest manufacturer of commercial and business aircraft. He has served as an executive at four of the world's major airlines. Most recently before joining Flexjet as its president in August 2008, he was the CEO at Virgin America.
Mr. Reid recently shared his views on the industry as a whole and what Flexjet is doing to improve on its services for customers.
JustLuxe: Is Flexjet's business back to the same level it was prior to the global economic meltdown?
Fred Reid:
We are seeing a continued - although slow and steady - recovery of the market for fractional ownership and jet card sales, building on the modest but distinctly growing rate of new demand in 2010. I am especially pleased to see our fractional shares up 64 percent in Q1 of this year in comparison to 2010, understanding, of course, that we were coming off a low base. We've also been able to retain more than 90 percent of our customer base. These are all very positive signs.
JL: Is business travel the largest part of the business?
FR:
About 65 to 70 percent of Flexjet fractional owners purchase their fractional shares for business purposes, making it the largest segment of our business.
JL: Which part of Flexjet was affected most due to the economy, business or leisure?
FR:
While both segments contracted, our customers were more likely to delay a leisure trip than a business-oriented one. Ultimately, in good times and in bad, the requirement for business travel remains. The value of private jet travel still exists and, I believe, the value of fractional jet ownership will be enhanced in these times, especially as a viable alternative to full aircraft ownership.
JL: Flexjet recently received its 12th consecutive Diamond Award of Excellence for outstanding maintenance training from the FAA. How has the company kept this service record intact for a dozen years? Have you established a policy and stuck with it from inception, or is it more of a work-in-progress that is refined and tweaked accordingly?
FR:
We strive for impeccable operations, maintenance and flight standards every day at Flexjet. We do not do these things to win awards, but to make our company everything it can be. Having said that, we are, of course, truly gratified and honored to receive such recognition when it is granted.
JL: What do you see as the main advantage, or advantages, to exclusively using one brand of aircraft?
FR:
By virtue of our relationship with Bombardier - the world's largest manufacturer of business jets - we have preferred access to its elite family of legendary Learjet and Challenger aircraft. Managing a focused fractional program fleet - which includes the Learjet 40 XR, Learjet 45 XR, Learjet 60 XR, Challenger 300 and Challenger 605 business jets - translates into greater efficiencies when it comes to maintenance and training.
In fact, because of this arrangement, we can dedicate our pilots to fly exclusively on a single aircraft type to achieve the highest level of safety for our customers. We also train every single pilot we have, whether they are in the right seat or left, as Captains, exceeding the FAA requirements. This makes them even more talented. As you can see, this approach offers significant advantages.
JL: Indeed, I can. Flexjet offers different programs for its customers, which are based on hourly usage. Is there any program that you would consider most popular?
FR:
During the economic crisis, products that were more transactional - such as jet cards and on-demand charter - had greater appeal to our customers as they didn't require a long-term commitment or a significant capital investment. As the economy improves, fractional jet ownership - the core of our business - is garnering a greater appeal and customers are returning to this private aviation solution to make an investment.
JL: Do you think that 10-hour Flexjet 25 Jet Card will return?
FR:
The Flexjet 25 Jet Card program - operated by U.S. air carrier Jet Solutions, LLC - had a 10-hour option available earlier this year to allow people to try out the program at a lower cost of entry. We, along with Jet Solutions, are always looking for ways to drive trial of the products to which we provide access. I am pleased to say that the 10-hour option was successful and could be something that Flexjet, as a sales and a marketing agent for Jet Solution's program, may offer access to in the future.
JL: Are there any new special programs, such as the strategic alliance Flexjet recently struck with Abercrombie & Kent in the works?
FR:
We continue to seek out ways to further enhance the value we provide our owners. In fact, we just announced an alliance with Rosewood Hotels and Resorts, the premier manager of ultra-luxury properties throughout the world. This exclusive agreement gives our customers unparalleled access to Rosewood's iconic hotels and resorts, including special destination package options and room upgrades.
br> And, as you mentioned, earlier this year we inked an agreement with Abercrombie & Kent, which is recognized as one of the world's most respected luxury-travel operators, to provide our owners with complimentary Marco Polo Club membership and other premium services. It's a win-win.
JL: Last month I asked Steve O'Neill, CEO at CitationAir by Cessna, this same question. There are a few private aviation companies that offer a hybrid type of service, meaning that they offer regularly scheduled flights similar to commercial airlines with private jets. These programs are marketed as being a more affordable option for executive travel. Is this something that Flexjet would consider?
FR:
We are constantly evaluating opportunities to grow our business and expand into other segments. We do not view this as a product that our existing customers would value. However, there may be a segment of travelers who would be interested in such a service.
JL: For four consecutive years, Flexjet has worked with Habitat for Humanity to build a home for a local Dallas family. Is this going to be a yearly event? I think your company benefits by this effort almost as much as the community. Would you say that is a teambuilding effort for your company and employees to participate in this program?
FR:
Absolutely. Flexjet is proud to be a part of the Dallas community, and working with Habitat for Humanity is a meaningful way our team gets involved to give back locally each year. We've been actively involved with Habitat for Humanity since 2005, donating countless volunteer hours and more than $200,000 in funds and in-kind donations.
JL: Many top companies in various industries are still determining how to best use social media. Do you see Flexjet expanding its role in social media?
FR:
Once you enter the social media landscape, it is critical to understand the rules of engagement and have the manpower available to respond to comments and complaints in real time. That said, we were actually one of the first fractional jet ownership companies to establish a social media presence online and continue to add resources to manage these initiatives. So, yes, I see us headed in that direction.
JL: I reviewed your Facebook business page. It would appear that Flexjet is still working on how to use the platform. Would you say that that is a fair assessment of your current position?
FR:
It is a work in progress. The fact is, the jury is still out on how our core customers - ultra high net worth individuals - are engaging in social media. They tend to be rather private individuals. So, for now, we are using Facebook as a platform to share ongoing program developments and relevant news items with our fans to help us increase overall awareness of the Flexjet brand.
JL: Upscale retailers are tapping into social media to reach out and engage with their customers. Is there value in social media for private aviation companies, such as instant feedback from customers or additional customer service?
FR:
Customer feedback is critical to make sure we are consistently meeting and exceeding their expectations. Because of this, we consistently reach out to our owners for their insights and feedback, which often become the inspiration for new program enhancements. That said, we have found that we get the best feedback when we get the opportunity to be face-to-face with our owners, such as during our Owner Advisory Board meetings. These meetings bring together small groups of our diverse owners to share their comments with us and with one another. And, I have to say, the feedback is always invaluable.
JL: What is it that makes Flexjet one of the best in the private aviation business?
FR:
Flexjet provides access to the most comprehensive portfolio of products along with access to one of the youngest fractional jet fleets in the industry - averaging four years of age - made up exclusively of Learjet and Challenger aircraft built by Bombardier. We are known for our outstanding customer service, and have invested more than a million dollars in a Customer Account Management program to raise the bar even higher.
We're the only company to receive the FAA Diamond award for maintenance training 12 years in a row, and the first and only fractional aircraft program manager in the world to be recognized as achieving the esteemed Air Charter Safety Foundation's Industry Audit Standard. And, as part of Bombardier - the world's largest business aviation manufacturer - our legacy goes back more than 100 years.
JL: Thank you for taking the time to talk with us, Fred.
*The Flexjet 25 Jet Card program is operated under Part 135 by Jet Solutions, LLC, a U.S. air carrier. Flexjet acts as an agent for Jet Solutions, LLC, in connection with the Flexjet 25 Jet Card program. Flexjet acts as an agent for the customer for the Flexjet charter jet card and on-demand charter brokerage programs in arranging transportation operated under Part 135 by U.S. air carriers.