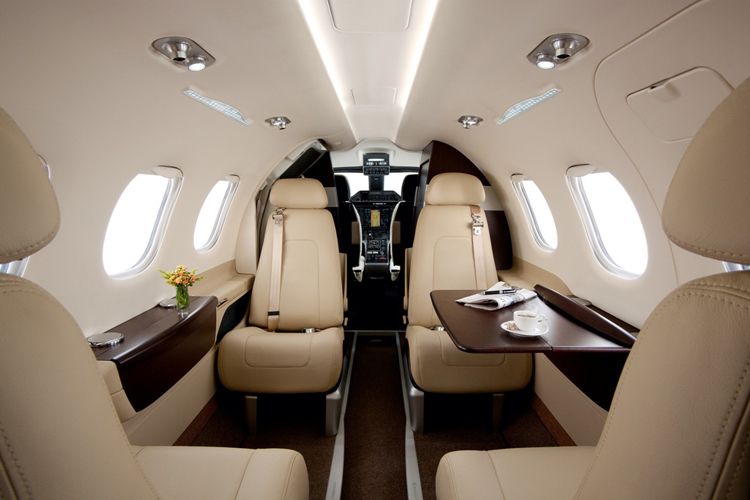 Photo Courtesy of Invision Air
If you've ever flown aboard an standard airline, you know it can be full of irritants from the moment you enter the airport, making a
private jet
charter a very attractive alternative. Sometimes public flights are delayed, making you wait for what could be hours, and once you get on the plane you have to deal with cramped quarters and noisy neighbors. Flying via private jet eliminates all of those annoying experiences, giving you a relaxing and easy travel experience. More and more companies are appearing, offering services to areas previously lacking, like Invision Air, India's very first charter service.
Invision Air was founded by Vinit Phatak in 2008 and currently has two Phenom 100s by Ambraer in its fleet, with four more coming soon, as well as six of the bigger Phenom 300s (the first planning to be made operational later this year). Born in Bombay, Phatak graduated from the University of Pennsylvania with a B.A. in Philosophy, and worked with a start-up in Los Angeles before returning to India in 1991. He realized that, due to the area's economic liberalization that year, there would be a lot of opportunities for new businesses. After a successful turn in the mobile telecom sector, he branched into aviation and started Invision Air to provide certain people an easier travel experience between towns in India.
The company considers themselves a representation of "The Fine Art of Business Travel" and promises that through their service, you can travel directly to 200 destinations across India. You won't have to deal with time-wasting airport activities (like baggage claim, security checks, and boarding lines) or have to wait overnight for an available flight to take you home. They ensure you will get home feeling "refreshed, rested, and prepared."
The
luxury airline
charter has many different options meant to please everyone, from those of you who travel constantly for various reasons and those who only travel a few hours a year. The Spot Charter Program is great for those who need a jet every once in a while. If you only need use of the aircraft occasionally (meaning, up to five times a year or less than 25 hours), this is the one for you. This would also be a great option for someone who has always wanted to try a charter out but never knew how to go about it before. The Spot Charter is also great for anyone coming from overseas who want to park their personal jet at the airport and use Invision for all of their travel within India.
The Jet Card Membership Program is for those who plan on using the private aircraft up to 25/30 trips per year. It has three different levels depending on how much you intend to travel: Silver (25 hours a year), Gold (50 hours a year), and Platinum (100 hours a year). Being a member gets you added benefits like last minute booking, better pricing, transferability, and access priority.
Invision prides themselves on their jet engines, which are greener and more fuel-efficient than many older planes. According to the company, most business travel groups are between one and four passengers, making their four passenger Phenom 100 jet more environmentally conscious than needlessly larger aircrafts. This year the Invision Group started a Carbon Offset Program called Invision Green. "...All our flights will be offset via a biodiversity regeneration scheme, making us the first Carbon Neutral operator of private jets in India," says the company.
"We have structured our programs at a price point similar to a 3-series BMW/C-Class Mercedes, 5-series BMW/E-Class Mercedes, and a 7-series BMW/S-Class Mercedes; so if you can afford to buy one of those cars, you can afford to fly in a private jet," says Vinit Phatak.
For more information visit
InvisionAir.co.in
.