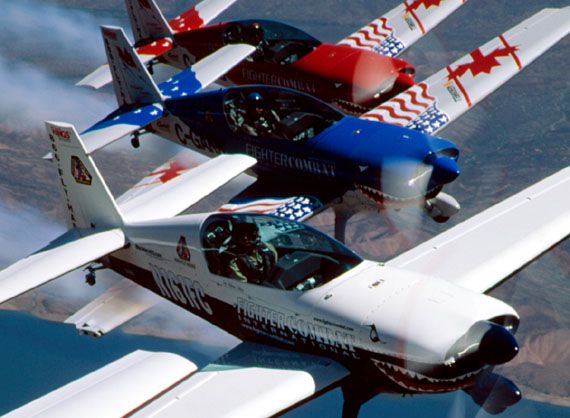 Air Combat Lessons:
Experience the first-hand thrill and excitement of flying the world's most capable and high-performing aircraft in a real-life air-to-air combat mission. Based in Mesa, Arizona, Fighter Combat International offers flights year-round, without requiring any previous certification or a pilot's license.
Fighter Combat International
has a team of experienced pilots and instructors, who are dedicated to providing the most authentic, extreme, aerial adventure possible. The facility features a $3 million adventure squadron, and provides Top Gun training aboard a German-built Extra 300L aircraft. Known for its superior handling and maneuvering, the Extra 300L is capable of reaching speeds up to 250 mph.
After suiting up in your flight gear and getting fully briefed on modern tactical air combat maneuvers, you'll climb into the cockpit of a top-of-the-line dogfighter. Your flight profile begins with a formation take-off to a training area, where you'll warm up with some advanced handling, weapons usage and basic aerobatic maneuvers. And then the real fun begins as you engage in g-pulling, offensive and defensive air tactics, and go head-to-head against your adversary. Under the guidance of your instructor, you'll pull back and split from your opponent and begin performing unlimited aerobatics. Your mission concludes with a debriefing, where you and your instructors will watch and review a video recording of your session.

Basic training courses are priced from $755 and offer anywhere from 30 minutes to one full hour of actual flying time. If you're looking to spend even more time in the air, advanced options are also available, and provide up to three hours of combined flying time. Each package also includes an in-flight video recording.


Win an Air Combat Lesson: To celebrate the 2011 Porsche Boxster Spyder, Porsche and JustLuxe have teamed up to bring you three exhilarating adventures. As part of the campaign, Fighter Combat International is offering a chance to win a Basic Air Combat Mission, with accommodations provided by the luxurious Fairmont Scottsdale.