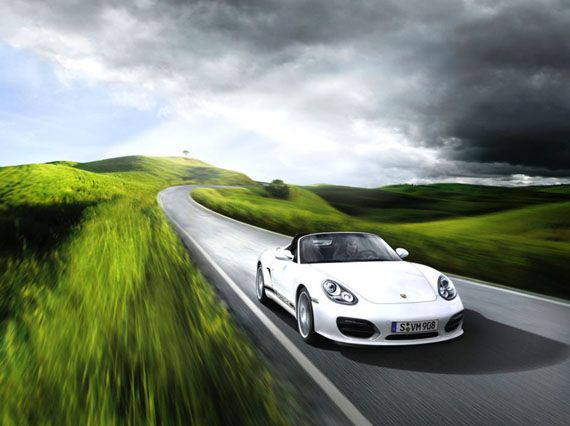 Luxury Cars:
Any true luxury sports car enthusiast knows that when it comes to vehicle performance, there is no better choice than Porsche. For decades, Porsche has been a leader in its class, delivering lightweight, efficient sports cars that always seem to outdo the last. Recently, the company has gone above and beyond as it prepares to unleash its all-new 2011 Porsche Boxster Spyder.
Weighing in at a mere 2,811 pounds, the Porsche Boxter Spyder holds the record for being the lightest performance vehicle to hit the luxury car market. While the Boxster Spyder is no doubt a fine example of innovative engineering, the concept, is in fact, quiet simple: the lighter the car, the faster it drives.
In an attempt to shed some serious pounds, Porsche has done away with some of the more traditional conveniences that are often found in heavier cars. The Porsche Boxster Spyder is offered sans cup holders, air conditioning system, door storage compartments, conventional door release levers, and even the radio. While the lack of such comfortable extras might not be for everyone, the real sports car enthusiasts out there value performance over convenience any day.
Porsche has gone to great lengths in finding alternatives, designed to help trim down any excess weight. The Porsche Boxster Spyder features lightweight 19-inch wheels, sports bucket seats, and aluminum doors, which instantly cut 33 pounds from the car's total weight. The sports car sheds even more pounds by relying on an open vehicle concept, which as the name suggests, basically means replacing the car's roof with a two-piece combination of sun shield and weather protector.

With a 320-horsepower engine and the ability to go from zero to 60 mph in just 4.9 seconds, the 2011 Porsche Boxster Spyder is no doubt a fierce driving machine. By forgoing all the bells and whistles, and sticking to the basics, the Porsche Boxster is ultimately designed for those looking for a real roadster experience.

To celebrate the 2011 Porsche Boxster Spyder, Porsche and JustLuxe have teamed up to bring you three exhilarating adventures. As part of the campaign, Porsche is offering a chance to win a one-day precision driving course at the Porsche Sport Driving School, as well as accommodations at the luxurious Renaissance Birmingham Ross Bridge Golf Resort & Spa.

Other popular Porsche models worth checking out include the Porsche Panamera, the Porsche Cayman, the Porsche Cayenne, and the Porsche 911 GT3 R. For more information on each Porsche model, including the Porsche Boxster Spyder, please visit www.Porsche.com.