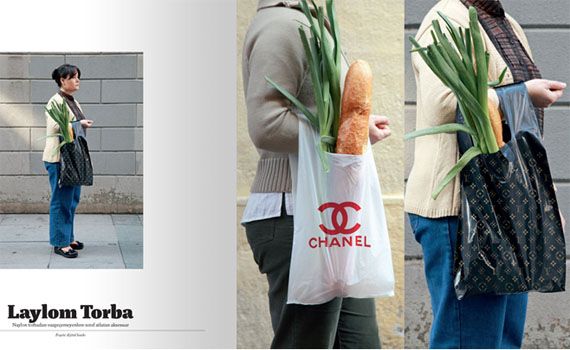 Photo Courtesy of Tasarim Alaturka
If you are familiar with
Turkish culture
, you may already know that strong mint liquor is the best friend of Turkish coffee; that it is important to knock on wood three times to avoid trouble if/when you speak of it; and that there was a time when Turkish women were obsessed with showing off their lace-work in order to signal their talent and exquisite taste to their potential suitors.
These unique details of Turkish culture, among many others, were the sources of inspiration for a new design exhibition which enjoyed a lot of public and media attention over the past month. One of Turkey's most outstanding advertising agencies, Rafineri, showcased colorful and eccentric cultural habits of Turkish people to the likings of "Istanbullu" in a design exhibition called "Tasarým Alaturka" (Design A La Turca).
Taking pride in being the first design exhibition ever created by an advertising agency in Turkey, Design Alaturka transformed Turkey's pop culture, traditions, superstition and unique mother-to-daughter habits into everyday objects with a twist of humor that is both surprising and fresh. "Our preparations have been very festive. After countless trips to the old markets of Istanbul and having worked with numerous lace makers, shape-makers, ceramic artists, bakeries, modelers and even slipper makers, we practically turned our office into a warehouse," explains Ayse Balli.
Rafineri's "Design Alaturca" collection includes: "One Minute Rolex" watches as a witty reference to Turkish Prime Minister Recep Tayyip Erdogan's famous request for more time at Davos summit in 2009; ice-cube trays with letters of cult Turkish songs; boomerang slippers for traditional Turkish mothers who quickly run out of ammunition after they throw the pair they are wearing to whomever's head they thought was appropriate; portable wooden trouble shoo-ers (aka Bela Savar); turk-ified Starbucks tea glasses labelled "Rabbit's Blood" - a common reference to dark and strong Turkish tea; and many more smart and funny objects that mirror and twist the Turkish way of celebrating life.
While the whole of design, production and exhibition process was financed by Rafineri Advertising Agency, the proceeds from the sale of these highly original and authentic design products will go to the working women of Sulukule - an old Istanbul neighborhood famous for its poor Roman residents. Rafineri sees Design A La Turca exhibition as an important first step in their greater social responsibility project "Kader Kýsmet" (Fate, Kismet) - a common saying that is used as an excuse of one's fortunes or misfortunes in spoken Turkish language.
"Tasarim Alaturka" exhibition was launched on May 14 as part of "Akaretler Art & Design Day," organized in the Akaretler neighborhood of Istanbul. With the support of Bilgili Holding - the mother company of Istanbul W Hotel - the exhibition included special presentations, videos and installations. The exhibition closed May 30 after 15 days of public viewing. Visit
TasarimAlaturka.com
to see more from the exhibition.