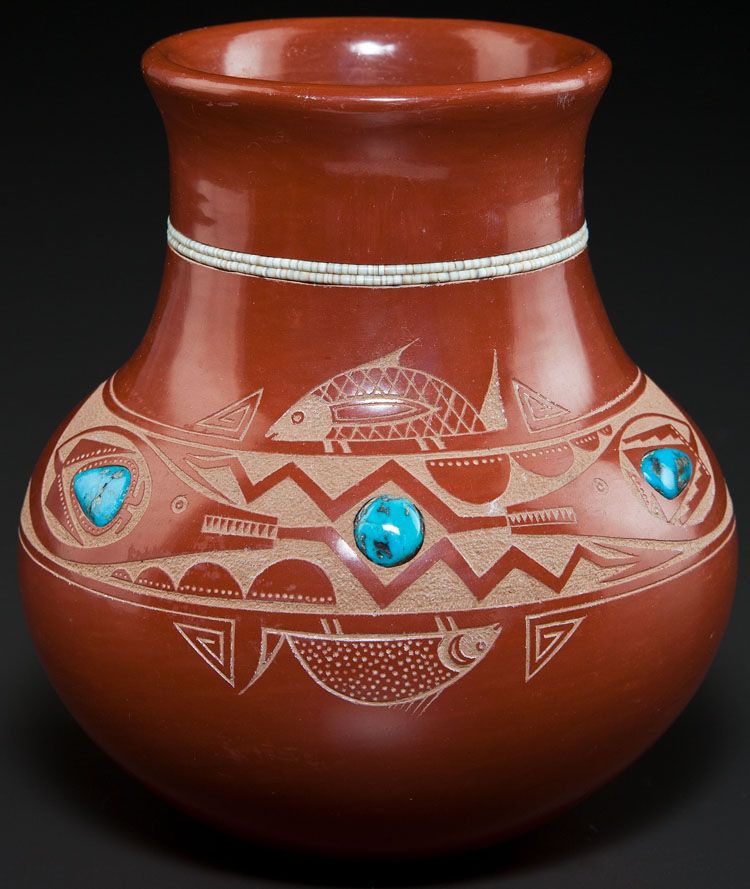 Photo Courtesy of Heritage Auctions
Earlier this month Heritage Auctions held their American Indian Art Signature Auction, which featured a beautiful redware jar, adorned with turquoise stone and fish etchings, that sold for $32,500.00. Is this the world's most expensive cookie jar to ever sell at auction?
The jar was made by Famed American Indian potter Tony Da and sold at the auction's highest price. The auction, observed by the world's third largest auction house, Dallas-based Heritage Auctions, realized a 96 percent sell-through rate for the event. Pottery dominated, with an overwhelming amount being sold at the auction.
Two items, circa 1900, from the Sioux, a beaded-hide bowcase and quiver and a beaded-hide-wear shirt, sold at $20,000 apiece. A third lot from the Sioux, a pictographic hide shield, circa 1880, sold at $18,750. A circa 1880 carved-caribou, bone-quiver raked in $11,250.
"It's thrilling to see numerous new buyers participate in another successful auction," Sullivan said. "This was a diverse auction and truly offered something for every collector," said Delia Sullivan, American Indian Art specialist for Heritage, in a prepared statement for the media.
A Navaho moki serape sold for $8,750, and a pair of women's beaded and fringed, hide-boot moccasins sold at $6,250. A plains-pipe tomahawk sold at $5,937, and a beaded-hide tobacco bag of Sioux origins sold for $5,313. Other high-priced selling items stemming from the event include Allan Houser's Night Watch, which sold at $9,063.
View the entire list of items sold at Heritage House's American Indian Art Signature Auction at the firm's website.