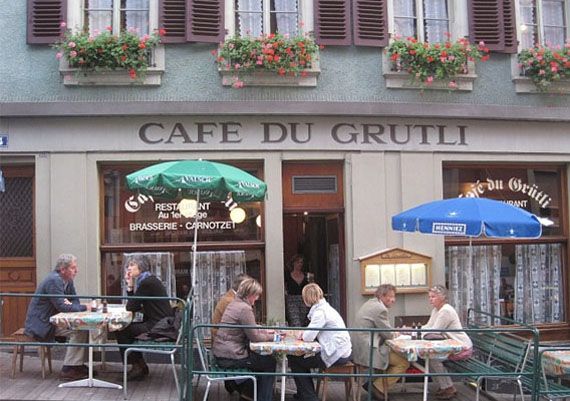 Photo Credit: Kurt Winner
It seems that fondue, the very definition of 1960s
culinary
élan and the toast of nearly every suburban American housewife's kitchen, is making a comeback. Not because we yearn for a cheesy piece of bread on a stick, but because today we are able to create a truer version.
The availability of real Swiss cheeses and the evolution of the American palate is the driving force. "Fondue," French for "melting," is more than a meal; in winter it is a seasonal event. The Swiss gather around a warm communal pot of cheese with family and friends after an invigorating walk or down-hill run and take turns dipping.


In the French-speaking Swiss Canton of Vaud, one of the oldest restaurants, Café du Grütli, still presides over Lausanne's cobblestone heart. Founded in 1849, the specialty of the house is fondue made with Swiss Le Gruyere cheese, Swiss white wine and a touch of garlic and nutmeg. The fondue is delicate, nutty, slightly sweet and it clings to the bread, filling each tiny air pocket with a pool of cheese.

Step from the street into the crowded restaurant and youll go back in time a few hundred years. Just as in centuries past, the walls are still carved wood, the place is still bustling and the recipe for a good meal is still the same. Husband and wife, Heike and Willi Prutsch, oversee the local specialties flying out of the kitchen. They orchestrate the symphony of warmed pots of fondue, baskets of bread, and Swiss Lavaux or Vaudois wine going to each table.

If you can't make it to Café du Grutli to taste this Swiss specialty, try this simple, traditional recipe at home.

Fondue Lausanne style
To remain as authentic as possible you'll need 1lb cave aged Le Gruyere, imported from Switzerland (Costco carries it).
3 tbsp. flour

1 clove of garlic, split

2 cups dry white wine

1 tbsp. lemon juice

3 tbsp. kirsch (cherry liqueur)

? tsp. freshly ground nutmeg

1 tsp. freshly ground black pepper

1-2 loaves day old Como or French bread cut into 1 inch cubes, use artisan for the best flavors.
Mix the grated cheese with the flour. Rub a fondue pot with the garlic clove. Pour the wine into the pot and place over medium heat until air bubbles rise to the surface. Add the lemon juice, then cheese in small amounts. Stir constantly to prevent it from burning. Add the kirsch, nutmeg and pepper. Stir the mix until fully blended. Place fondue pot over a low flame or fondue warmer. Serve immediately with bread cubes. Set out a fondue fork for each person.

Note: When you dip your bread, swirl it in a figure eight touching the bottom of the pot. This is how the Swiss do it because the figure eight is said to mimic the cross pattern of the Swiss flag. Fondue sets can be found at World Market, and in a pinch they also carry prepared fondue from Switzerland, along with Lindt Swiss Chocolate, nutmeg and imported black pepper.