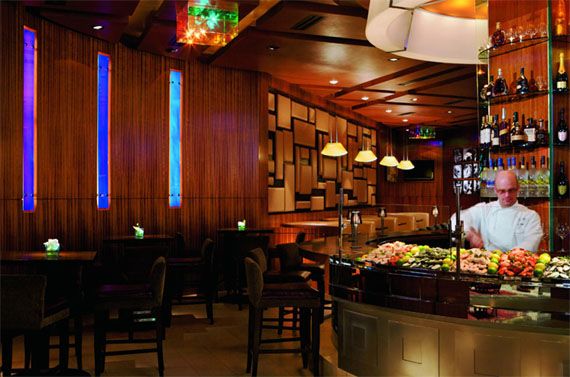 Photo Courtesy of Ritz-Carlton, Denver
ELWAY'S Downtown is located off the lobby of the
Ritz-Carlton, Denver
. The namesake of John Elway, the football legend, this fine dining restaurant is a top-of-the-list for steakhouse options in the Mile High City.
A steakhouse with an emphasis on seafood, more so than many steakhouses in Denver, ELWAY'S offers several unique and flavorful culinary options on the menu. John comes in occasionally and the artfully decorated restaurant and bar includes some tasteful football memorabilia, as well as glass sculpture and stunning, modern chandeliers.
The menu at ELWAY'S makes patrons mouths water just by reading along. Executive Chef Justin Fields prepares traditional fare as well as contemporary twists on old favorites. Guests can begin their evening by selecting a
specialty cocktail
, the Lime Drop Martini a favorite amongst locals.
Appetizers include a wide array of raw and sushi bar options, including caviar and oysters, lobster cocktails, coconut battered shrimp, or the famous lamp chop fondue. Served with a bubbling pot of chili cheese and a side of sweet potatoes and croutons, the Colorado-raised lamp chops pair perfectly for dipping.
Entrees include John's Salad, Colorado Rack of Lamb, or a wide variety of steaks and filets including the Buffalo Ribeye. Patrons can also make their steaks 'surf' by adding lobster tails to any meat selection. "Steak and Cake" is another clever option for diners including a crabcake and sauce louis to any steak.
Saving for the grande finale: dessert. With sweet offerings such as Twisted S'Mores - a brownie with peanut butter and toasted marshmellow, Key Lime Pie with blueberry sauce, or the "Ding Dong" a contemporary twist on the classic Little Debbie snack, ELWAY'S is perfect from start to finish. Bite-sized desserts are also a wonderful option, the Brownie Lollipop a one ounce brownie bite dipped in chocolate and with an ELWAY'S edible
gold screened logo, will leave you coming back for more time and again.
ELWAY'S Downtown is a must-experience. From amazing food to Five-Diamond service and experience, the partnership with Ritz-Carlton, Denver is overwhelmingly wonderful.
ELWAY'S
Ritz-Carlton, Denver
1881 Curtis Street
Denver, CO 80202
303.312.3107
www.ritzcarlton.com
Via
Examiner.com