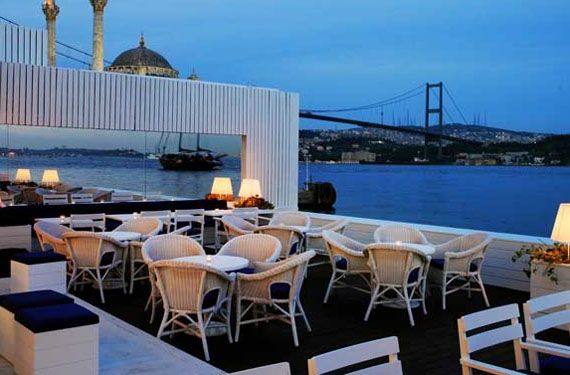 Photo Courtesy of Anjelique
Without a doubt, Bosphorus is the source of
life in Istanbul
. Depending on the time of the day and season of the year, its beautiful deep blue waters are sure to gravitate you to the colourful life that surrounds its European and Asian shores alike. That being said, summers by the Bosphorus are simply special.
It is something to experience and there are few places that are sure to provide the right ambiance. Anjelique is one those places and maybe even the best. Situated on the European shores of the Bosphorus, the club is located at one of the liveliest districts of Istanbul: Ortakoy. Owing part of its charm to the three story white seaside mansion it occupies, for years, Anjelique has defined Istanbul summers and signaled season's arrival.
Summer 2011 officially kick-started as Anjelique opened its doors to a fashionable crowd of fun-loving Istanbul-ers. Chilled and summery, Anjelique has kept its décor from last year except for minor additions of glittering details here and there. With its minimalist design and masterfully angled mirrors that carry the Bosphorus straight to the dance floor, Anjelique guests danced until the break of dawn and celebrated the arrival of the summer season.
Surely, there are other bigger, and even flashier, venues along Bosphorus and yet few can match Anjelique in terms of atmosphere. So take a chance with Anjelique this summer and mingle with those who know how to have fun under the stars.
Anjelique is open every day between 4 p.m. and 4 a.m. Dinner is served on middle and ground floors from 7 p.m. on. Reservation is necessary for your convenience. Access from the sea is possible for those who want to arrive in style.
Anjelique Istanbul
Muallim Naci Cad. Salhane sok. No:5
Ortakoy – Istanbul
+90.212.327.2844
www.istanbuldoors.com