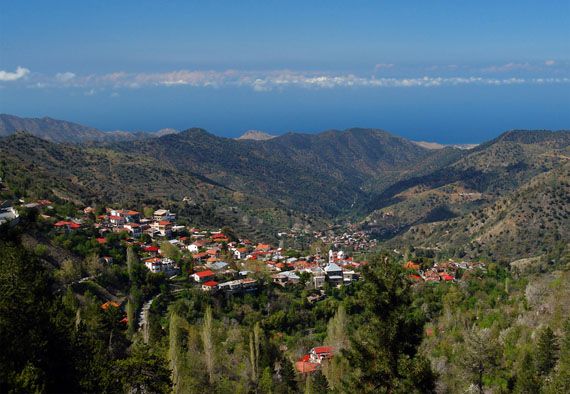 When it comes to wine, Kostas Tsiakkas is not a man to be messed with. He knows his stuff and he's not afraid to tell you about it. A former bank director 10 years ago, he quit the rat race and gave up his high salary to take over the
family winery
high up in the Troodos Mountains. He has now dedicated his life to creating top quality Cypriot wine.
"They are Coca-Cola wines," he said scornfully, when asked his opinion on the Chilean wines which fill the supermarket shelves. "It's a recipe. I hate recipes. For me there should be a variety and there should be a suprise as well. From year to year there is a difference in Cyprus wines." Producing wine is not easy, especially in
Cyprus
, and even more so in the mountains.
The high altitudes create specialised growing conditions and a couple of years ago fires ravaged the hillsides destroying the vineyards and the wineries still have not fully recovered. Tsiakkas has some of its own vineyards, but also relies on others to provide certain types of grapes that will not grow in the mountaineous terrain and climate. And the high price of land makes expanding expensive.
But Mr. Tsiakkas is very selective, ensuring that all the vineyards that provide grapes to the winery are inspected at least once a year to check that the growers are doing the best possible job at cultivating the best possible grapes. Mr. Tsiakkias is clearly passionate about his wines. As he enthuses about his favorite grapes and wines, his face is animated, his speech quickens and the hand gestures get increasingly bigger.
"The good part is that we never get bored. We deal with the product from the field and the soil and we end up with the finshed product: the wine. There are a variety of things to do so you never get bored. We have to be original, otherwise what is the point of buying Cyprus wine? Why would people buy from us if it's not different? How can we be unique? We want to be crazy enough to do the things that others do not do. I do not want to make Cabernet and Sauvignon, I want to make Cypriot varieties."
The latest Tsiakkas project is to produce a wine from an old Cypriot variety of grape which has not been used for many years. However it will be two or 3three years before the vines will be mature enough to make the wine. But Mr. Tsiakkas is already excited by it. "The new wine we are going to bring out is going to be even better I think. I think it is going to be a suitable wine for Cyprus - it is soft and a little like a Pinot Noir but more velvety and with less tannin. We do not have the diet for Cabernet. You should get something that suits the climate and the cuisine."
Mr Tsiakkas' current favorite wine at the winery is a red called Vamvakada. "It's original," he said proudly. "It's one dimensional and that's the way we want it." He is also very proud of the Tsiakkas Comaandaria - a sweet port-like wine which is the local speciality and has origins that can be traced back to the 13th century.
"Ours is not the typical Commandaria," he said. "It is aged for four years. By law it has to be aged for two. We use Xynisteri grapes from vineyards that we pick. We do not believe we have to have our own vineyards because the one where we get th grapes from is perfect. Our Commanderia is more acidic and less sweet than some. If you want it to taste jammy then you might as well buy jam. We do not have a lot of it because we want it to age gracefully and we want to give people an excuse to come here." While some of the Tsiakkas wines are sold around Cyprus the Commanderia is only available directly from the winery.
Tsiakkas Winery
only produces 120,000 bottles of wine a year, including red, white, rose and Cammanderia and Mr. Tsiakkas has no plans to expand further. Instead he wants to concentrate on creating high quality, unique products. "The only plan for the future is to make better and better wine. I do not want to produce more than that. I have never liked marketing. I like authentic things." And Kostas Tsiakkos is just about as authentic as they come.
Toughened by a background in business, and then the challenges of wine production, he is focused on his goals and does not suffer fools gladly. But the passion he has for the wines shines through and just a simple question will spark a lengthy, detailed response. But whether he agrees or disagrees with you you can always be sure of one thing - he will tell the truth. "I always tell my opinion," he said. "And you can like it or not like it." But when a man like Kostas Tsiakkas is talking about his wine it's probably better to like it.