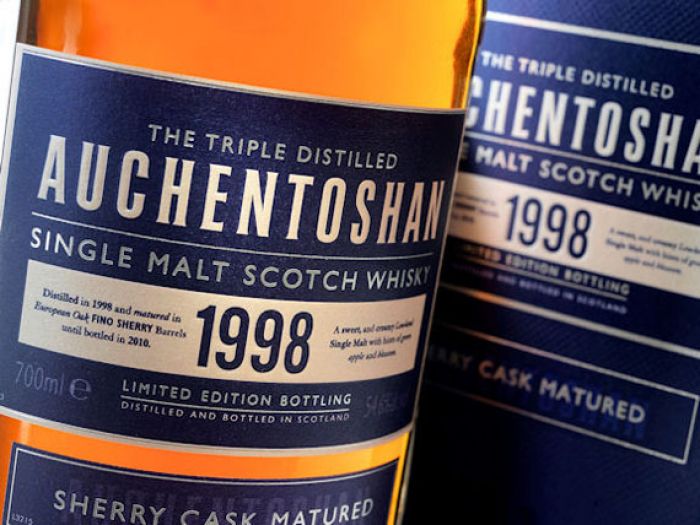 Photo Courtesy of Auchentoshan Distillery
The cachet of this vintage Auchentoshan (ock-un-tosh-un) lies in the influence of its aging in fino sherry barrels, made of European oak. Fino ("refined" in Spanish) sherry is considered the freshest, driest and lightest of traditional sherries - a far cry from the heavier, more robust oloroso sherry influences found in many other
single malts
.
The 1998 Vintage's soft, delicate and smooth characteristics perfectly follow the essential Auchentoshan profile, while its non-chill filtered cask strength of 52.4 percent alcohol by volume give it substantial body.
The whisky's color is deep copper, its nose butterscotch, honey and toasted almonds, and the palate delivers the signature citrus taste of the brand. This expression carries a U.S. allocation of only 750 bottles at a suggested retail price of about $80. Check with your local specialty retailer for availability.
Auchentoshan 1998 Vintage Sherry Cask benefits from the triple distillation process used at the distillery. In addition to using wash and spirit stills (traditional for double distillation), a third still is used to create a higher alcohol-content spirit that is sent back to the spirit still. This extra distillation creates the unique gentle body of Auchentoshan.
As you enjoy a dram of the 1998 Vintage Sherry Cask, or any Auchentoshan expression, consider these interesting facts: In the mid-1930s, Auchentoshan was the toasting dram to celebrate the launch of the superliners RMS
Queen Mary
and
Queen Elizabeth
; in March 1941, the distillery's nearby industrialized neighborhood suffered massive damage by the German Luftwaffe.
While the distillery narrowly escaped damage, a bomb crater behind the distillery now forms the pond holding its cooling water. Although Auchentoshan is classified as a Lowland whisky, its water source is Loch Katrine, in the Highlands. The "Highland Line" geographically separates the two regions.
See our picks for the
Best Fine Spirits