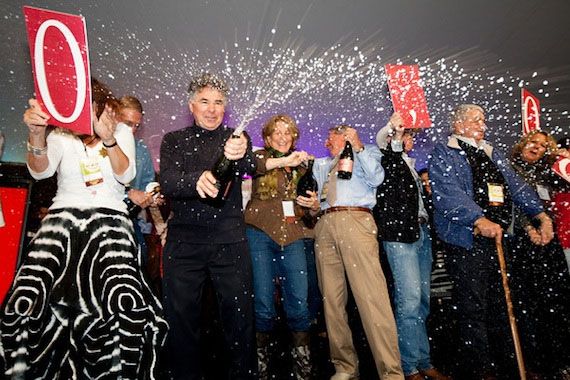 Photo Courtesy of Auction Napa Valley
For the first time in its 31-year history, rain fell on the main event of Napa Valley's renowned
charity wine auction
held on the lawn of Meadowood Napa Valley in St Helena, Saturday, June 4. While Mother Nature let it rain, the bidders poured $7.3 million into auction revenue that provides for the region's charities.
The fairway at Meadowood, which has served as the venue for the Live Auction since its inception in 1981, has always been blessed with perfect weather, but never rain and temperatures in the mid-50s in June. Originally planning to offer open-air seating, the event organizers quickly rallied to find additional tents. And, all of the expected 800 attendees, chefs, and vintners appeared as planned - inside tents, and many with rain boots.
The Live Auction opened as professional dancers took to the stage to entice bidders to raise their paddles on a collection of wine in magnum from dozens of Napa Valley producers. The lot sold for $70,000 to a bidder from Menlo Park, CA.
Carrying balloons and cupcakes for a high stakes bake sale were 25 children who have benefitted from wellness funding from one of the Live Auction charities. Taking the stage with the youngsters was the Rombauer Family, 2011 Auction Napa Valley honorary chairs, led by patriarch Koerner Rombauer. A total of 132 bidders brought in a total of $1.1 million including five $100,000 bids.
Auctioneers Fritz Hatton and Ursula Hermacinski partnered on the main stage leading bidders often into six figures. By Lot 10 from Chiarello Family Vineyards and Staglin Family Vineyards, the bidding closed at $300,000 and then doubled with two successful bidders capturing a duplicated lot of wine and culinary experiences bringing a total of $600,000 for the lot.
Doubling down became a theme to create the top lots for the day, occurring again at Lot 15's offering from BOND with two bidders doubling the $120,000 bid to $240,000. Then again at Lot 35 with Raymond Vineyard's offering bringing $195,000 times two at $390,000. Proud, first-time father of newborn twins and owner of Raymond Vineyards, Jean Charles Boisset was on-hand to toast the winning bidders.
And just shy of the final lot, Lot 39 from Chappellet Vineyard and Winery sparked bidding with yet another doubling with two $200,000 bids bringing $400,000 to the tally. But the Live Auction was just one facet of this event. Another, more virtual, was the Global E-Auction.
With more than 150 lots of wine collections, large format bottles, cellar builders and vintner-hosted getaways to Napa Valley, participation in the online version of
Auction Napa Valley
was at an all-time high. Bidders hailed from as far away as China, Japan, Canada and the UK to all points across the U.S. - all dueling with those in attendance at the event in Napa Valley.
At the close of the E-Auction on Sunday, June 5 at 6 p.m., tallies of $359,000 brought 93 successful bidders. More than half of all successful bidders, 55 in total, were virtual attendees bidding from Mexico, Hong Kong, Canada and across the U.S.
The offering from Domaine Chandon was the top earning E-Lot bringing $16,600 followed by offerings from Chateau Montelena; a joint lot among Etude, St Clement Vineyards and Stags' Leap Winery; Silver Oak Cellars with Twomey Cellars; Vineyard 29; Pine Ridge Winery; Appellation St Helena wineries; Stags Leap District wineries; V Sattui Winery; Frog's Leap; and Sherwin Family Vineyards.
However, the philanthropic highlight for this year's auction, before the bidding even began, was knowing that this was the year the Napa Valley Vintners would reach and exceed the milestone of giving $100 million back to the community for healthcare, youth services and affordable housing non-profit programs in Napa County.
Auction Napa Valley is the most successful charity wine auction in the world. The auction was founded in 1981 under the vision of Robert and Margrit Mondavi and has grown to be a four-day celebration of wine, food and philanthropy held the first weekend in June,
rain
or shine.