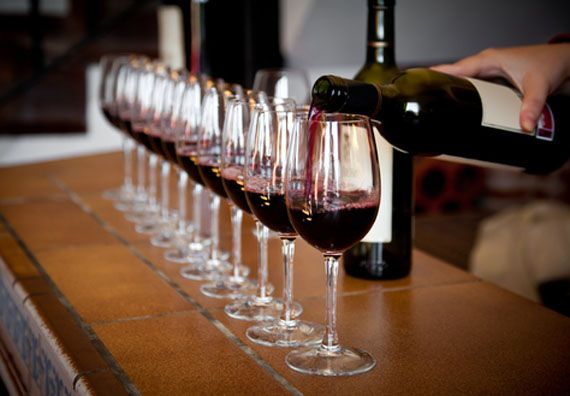 If you drink wine, you know that white wines are typically served chilled, and red wine is best served at room temperature. While these guidelines are basic and broadly true, serving wines at a temperature that is too cold or too warm will mask the structured nuances of a wine, and negate the very essence of subtle craftsmanship intended by the
winemaker
. There is a simple formula (outlined below) to optimize the flavor profile and variable aromas of different grapes.
65-70° F:
Best for full-bodied power-houses. The flavors found in these tannic and "chewy" reds show best just slightly above room temperature to retain bold qualities.
Perfect for:
Cabernet Sauvignon, Syrah, Merlot, Meritage and Bordeaux Blends, Rhônes, Nebbiolo, Barolo, Rioja, Malbec and Zinfandel.
60-65° F:
These light-medium body red grapes grow successfully in cooler climates, so it is fitting that they are best enjoyed at slightly cooler temperatures. This helps to enhance the bright fruit flavors that these wines are known for.
Perfect for:
Pinot Noir, Gamay, Bourgogne, Valdiguié, Beaujolais, Sangiovese and Chianti.
55-60° F:
Full-bodied white wines are commonly served too cold, masking the complex flavors, aromas and mouth-feel that these wines exemplify.
Perfect for:
Meursault, Montrachet, Chardonnay, and Condrieu. Just take out of the fridge for ten minutes and bring to a temperature of 55-60° F for optimum flavor.
50-55° F:
Dry whites are best served a bit cooler than full-bodied whites, bringing out the sunny, fruity characteristics.
Perfect for:
Dry Rosé's, Riesling, Gewürztraminer, Muscat, Chenin Blanc, Sauvignon Blanc, Rheine, Viogner, Mosel Qualitätswein, Pinot Grigio, Pinot Gris, Pinot Blanc, Bianco, Muscadet, and Trebbiano.
45-50° F:
The lowest temperature that wines should be chilled to.
Perfect for:
sparkling wines and Champagne, sweet Gewürztraminer, Riesling, Auslese, Beerenauslese, Trockenbeerenauslese, Eiswein, Muscat, Chenin Blanc, and concentrated desert wines including Tokaji, Late Harvest varietals, and Sauternes (otherwise known as Yquem).
Don't have a temperature controlled cellar or wine refrigerator?
Take full-bodied whites out of the fridge and let them warm slightly before serving (10-20 minutes).
Want to chill a light-bodied red?
Pop it in the fridge or an ice bucket for two to eight minutes.
Need a chilled bottle of Champagne, fast?
Add two tablespoons of kosher salt to an ice-bucket and chill for 10-15 minutes. Salinic compounds speed the freezing process.
Note:
Be careful not to alter wine temperature too rapidly, as it can damage the flavor and aroma. If you have chilled your wine slightly too much, simply warm the bottle with your hands.