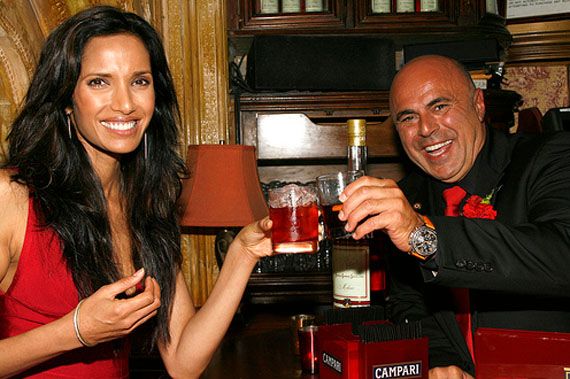 There are many reasons to put one's pen toward a profile of the inimitable Padma Lakshmi — intellectual sex symbol and former model turned Top Chef host, kitchen goddess and Campari spokeswoman.
When we met her at last month's Manhattan Cocktail Classic, we not only spoke to her about her most recent cookbook,
Tangy, Tart, Hot & Sweet: A World of Recipes for Every Day
, but also got a few of her best tips on romantic dining, world travel and enlightened living. While, certainly, every day is potentially a great day to think about these topics (and look at photos of Padma), the summer wedding season seems most appropriate, as it tends to put love in the air — whether you're a newlywed or celebrating your golden anniversary.
JustLuxe:
What dish would rekindle romance between a couple after 15 (happy, but exhausting) years of marriage and two teenage kids?
Padma Lakshmi:
Chicken for the Bold, with chipotle and date chutney. Mix it with yogurt to cool off the spice if need be. It's very tactile.
JL:
What recipe would you recommend for a "cozy night in" with the kids staying over at grandma's house?
PL:
Mushroom and goat cheese flautas, from the appetizer section. For a dipping sauce, Mint & Date Chutney. You can eat this with your hands, and it's easy to eat in bed. Flautas are fried, so pair with a
Classic Negroni
.
JL:
What's your favorite destination to get
inspiration for recipes
?
PL:
Bali. The climate is so beautiful and warm. You have the ocean, rice paddies and mountains...culture and temples, but also outdoor nightlife. The island cuisine is Pan-Asian: Japanese, Thai, Chinese, Indian, Indonesian — oftentimes all at the same restaurant. You'll sometimes even pick out the fish that you want roasted, grilled or fried. It opens your mind to thinking in a panoramic way.
Tangy, Tart, Hot & Sweet: A World of Recipes for Every Day
can be purchased on
Amazon.com
.