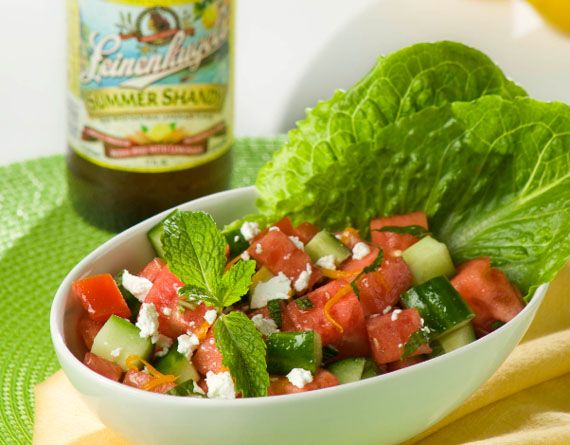 Photo Courtesy of Leinenkugel
There's nothing better than enjoying some good food with a good beer on a hot summer day. We decided, with help from our friends at Jacob Leinenkugel Brewing Company, to combine the two for some amazingly flavorful and light
summer recipes
. We also added a couple drink recipes just in case you have some left over beer and want to use it to impress at your next barbecue.
Leinenkugelís Watermelon, Tomato and Cucumber Salad with Goat Cheese and Honey Lemon Dressing
(Serves 4)
Salad
2 cups tomatoes, diced, ? inch
2 cups seedless cucumber, diced
4 cups seedless watermelon, diced
1 oz. mint

Honey Lemon Dressing


2 tablespoons honey
2 tablespoons extra virgin olive oil
2 lemons, zested and juiced
1 oz. Leinenkugelís Summer Shandy

Garnish


4 oz. goat cheese
8 romaine leaves

In a large serving bowl, mix the honey, extra virgin olive oil, lemons and Leinenkugelís Summer Shandy. Mix well, and add chopped watermelon, tomato, cucumber and mint. Layer two romaine leaves on a salad plate or in a salad bowl, scoop a quarter of the mix onto the leaves and sprinkle goat cheese over top. Repeat three times.



Leinie's Sunset-Glazed Grilled Chicken


Ingredients
10-12 pieces of chicken (cut for grilling)
2 bottles Leinenkugelís Sunset Wheat (measure out 1/3 cup and set aside for sauce)
3 tablespoons Canola Oil
1 cup finely chopped onion
2 tablespoons of minced garlic
10-oz can mandarin oranges (save 1/3-cup liquid and finely chop oranges)
4 tablespoons pure Maple syrup
2 tablespoons soy sauce
? teaspoon ginger
? teaspoon pepper





Clean, salt and pepper chicken and place in a gallon-sized plastic storage bag. Pour all Leinieís Sunset Wheat, minus 1/3 cup, into bag with chicken (suggest refrigerating overnight). To make Leinieís Sunset Grilling Sauce sautť garlic and onions in canola oil over medium-low heat until onions become lightly browned and translucent.

Add 1/3 cup liquid from orange can and oranges to onion mixture and continue to sautť until juice is reduced. Turn heat to low and add Maple syrup, soy sauce, Leinieís Sunset Wheat, ginger and pepper. Simmer for 10 minutes. Prepare charcoal. Place chicken in baking dish and bake at 350į for ? hour. Place partially baked chicken on grill and baste with Leinieís Sunset Grilling Sauce until done. You may want to make extra sauce to serve with grilled chicken.



Leinenkugelís Summer Shrimp Skewers


Ingredients
24 medium shrimp, shells on, deveined
2 lemons, cut into wedges
8 skewers
1/3 cup extra-virgin olive oil
? cup salad oil
? cup tarragon vinegar
? cup Leinenkugelís Summer Shandy
4 cloves garlic, minced
? teaspoon Tabasco sauce
2 teaspoons salt
? teaspoon dry mustard
1 tablespoon sugar
1 teaspoon paprika
? teaspoon pepper
1/3 cup honey
Fresh chopped tarragon leaves

Combine olive oil, salad oil, tarragon vinegar, Leinenkugelís Summer Shandy, garlic, Tabasco sauce, salt, dry mustard, sugar, paprika and pepper. Reserve ? cup of the marinade for basting. Place shrimp in a large resealable storage bag. Add marinade to bag and refrigerate for 4 hours, turning occasionally.

Place the shrimp and lemon wedges on 8 skewers, alternating them. Add 1/3 cup of honey to reserved marinade to create basting sauce. Place skewers on the barbeque, baste as they cook. Sprinkle with fresh chopped tarragon leaves to finish.



Leinenkugelís Candied Ginger Shandy (Created by Las Vegas-based Master Mixologist Tobin Ellis)


Ingredients
? glass Leinenkugelís Summer Shandy
? glass real ginger beer (non-alcoholic)*

Top with ginger lemon foam and garnish with candied lemon slice.

Ginger Lemon Foam


2 oz. ginger liqueur
4 oz. fresh lemonade
4 oz. egg whites
5 dashes lemon bitters

Add all ingredients to a dessert whipper and charge with NO2. Shake well, refrigerate. Makes 12 drinks.




Candied Lemon Slices

Boil 1 cup sugar in 1 cup water. Add thin lemon slices, boil until slices become slightly transparent. Remove and coat in fine sugar while still warm. Let cool.

*Ginger beer is not "beer" as in hops and alcohol, but it is an authentic and flavorful non-alcoholic beverage, such as root beer or apple beer, which is made with fresh herbs, roots, spices and fruits.


Leinenkugelís Honey Beergarita
Ingredients
1 cup tequila
1 12-oz. can lemonade concentrate