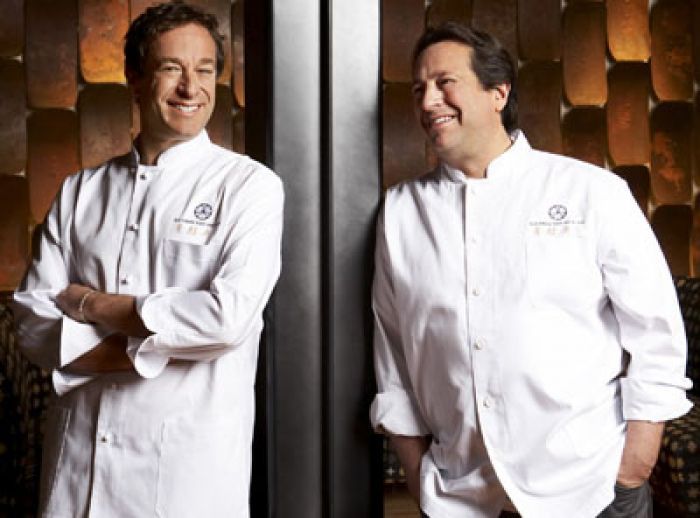 Have you always wanted to ask your favorite chef what they love to eat when they're at home? Or perhaps what they think the next big food or dining trend will be? Look no further than this exclusive series of
chef interviews by JustLuxe
. So read on, as we bring you these answers and more — direct from the culinary masters themselves. Some of the most famous names in the industry, including legendary Michelin-starred chefs, have divulged exciting insider information and personal stories of their journey to the top just for our readers.
Restaurants:
There are over Blue Ribbon Restaurants including Blue Ribbon Sushi Bar & Grill and Blue Ribbon Brasserie
Location:
New York & Las Vegas
Type of Cuisine:
Japanese, American
Accolades:
2003 Chef's Choice Best Dining, Food & Wine magazine, 2006 America's Top Table from Gourmet magazine, Various Top 10 and Best of awards from Wine Spectator, Zagat, Time Out New York, The New York Press, New York Magazine and The New York Observer
JustLuxe: At what point in your life did you decide to become a chef? What influenced you to do so?
When we were very young, we were obsessed with Benihana and spent nights at home practicing the art of flinging shrimp tails into our chef hats in Mom's kitchen. Dad also took us around the world in search of the next great meal and Grandma made the most perfect holiday meals imaginable.
JustLuxe: If you could give a word of advice to an aspiring chef, what would you say?
Aspire to be a great chef, not a great TV personality. Learn the basics and good things will follow.
JustLuxe: Where do you get inspiration for the design of your dishes and plating?
A lot comes from childhood memories and experiences, but also most chefs have an innate sense of what they want their food to look like. Usually it's something that they want to eat.
JustLuxe: What do you predict as the next big trend in cooking and/or the restaurant industry?
In the past few years, we have seen an increasing passion for classic American staples--think the burger trends of the mid-2000's, followed by a pizza-renaissance and most recently meatballs. Ice cream sandwiches and cupcakes are also popping up all over the place on casual and gourmet menus alike. There is no doubt that 2012 will continue to bring some new & improved versions of some good old American dishes. We are asked this question a lot. Our answer is the same for the last 20 years. Trends come and go but good cooking and familiar simple food is always in style.
JustLuxe: Which season do you look forward to the most for its ingredients?
Wow, there is great stuff all year round. I suppose that the spring and fall bring lots of great new items to the table. Spring with its mushroom season is always exciting because they are so fragile and different and their flavors so unusual, but game and the fall season is always our favorite.
JustLuxe: What places or cities in the world have influenced your cooking the most?
New Jersey, NYC and China Town, New England, New Orleans, Japan and of course France.
JustLuxe: In your opinion, what innovation has recently influenced the restaurant industry in a significant way?
I think the fact that casual is the new Luxe. There is luxury in the ordinary if done extraordinarily!
JustLuxe: What would you say is the current climate of business in the restaurant industry?
Run a tight ship and you will be OK. You have to be a great cook and restaurateur first and foremost and be able to run a business as well. No more free passes.
JustLuxe: What is your favorite dish to prepare at home as opposed to the plate you enjoy preparing in the kitchen?
To a chef, cooking is cooking. We are always asked what our specialty is. We have never had a good answer for that because to be a good chef you have to be able to cook everything well and enjoy it equally. At home, we love standing in front of the BBQ and cooking whatever. The big difference is that at home, it's ready when it's ready. That don't fly in the restaurant world!
JustLuxe: Besides gastronomy, what other passions do you have?
We live to cycle, play music, play with our kids and travel. To us that is what makes the world go round and brings us all together.
For more about Chefs Bruce and Eric Bromberg, visit
BlueRibbonRestaurants.com
.
See
Luxury Restaurants
in Las Vegas