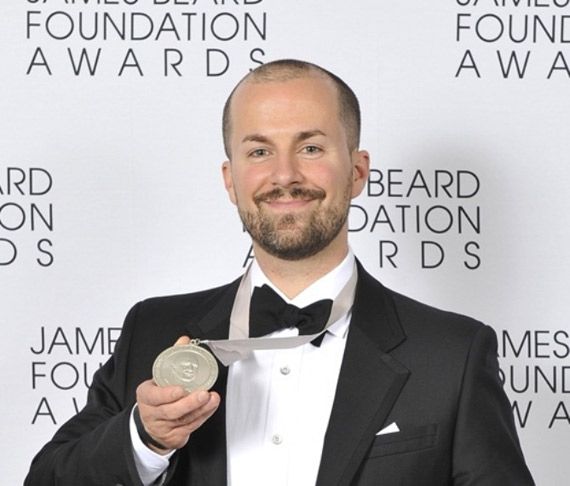 Photo Credit James Beard Foundation, Winner Jim Meehan
Celebrity chef Alton Brown hosted the 2012 James Beard Awards, which marked the celebrated Foundation's 25th anniversary. The much anticipated annual event took place on Monday, May 7th at the Lincoln Center's Avery Fisher Hall in New York City. As always, the gala featured the world's most revered culinary talents as well as those who have both contributed and most influenced the gastronomic industry. However, this year is also ushering in a season of change.
For the first time, the James Beard Awards included the new category of Outstanding Bar Program. The famed Italian leader in cocktail excellence, Campari, hosted the introduction of this fresh addition to the James Beard Award list. Mitchell Davis, who joined the staff of the James Beard Foundation in 1993, is the organization's vice president as well as a cookbook author, journalist, and holds a Hotel Administration degree from Cornell as well as a doctorate from NYU in Food Studies. Davis frequently teaches classes at NYU and Cornell, leads cooking tutorials around the United States. He regularly appears on
Cooking Channel
and
Food Network
shows, and has been published in award-winning books. In 2010 he organized and led the inaugural Food Conference, a national forum on food policy and the food service industry in the United States. The event was attended by 85 thought leaders, including some of President Obama's administration. Read on to learn about Davis' thoughts on the Foundation's newest category.
JustLuxe: How do you feel the craft of creating signature cocktails that use fresh, all natural ingredients has evolved into the art that it has?
Mitchell Davis:
I think that it reflects general enthusiasm for two trends going on. Food in general but also the artisanship of food. We were actually talking about this last night, with one of our guests at one of the parties over the weekend—it's a natural extension that excites the kitchen and the front of house. It's a nice bridge, I think. Cocktails, you kinda cook them, and mix them, and serve them, and it's all part of the show. I just think that it's a really nice way to distinguish a restaurant or bar from others but also still have fun and be creative and offer a great experience for the guest.
JL: Has it entered into new territory or is its current incarnation lending from early spirit traditions?
MD:
It's a little of both. It's new territory. People are getting so creative and getting so complicated, and I think that…whereas a lot of the production aspect used to be given over to, you know, the liquor companies or the people who provided the mixtures, and then it was assembly in the restaurant…creating your own syrups and cooking your own juices and all that sort of stuff, in-house, is new and also the emphasis…It's almost this wild, creativity going on and it's really exciting. I think cocktails have moved a little bit from something to get you interested in dinner to a real integral part of it, part of the same flavor profile and part of the excitement of the experience of being taken through a lovely meal—it's more. At the same time, it's not accidental there's huge references to an earlier time. I mean even the way bartenders are dressing..you know, the retro aspect, and there's a certain, fun "Mad Men-esque," or even earlier...cocktail era. I think that it's all related, and that's why I think It's old and new at the same time.
JL: How does the relationship between bar program and fine dining differ than the relationship between wine programs and fine dining?
MD:
For starters, beverage programs don't require as much as a capital investment to be impressive as wine. Wine is just really pricey and you have to keep it for a long time, so from the business standpoint, cocktails make more sense—they' re much more now. The relationship between money invested and the length of time you get to make that back and make some profit is much shorter. [Cocktails] It also allows s a certain expression or uniqueness. Whereas a sommelier—you know, obviously wine lists are unique from one to the next, but wines are brands. Fancy labels and expensive wines can have a certain sameness to them. You open a list and see all the fancy, all the recognizable names at one restaurant and then you go to another and see the same names. Cocktails are a good way to distinguish one place from the next. They can be so wildly different and reflect the personality of an enterprise more, perhaps than wine. Not to suggest that sommeliers do not have a huge impact, and wine lists are obviously crafted as well, but it's shopping really. It's painting and shopping, you know as opposed to creating.
That being said, I can't get behind the idea of pairing cocktails with food like the way you would with wine and food. I think it's really important to have a cocktail program, a wine program, and a great culinary program. Rick Bayless and I were talking about this last night, you can probably quote him, "It's too much going on… A cocktail—it's so much flavor in a finely crafted cocktail. It's so much to think about that it almost gets in the way food." Sure a little, salty, simple snacks. [But] The many attempts to pair cocktails with different meals, course by course, can get in the way. It just kills you, kills your palate. And of course the alcohol knocks you out.
JL: Do you see the addition of the Outstanding Bar Program to the James Beard Award docket as a sign of evolution in the trends of how food and alcohol are enjoyed together?
MD:
Yes, Absolutely. How food and alcohol are enjoyed together, but also how important they are to the guest experience. It's almost more to me. It's sort of recognizing that from the standpoint of the business that people are investing more time, money, and expertise into the delivery of cocktails as part of this whole, dining, hospitality, guest experience. And from the guest standpoint, you know, they just become part of the fun of eating out, part of the performance of eating out and the things that we enjoy.
Take a look below to see the some of the crafted cocktails behind the Outstanding Bar Program's nominees and some of their famous
drink recipes
. Also, read our exclusive interview with the Executive Vice President of the James Beard Foundation, Mitchell Davis, as he shares some insight into the Foundation's newest category.
Bar Agricole, San Francisco
Thad Vogler and Eric Johnson are the names behind the success of San Francisco's Bar Agricole
best fine spirits
. The bar and restaurant is located on Eleventh Street and features inventive American cuisine and signature mixed drinks with a vintage appeal.
Rye Gin Old Fashioned
By Thad Vogler
1-1/2 ounces St. George Dry Rye Gin
2 barspoons Small Hands Gum Syrup
1 barspoon Leopold's Maraschino
2 dashes Cherry Bitters
2 dashes Aromatic Bitters
Serve over ice (preferably a large cube);
garnish with an orange and lemon
zest.
PDT, New York City
PDT, or "Please Don't Tell," is situated in New York's East Village, providing a cool lounge relief for Crif Dogs deep-fried Jersey-style franks. A slightly hidden retreat, patrons must enter through a phone booth to find themselves in mixologist Jim Meehan's (Winner, top) territory. Meehan, who formerly worked at Gramercy Tavern as well as Pegu Club, is a master of both traditional cocktails and seasonal creations which include bacon-infused bourbon and buttered-popcorn rum.
Strawberry Rhubarb Daiquiri
By Jim Meehan
2 oz. Banks 5 Island Rum
2 Muddled Strawberries
.5 oz. Aperol
.5 oz. Boiron Rhubarb Puree
.5 oz. Lime Juice
.5 oz. Simple Syrup
Muddle the strawberries and simple syrup, then add the rest of the ingredients Shake with ice and fine strain into a chilled coupe Garnish with a slice of strawberry affixed to the rim
Pegu Club, New York City
Located in SoHo on Houston Street, Pegu Club is a jewel of a lounge captained by talented mixologist Audrey Saunders. Established in 2005, Pegu Club is an exotic escape featuring some of the city's most exquisitely crafted cocktails and a rough, organic décor reminiscent of the late 19th century British colonial era.
French Pearl
By Audrey Saunders
2 oz Plymouth Gin (must be brand-specific)
.75 oz Lime Juice
.75 oz Simple Syrup
.25 oz Pernod Classic 80
1 Mint Sprig
Measure all ingredients into a cocktail shaker. Muddle gently. Add ice, shake, and (using both a regular & a fine strainer) double-strain into a chilled cocktail glass.
Glass: Chilled cocktail glass
Garnish: None---the opacity of Pernod is the "pearl"
The Aviary, Chicago
The talented innovators at Chicago's The Aviary, located in Fulton Market, prides themselves on crafting their signature cocktails with the same attention and care as their gourmet plates. At the Aviary, bartenders have the skill of a seasoned chef and all of their beverages are prepared with the freshest, most carefully sourced herbs and produce.
The Aviary Bitter
1/2 ounce Pierre Ferrand Cognac
1/2 ounce Laird's Bonded Apple Brandy
2/5 ounce Bonal
1/3 ounce Amaro Nonino
1 barspoon Lorenzo Inga My Amaro
Dash Peychaud's bitters
Ice
To make the barrel stave coaster, cut a roughly 6-inch-long section from the widest part of the barrel stave using a saw. Using a hole saw bit the same diameter as an Old Fashioned glass, drill a 1/2-inch-deep circular channel into the charred side of the barrel stave. The Old Fashioned glass should rest securely upturned in the circular channel.
To prepare the cocktail, combine cognac, apple brandy, Bonal, Amaro Nonino, My Amaro, and bitters in a mixing glass. Add fresh ice and stir for 20 seconds. Strain into a chilled, single-serving carafe.
To smoke the Old Fashioned glass, light blowtorch and apply heat for about 10 seconds to the center of the coaster circle made with the drill. The barrel stave should begin to lightly smoke. Cap the smoke with the Old Fashioned glass and allow smoke to collect in the glass, about 30 seconds.
To serve the cocktail, flip over the smoked Old Fashioned glass and pour in the contents of the carafe.
The Violet Hour, Chicago
Situated in Chicago's Wicker Park, The Violet Hour is a speakeasy that is the very definition of urban cool. Here, there is no drink "mixing" involved, each creation is an art form— a true recipe blending sophistication, ingenuity, and pure satisfaction.
Hush and Wonder
By Toby Maloney
1/4 ounce Cr?me de Violette
2 ounces rum (preferably Matusalem brand)
3/4 ounce fresh lime juice
3/4 ounce simple syrup
11 drops grapefruit bitters
Pour the Cr?me de Violette into a coupe glass.
Swirl and tip the glass to fully coat its inner surface with the Cr?me de Violette. Pour out the Cr?me de Violette and set aside the glass.
Combine the remaining ingredients in a cocktail shaker filled with ice. Shake, then strain into the rinsed coupe glass. Serve without a garnish.
For more information visit
JamesBeard.org
.