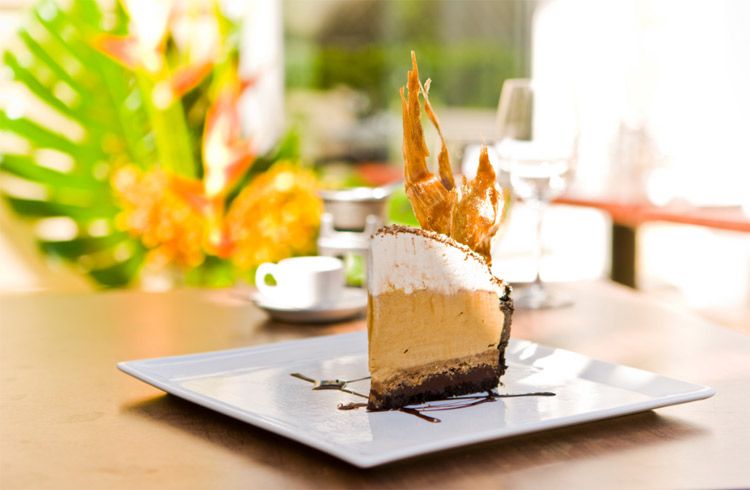 Photo Courtesy of Prime One Twelve
Prime One Twelve in Miami Beach
, Florida might be known for its fresh seafood and perfectly cooked prime steaks, but Head Pastry Chef Robert Gonzalez is making sure guests also remember dessert. The blending of these beloved sweets—peanut butter, Snickers, and Oreos—is a win-win-win combination any way you bake it.
INGREDIENTS
For the Crust:
4 C Ground Oreos
2 C Melted Butter
For the Ganache:
32 oz Chocolate
3 C Heavy Cream
For the Snickers Layer:
8 Ground Snickers
1/3 C Corn Syrup
For the PB Mousse:
12 oz Butter
8 oz Light Brown Sugar
16 oz Powder Sugar
28 oz Peanut Butter
32 oz Whipped Topping
DIRECTIONS
1. Preheat oven at 350 degrees. In a food processor grind oreos to fine crumbs. Mix in a bowl with melted butter. Pat mixture into bottom and sides of a 12" deep dish pie pan. Bake for 12 minutes. Set aside.
2. In a medium sauce pan, bring heavy cream to a simmer over medium heat, add chocolate and whink to dissolve. Remove from heat and pour about 3 cups of ganache into pie shell and refrigerate to firm.
3. In a food processor grind Snickers until crumbly dough forms. Transfer to a medium bowl and add corn syrup and mix until incorporated. Collect dough into a ball and flatten on top of oreo chocolate pie crust.
4. In a large bowl, using an electric mixer set at medium high speed, cream butter and both sugars until light colored and fluffy, add peanut butter until well blended.
5. Whip cream until thickened and soft peaks just begin to form. Fold whipped cream into into peanut butter until well blended. Fill oreo chocolate snickers pie crust with peanut butter mousse and refrigerate to firm.
6. Whip topping cream until thickened and drop a mound on top of pie.