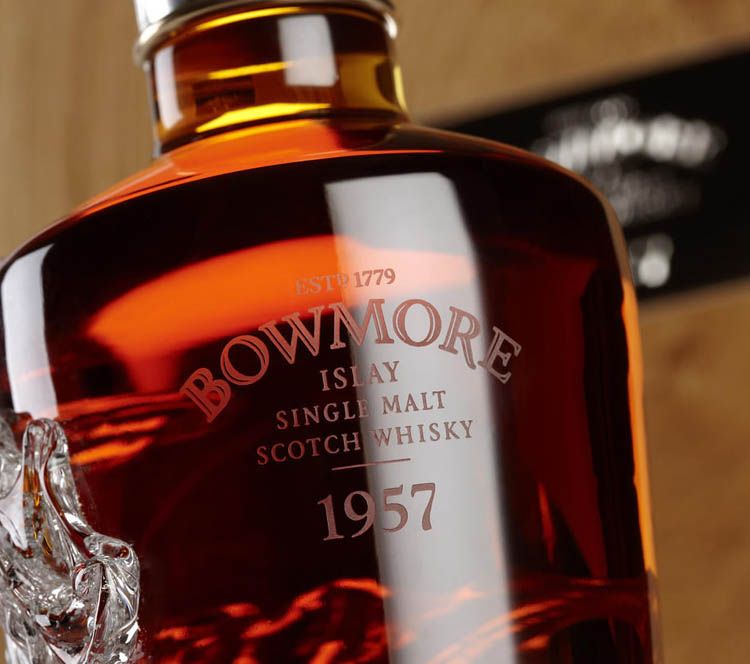 Photo Courtesy of Bonhams
Whiskies are made all around the world. There are the traditional distilling states, of course, like Ireland, Canada and Kentucky, and there are distilleries emerging from Japan, India and other locations across the globe. However, no country has more distilleries than Scotland. There are so many, in fact, that scotch distilleries have had to be categorized by region: Highland, Lowland, Campbeltown, Speyside and Island. Even among the flavorful whiskies of the Scottish islands, one island stands out as its own distinct whisky-producing region.
That island is Islay, and it currently has eight distilleries in full operation. Their whiskies are known to be characteristically smokey and flavorful (in contrast to the light and delicate malts produced in other regions), and are therefore specifically sought after by their connoisseurs who often refuse to drink anything else.
One of those distilleries is Bowmore. Established in 1779, it is one of the oldest distilleries in Scotland and it has now released its oldest malt yet. The Bowmore 1957 Single Malt Whisky is being released in a limited run of 12 bottles, hand sculpted and laced with platinum strands in a sea-wave motif by Brodie Nairn and Nicola Burns with a platinum collar and stopper by Hamilton & Inches. Each 700 ml decanter is placed in a handcrafted wooden case of Scottish oak from the Arniston Estate together with a matching water jug and pair of glasses with which to enjoy the 54-year-old whisky, in the unlikely event that any of the dozen owners opts to actually drink it.
That's because this isn't just the oldest whisky Bowmore has ever made, it's also the oldest Islay malt ever, and the most expensive whisky ever put up for auction. One of the twelve recently crossed the auction block under the auspices of Bonhams, with proceeds earmarked towards five Scottish medical charities. Unfortunately the whisky didn't sell after bidding fell short of its £100,000 ($160,000) reserve price. It will, however, be put back up for auction on October 28 in New York. So if six figures doesn't strike you as too much to pay for such a rare bottle of whisky, we'd recommend you check in with Bonhams.