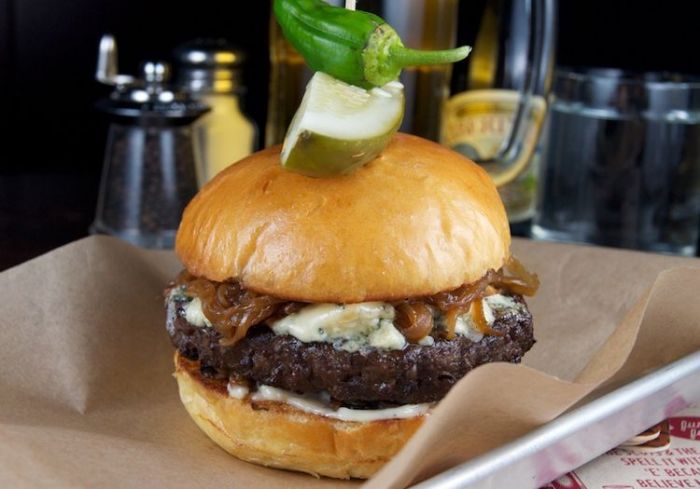 Photo Courtesy of The Handle Bar
If you're a fan of renowned chef Michael Mina than you may want to try this recipe for The Handle Burger, featuring mouthwatering beef and a vast variety of combined flavors. After all, this dish has been sent to us from
The Handle Bar
, the newest addition to the Mina Group's expansive collection of gourmet restaurants. Found in the Four Seasons Resort Jackson Hole in Wyoming, The Handle Bar takes a refreshing path to great food by providing customers with a relaxed and comfortable atmosphere. You don't need to be dressed to the nines to dine here but you'll certainly eat like you are.
With magical mushrooms, black truffle mayo and caramelized onions, this flavorful burger is different from the usual fare you grill at home. Make some
White Cheddar Mac-n-Cheese
to along with it to create a world-class meal full of comfort food that may blow childhood memories of your mom's cooking out of the kitchen.
Yields:
4 each
Ingredients:
2 cups 80-20 Ground Beef
4 ea Hamburger Buns
1 pt Crimini Mushrooms, sliced
1 ea Yellow Onion, julienne
2 oz Grapeseed Oil
4 oz Butter, soft
1 oz Mirin
1 oz Sherry Vinegar
1 oz White Soy Sauce
4 oz Smoked Blue Cheese
4 oz Mayonnaise
1 T Black Truffle Oil
1 T Chopped Black Truffles
Salt and pepper to taste
Preparation:
For Magical Mushrooms:
Heat one ounce grapeseed oil in a sautee pan over medium high heat. When oil shimmers, add sliced mushrooms. When moisture has released and reduced, add sherry vinegar. When sherry vinegar has reduced, add mirin. When mirin has reduced, season with soy.
Add 2 oz soft butter, toss to coat, and set aside.
For Caramelized Onions:
Heat one ounce grapeseed oil over medium heat low. When oil shimmers, add julienne onions. Slowly caramelize onions until light golden brown. Season with salt and pepper and set aside.
For Black Truffle Mayo:
In a small mixing bowl, whisk together mayo, black truffle oil, and black truffle peelings.
For the Handle Burger:
Form four 8oz burger patties in a ring mold slightly larger than your buns. *Note: You can make a mold by carefully cutting a one inch cross section of a Quaker oats cylinder.
Season liberally on both sides with salt and cracked black pepper. Cook burgers on a preheated grill, five minutes per side for medium.
Remove burgers and let rest.
Spread softened butter on your buns and toast on the grill. Top burger patties with blue cheese, and return to grill to melt.
Assemble you burgers: Bottom bun, black truffle mayo, magical mushrooms, burger with melted blue cheese, caramelized onions, top bun.