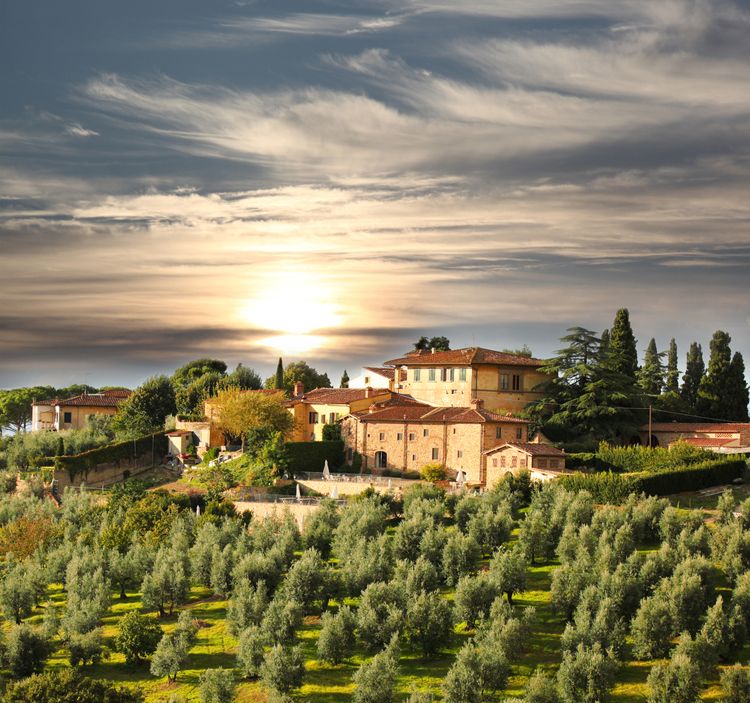 Vineyards by Christie's International Real Estate
is the first program of its kind. It brings together Christie's wine experts and luxury property specialists to offer a new service for those looking to acquire vineyards in the world's most sought-after wine regions. Currently, these regions are in France, California, Oregon, Portugal, Spain, Argentina, and New Zealand.
This pioneering program was implemented just this month to meet new demand from clients at
Christie's
wine auctions in Hong Kong and in China, as buyers needed expert guidance in purchasing overseas vineyard properties. As examples of this new interest, Christie's reported an outstanding total of HK $286.5 million (US $36.9 million) from nine wine sales in Hong Kong last year. Similarly, demand from affluent Chinese investors for foreign wine has evolved into an active interest in foreign wine-producing estates. According to
SAFER
, (Sociétés d'Aménagement Foncier et d'Etablissement Rural), in 2011 there were 35 chateaux with vineyards sold in the whole region of Bordeaux, 60 percent were sold to Chinese buyers. Of the 37 vineyard-chateaux sold in 2012, 62 percent went to Chinese buyers.
Recently, we interviewed Clayton Andrews (Senior Vice President, Central Regional Manager of Christie's International Real Estate) about this new Christie's vineyard dimension, due to this new interest.
Photo Courtesy of Christie's
JustLuxe: How long has this Vineyards by Christie's International Real Estate been in existence?
Clayton Andrews
: The program was launched in May 2013 because of the growing needs of vineyard buyers around the globe. We wanted to bring together Christie's fine wine experts with luxury property specialists from Christie's International Real Estate to provide a consultative service to clients interested in the world's most sought-after wine regions. Buying a vineyard isn't as easy as it may seem. We can assist clients in learning about the wines they want to acquire and to find vineyards to satisfy their interests and realize their dreams. Only Christie's combines both the wine and vineyard expertise.
JL: According to the press release, 62 percent of the 37 vineyard chateaux in Bordeaux were sold to Chinese buyers. Do you have the stats yet for 2013? If not, what is your estimation of their popularity this year?
CA
: We've seen great interest in vineyards from the Asian community. Christie's auction house in Hong Kong sold U.S. $36.9 million worth of wine in nine sales last year. Similarly, demand from affluent Chinese investors for foreign wine helped inspire a growing interest in foreign wine-producing estates. Michael Baynes, of Christie's affiliate Maxwell-Storrie-Baynes in Bordeaux, says the pace is expected to continue. In fact, Baynes predicts sales in Bordeaux will reach 40 vineyards in 2014, up from about 35 this year.
JL: Have any Napa/Sonoma/Mendocino properties been sold in 2013 thus far to Chinese and Japanese buyers?
CA
: We're seeing a great many inquiries about California vineyards, especially from Asian buyers. But records of sales in those regions have not yet been disclosed.
JL: Has this new niche relating to Vineyard properties been surprising to you? If so, why?
CA
: We're not surprised—and we believe it's a reflection of the luxury real estate market as a whole. Overall, we're excited that our intuition in creating this exclusive service was spot-on. There was certainly a growing demand, and we're now able to cater to a distinct niche of buyers through a wide-reaching, existing network of experts. One thing to keep in mind is the amount of time that goes into the vineyard buying process. Buyers make several trips to the vineyards -- they look at different properties in a region to learn what's involved in producing the wine – all before making a final decision. The need for expert assistance is critical.
JL: In very general terms, what would be an average price-point for one vineyard-chateau in Bordeaux? In Napa?
CA:
Anywhere from $5 million to $25 million.
JL: We noticed that you have many affiliates in other, less well known wine-producing areas — the Willamette Valley, and in Marlborough, NZ, as examples. What kind of interest is there in these areas, or must the client be educated in some way as to the desirability of these areas?
CA:
Christie's International Real Estate works with top brokerage affiliates in regions worldwide. Interest in properties in these locations is often related to the distinctive attributes of each area and the preferences of buyers, whether it is proximity, types of grapes, etc. A demand for real estate already exists, so it's our intention to incorporate the services of experts to not only educate, but also thoroughly assist investors through the buying process.
JL: We have written extensively about passion investing for JustLuxe, and also report on affluence research — and the most interesting results as of Spring 2013 is how many millionaires and billionaires from the BRIC countries want a metaphorical safe deposit box for their money: in homes, in art collections, in assets they can keep as bequeathment. Do you see this niche as a new dimension of this evolution?
CA:
This niche certainly presents a new dimension to investing because these buyers are purchasing income-producing assets.
One example comes from José Ribes Bas of Rimontgó Luxury Real Estate, a Christie's International Real Estate affiliate in Spain who said, "We've seen this kind of asset allocation for nearly three years. Our first investor, from Singapore, decided real estate was a secure asset if chosen properly. The client's investments had previously included student residences in Berlin, office buildings in Zurich, a forest in Telluride, Colorado, and a waterfront home in Mallorca. But in the case of the winery, the investment went several steps further. While the client needed to ensure the property's profitability, what was ultimately so special about the purchase was that the family was able to watch as the entity evolved through the seasons. Imagine being able to literally toast to the success of producing an extraordinary wine over the course of several years." 
JL: How are these properties known to be for sale? We think this is a different process from other high-end real estate. Is that true? 
CA:
Vineyard markets in sought after locations are often small and discrete. Without guidance, buyers sometimes do not know they are on the market at all. It is not uncommon for more than half our vineyards to be privately listed, never advertised and never placed on websites. This is another reason why our vineyard specialists are so needed. Not only do they know what is available, they also provide help with critical travel and translation services also.