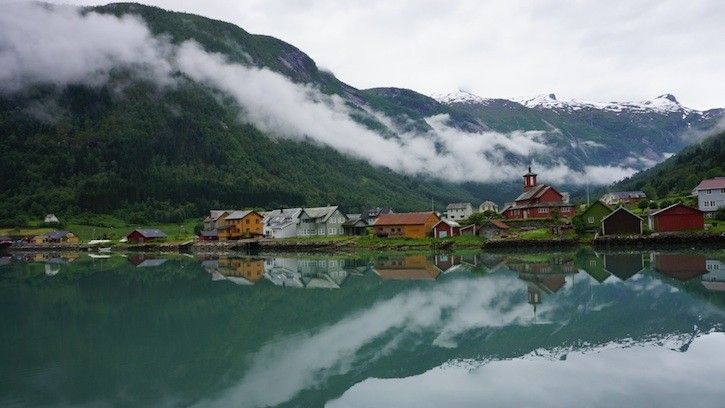 Susan Kime
My neighbor, in her seventies, has been an inveterate traveler all her life. When I told her I was going to Norway she said, "Well, take things to eat from home. All you will get there is underdone fishy fish, covered in cream sauces." I said I would heed her advice and take (as usual on my travels) some protein bars, pumpkin seeds and a large bottle of antacid tablets.
I began thinking about this statement of what she considered truth, and I became aware of the all-too-human process of turning belief into fact, or turning belief into a kind of myth – myth defined as a constantly retold story so that others who hear it often enough will believe it. Beliefs about food are everywhere, and my neighbor is not the only one who has been critical about Norwegian food. Garrison Keillor, the famous host of the well-loved radio show
A Prairie Home Companion
, and a Norwegian himself, has spent both book and air time pontificating on the unpleasant taste of Lutefisk (salt cod soaked in lye). Admittedly, he had complained about only one Norwegian dish, but sometimes it is so easy to generalize one dish to all.
Photo Courtesy of Shutterstock
Both neighbor and radio host can certainly use the origins of Norwegian food as a basis for their arguments. Both Norse and the more adventurous Viking could eat only fruits and vegetables in late spring and summer, as the growing season was short, and the rest of the time ate and then preserved fish caught in the sea and fjords. It was no wonder that sardines became such a staple and a major export in the later history of Norway.
But for a semi-vegetarian, who had experienced food poisoning twice from undercooked fish (once in Scotland, once in New Zealand), I was undeniably cautious about my expectations of Norwegian food. But, I had to eat! And though I did not have the fierce, tolerating palate of Anthony Bourdain, I needed to taste and learn more about the Norwegian gastronomic identity. I spent nearly two weeks in the southern fjord country of Norway and nothing was more surprising, in a land replete with sensuous revelation, than the food. Though Viking myths and legends are still part of the culture, the contemporary dazzling Norwegian cuisine has moved far beyond their dark, survivalist, preservationist beginnings.
Photo Credit: Susan Kime
Stavanger, at the start of my journey, is a city whose reputation was at one time tied to the cleaning and canning of sardines. Now, we ate at the fine dining restaurant
Matbaren
, where Sven Erik Renaa and his team prepared innovative dishes and unusual taste combinations from locally sourced ingredients. One of my dishes combined toasted Ch?vre cheese, beets, honey and walnuts. Others were equally seductive, combining Buffalo Mozzarella with Parma Ham, chili tomato confit, arugula and basil, and something I did not have time to try – anise scented potato chips.
Renaa is well known in this part of the world as he is a prize-winning Norwegian chef. He trained in Oslo and New York, but he made his permanent home in Stavanger, working at Gastronomisk Institutt until he started this restaurant in 2009. He was Chef of the Year in 2008 and has been an honorary member and panelist at the Bocuse d'Or, the yearly world chef cooking contest in Lyon, France.
Photo Credit: Susan Kime
In Haugesund, 54 miles north of Stavanger, we were introduced to a restaurant, tucked away on a residential street. It was a renovated home called
Lothes Mat & Vinhus
on the Smedasundet Sound. The building in which the restaurant is housed dates back from 1850. Our dining room looked like a formal family dining room, elegant while intimate. (And, as with many restaurants and homes, the Lothes Mat & Vinhus is said to have its own friendly ghost.) The soup I ate was a fish soup variation that combined a whipped seafood broth and green asparagus with a slice of turbot. The fish was caught locally (supposedly that morning) as was the second course: the halibut, sautéed with white asparagus, pumpkin seeds and a prawn apple butter sauce. The taste combinations, especially those with delicate white asparagus, were memorable.
Photo Credit: Susan Kime
Utne Hotel
is one of the oldest on the Hardangerfjord and has been in continuous operation in the same building since 1722. Travelers have found comfort along with great food there. It is said that a friendly ghost inhabits the hotel, the kindly spirit of Mother Utne, wife of the original owner of the property. Whether she oversees the kitchen staff is questionable, but the food is exceptional. On the day we were there, I had a perfectly sautéed whitefish in a lightly seasoned saffron sauce with freshly chopped coleslaw with raw carrots.
Photo Credit: Susan Kime
It was around this time, as I was fording the Hardangerfjord, that I began thinking about how the Norwegian identity; so full of life and color, this is reflected in their food. For all of the food savored, the fish preparations were still my favorite, and again, this was from someone whose prior fish experiences were less than stellar. The fish soups, the fisksuppes, were the most extraordinary – light, occasionally with a few vegetables, sometimes with mussels, scallops and shrimp and scattered with tiny chives. Each soup had different textures and colors at each city or town, and all with different definitions of taste from frothy to intense, but never fishy tasting. After this, I traveled to the two historic hotels whose exceptional breakfast and dinner buffets helped create their major culinary reputations.
Photo Courtesy of Hotel Ullensvang
First was the
Hotel Ullensvang
located in Lofthus, Norway. It has been owned by the same family for five generations since 1846. The hotel, like the Utne, is on Hardangerfjord with a view of the Folgefonna Glacier. It also lies very close to orchards that were begun in 1210 by the Monks of the Cistercian monastery. Now there are over 600,000 fruit trees in the area. The view from the Ullensvang has provided inspiration to many artists and writers through the years, but the most famous, and whose statue is on the property is Edvard Grieg; his composer's hut is still there.
Photo Credit: Susan Kime
The Ullensvang's food is equally inspirational, especially the exceptional buffets both for breakfast and dinner. However, I also ate some specialty dishes that combined scallops, pea puree and fresh watercress. It was also at the Ullensvang that I dared try their dilled salmon, which was so spectacular I went back for more…and again for breakfast. I could hear the old Norwegian food beliefs shattering as I indulged.

The Ullensvang's dedication to great food and drink is further symbolized by their hotel logo, which at first glance looks like a Viking ship, but it is really a Norwegian Kienga, a beer bowl that again dates back to the 1800's. Ale brewing and cidermaking was a common practice on farms in the area, especially those with fruit trees and grain pastures. It was said that on most local farms there was a barrel of ale in the cellar.
Photo Credit: Susan Kime
The second hotel was Kvikne's in Balestrand, the Kvikne family started the hotel in 1877 and five generations later, Sigurd Kvikne and his family — descendants of the original owners — are still are at the helm. The history of this hotel is fascinating, as artists, writers, celebrities and European royalty, including Kaiser Wilhelm II, have stayed there. Not far from the hotel is the
Ciderhuset
, where guests can taste the exceptional cider made in this area. But the food is much of what makes this hotel such a multi-star experience. On the first night of my stay, we were treated to one of the greatest meals ever, one that puts to rest forever and ever (Amen), the Lutefisk issue. We dined on grilled crayfish, freshly caught from the Sognefjord; King Crab in the shell with risotto featuring a tarragon veloute; and monkfish served with pea puree and tomato confit.
Photo Courtesy of Lysverket
Our final stop was in Bergen, one of the great historic cities of Northern Europe and home of the National Theatre. It was founded by Henrik Ibsen and was a temporary home of the great violinist Ole Bull, before he moved to his permanent home on an island near Bergen called Lysoen or "Isle of Light." The composer Edvard Grieg also built Troldhaugen, his permanent composing home, there. It is additionally a UNESCO World Cultural Heritage city, due in part to its exceptional Hanseatic League history and its great museums. One of these is the Bergen Art Museum, housed in the old Lysverket building that features works by Edvard Munch, J.C. Dahl, Picasso, Kandinsky and northern Europe's most expansive collection of Paul Klee. As of this year, this great museum also houses one of the best new restaurants in Bergen,
Lysverket
.
Photo Courtesy of Lysverket
Upon entering Lysverket, I saw refreshing, minimalist lines of the restaurant and learned that the Executive Chef Christopher Haatuft had worked at Per Se in New York and Le Chateaubriand in Paris. Yet had dreamed of returning to his roots and opening a restaurant in Bergen where he could create a seafood-based cuisine. In a recent interview, he said he hopes to awaken and engage his customers in eating fresh, locally produced food. Lysverket seems a Michelin star chef in the making. The images depict the Grilled Halibut on a bright green spinach puree and a dessert: tart rhubarb, a sweet bread and edible pansies.
Photo Credit: Susan Kime
As I saw and tasted the cuisine of Norway, I considered its food evolution: from being a hunter/gatherer staple to a more evocative set of tastes. Though still often ocean and Fjord based, the fare is now adorned with new tastes and trims that enhance and educate the palate, symbolizing again how Norway's living past informs and enhances its savory present.
A word of gratitude — many thanks to Michael Hetjmanek, CEO of Hasselblad Bron for allowing me to use the new Hasselblad Lunar camera on these travels.