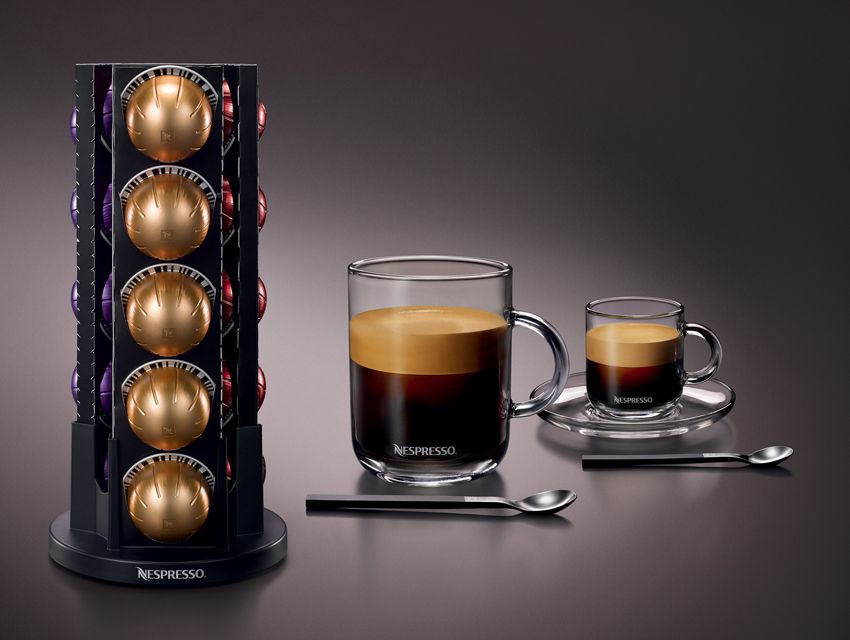 Photos Courtesy of Nespresso
For those of us who face a time crunch in the mornings, getting our coffee fix needs to be quick and easy. That said, just because we need convenience doesn't meet we have to sacrifice quality. Nespresso (the older, more sophisticated alternative to Keurig) has pretty much dominated the at-home espresso market, and now they're planning to take over large-cup coffee as well with their new VertuoLine.
VertuoLine is Nespresso's first machine that brews espresso and American-style coffee, and is apparently the most "intelligent, elegant and ergonomic system on the market today." The machine is able to recognize each Grand Cru and will optimize its settings automatically, meaning that you never actually have to tell it whether you're wanting to make an eight ounce coffee (with crema) or espresso — it just knows.
"VertuoLine will be a game changer and will revolutionize the most rapidly growing segment of the coffee market in North America," says Jean-Marc Duvoisin, CEO of Nestlé Nespresso SA. "After pioneering the portioned coffee market in Europe and seeing tremendous growth potential in the North American market, we are confident we can become a major player [...]"
Nespresso only accepts the top one or two percent of coffee beans, resulting in eight coffees and four espresso blends. Wanting to cater to the North American market, the different coffees have varying intensities and tastes, with the company's first-ever half-caffeinated Grand Cru and two flavored coffees (vanilla and hazelnut). There's also a decaffeinated variety.
Starting in March, Nespresso will be taking the VertuoLine on a 108-day tour, giving fans a chance to check the new system out at a pop-up installation in participating boutiques and stores. Five different teams will be traveling to 17 different cities all over the country (including Austin, Denver, Los Angeles, Boston, and Miami), hoping to reach at least one million people along the way. Tasting venues will include malls across the country and major transportation hubs, like Union Station in Washington, D.C., and Grand Central Terminal in New York, NY.
VertuoLine is available in red, black, and chrome, with a cost of $299. You can also buy the bundle, which comes with the Aeroccino Plus milk frother, for $349.