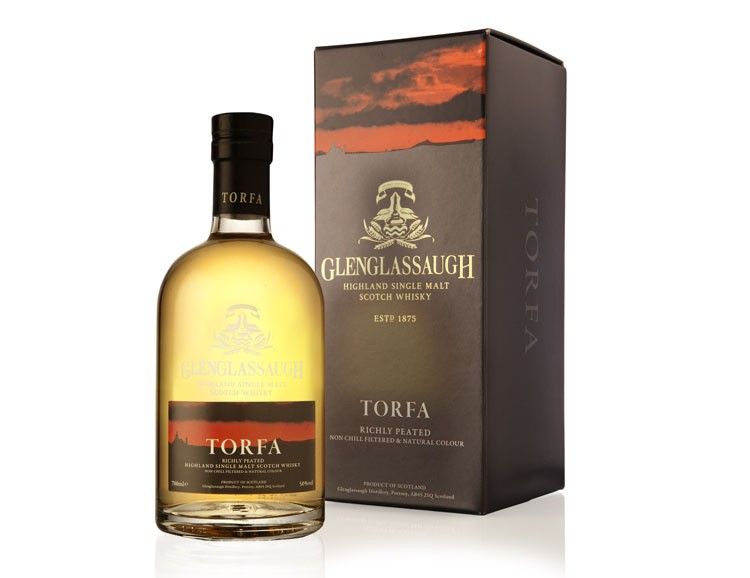 Photos Courtesy of Glenglassaugh
Whisky connoisseurs know that if they're looking for a smokey, peated malt, they need to look to Islay. The Scottish isle is known around the world for its peated whiskies, home as it is to such distilleries as Laphroaig, Ardbeg and Lagavulin. But the Islay distilleries aren't the only ones producing peated malts these days — other traditional Scotch whisky producing regions are getting in on the smokey action as well, and Glenglassaugh is the latest.
A little-known, small-volume distillery located northwest of Aberdeen in Banffshire, Glenglassaugh has a history that dates back to 1875. It was bought by Highland Distillers in 1892, which in turn became part of the Edrington Group that owns Macallan and Highland Park. Edrington ultimately shut it down and it lay silent for 20 years until it was reopened in 2008. Just last year it was acquired by the small (but expanding) BenRiach Distillery Company that also owns GlenDronach. But whereas BenRiach and GlenDronach can be found in the Speyside region, Glenglassaugh is located up in the Highlands.
Glenglassaugh is known among connoisseurs for its Revival and Evolution malts, with their characteristic delicate flavor profiles. But now the distillery is expanding into peated whisky with the launch of Torfa. Taken from the Old Norse word for peaty turf, Glenglassaugh Torfa is rich in peat smoke as you'd expect from an Islay malt. "At Glenglassaugh, in addition to the traditional production, we also produce a very limited quantity of whisky using richly peated malted barley as the cereal varietal," explains sales director Alistair Walker. "The malted barley has been dried in the traditional way, over peat-infused kilns, giving the whisky its unique smoky flavour."
Non-chill-filtered and bottled at 50 percent ABV with no color added, Torfa (£39.95; around $67) is said to have a nose of campfire smoke, sea air lime zest, apricot jam, ginger and black pepper. The palate opens to more peat smoke, candied citrus peel, melon, pineapple, roaster red apples, oat biscuits, heathered honey and cigar box spice, finishing off with more coastal peat and spiced fruit.