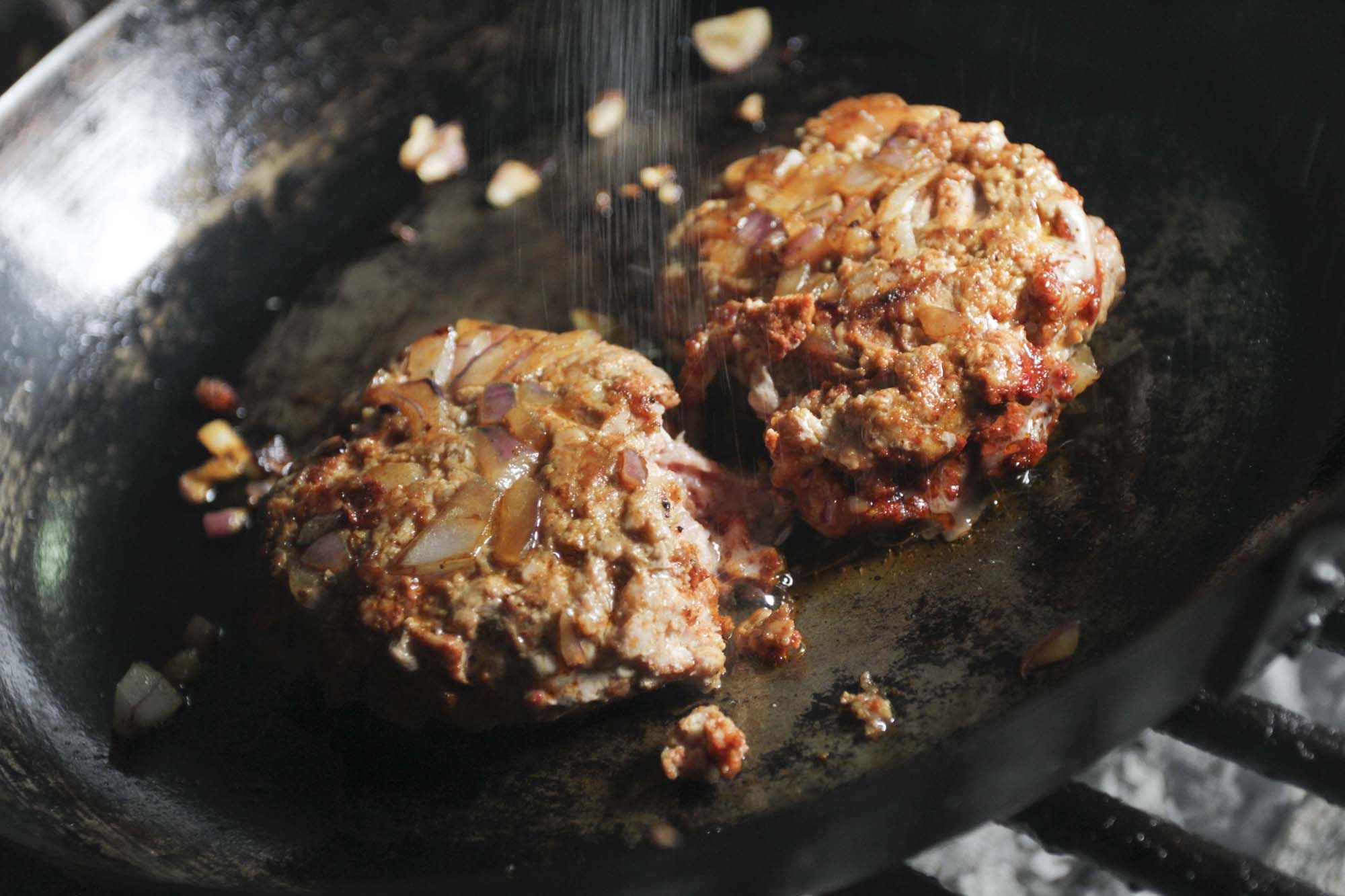 Photo Courtesy of Terrazas de los Andes
You can't become the master (or mistress) of the grill without getting a lot of practice and thanks to Peter Kaminsky's tips and tricks of the trade, you now have plenty of knowledge to get started. He was even nice enough to share three of his best recipes, so now it's time for you to try his Pork Pimenton Sliders With Bacon Jam.
Pork Pimenton Sliders With Bacon Jam
"Ground Pork makes a delicious burger with a fuller flavor than beef. Smoky pimenton adds an extra layer of seasoning and grill flavor. When people show up at our place for a barbecue, we will often serve these sliders right away so no one gets too antsy while larger cuts of meat or poultry cook. Buy the best ground pork you can find. Berkshire Gold or Niman Ranch Pork are two labels I look for. These days many local farmers sell their pork at farmer's markets or to butcher shops. It's worth the extra money."
Serving Size: 16 sliders or 8 burgers
Ingredients:
2 pounds ground pork
Coarse (kosher) salt and freshly ground black pepper
1 or more tablespoons pimenton (smoky paprika)
Extra virgin olive oil
2 onions, chopped
16 small slider buns or eight standard burger buns
Note: If you can't find smoky pimenton, regular paprika will work. Your call if you want it spicy or sweet.
Directions:
Season the pork with salt, pepper, and pimenton, mixing well by hand to combine. Form into two-inch patties for sliders, four inch patties for full size burgers and brush both sides with olive oil. Scatter onions on a sheet pan or cutting board, press sliders onto onions, turn and repeat on other side.
Place a skillet or griddle on the barbecue grate over medium high heat. It is hot enough when a drop of water bounces and sizzle. Place the burgers on the skillet or griddle. Press down on each burger with a spatula. Turn after three minutes (four for the larger burger) and cook for another three to four minutes until medium to medium rare. Remove from grill, top with a dollop of Bacon Jam (recipe below) and serve on buns and wash down with Terrazas de los Malbec.
The Bacon Jam
"Serve this versatile condiment with just about anything. Actually you can serve all by itself on grilled bread. All the basic tastes are there (salty, sweet, sour, bitter, umami) plus some spicy heat."
Serving Size: Yield 1 to 1 1/2 cups
Ingredients:
1/2 pound smoked bacon, diced into 1/2 pieces
1 large shallot, diced (about 1/4 cup)
1/4--1/2 teaspoon red pepper flakes
1/4 cup brown sugar
1/4 cup sherry vinegar
2 tablespoons blood orange juice (or regular orange juice)
2 tablespoons dark rum
3 slices fresh ginger, rough dice
1 teaspoon honey
Freshly ground black pepper to taste
Directions:
Cook the bacon over medium to medium low heat, adjusting the heat as necessary and stirring often, until browned and crisp and the fat is rendered. Drain the bacon on a paper-towel lined plate. Reserve a few tablespoons of drippings in the skillet.
Add the shallots to the reserved drippings and cook over medium low heat about two minutes, stirring often and scraping up the browned bits. Return the bacon to the pan; add the brown sugar, honey, rum, vinegar, orange juice, red pepper flakes, and ginger. Bring to a boil, then reduce the heat and simmer, uncovered, about 10 to 15 minutes or until most of the liquid is evaporated, stirring occasionally.
Transfer to a mini-food processor; pulse until the bacon is finely diced but not puréed, turning off the motor several times to scrape down the sides of the bowl. Store in refrigerator. Will keep for a week.