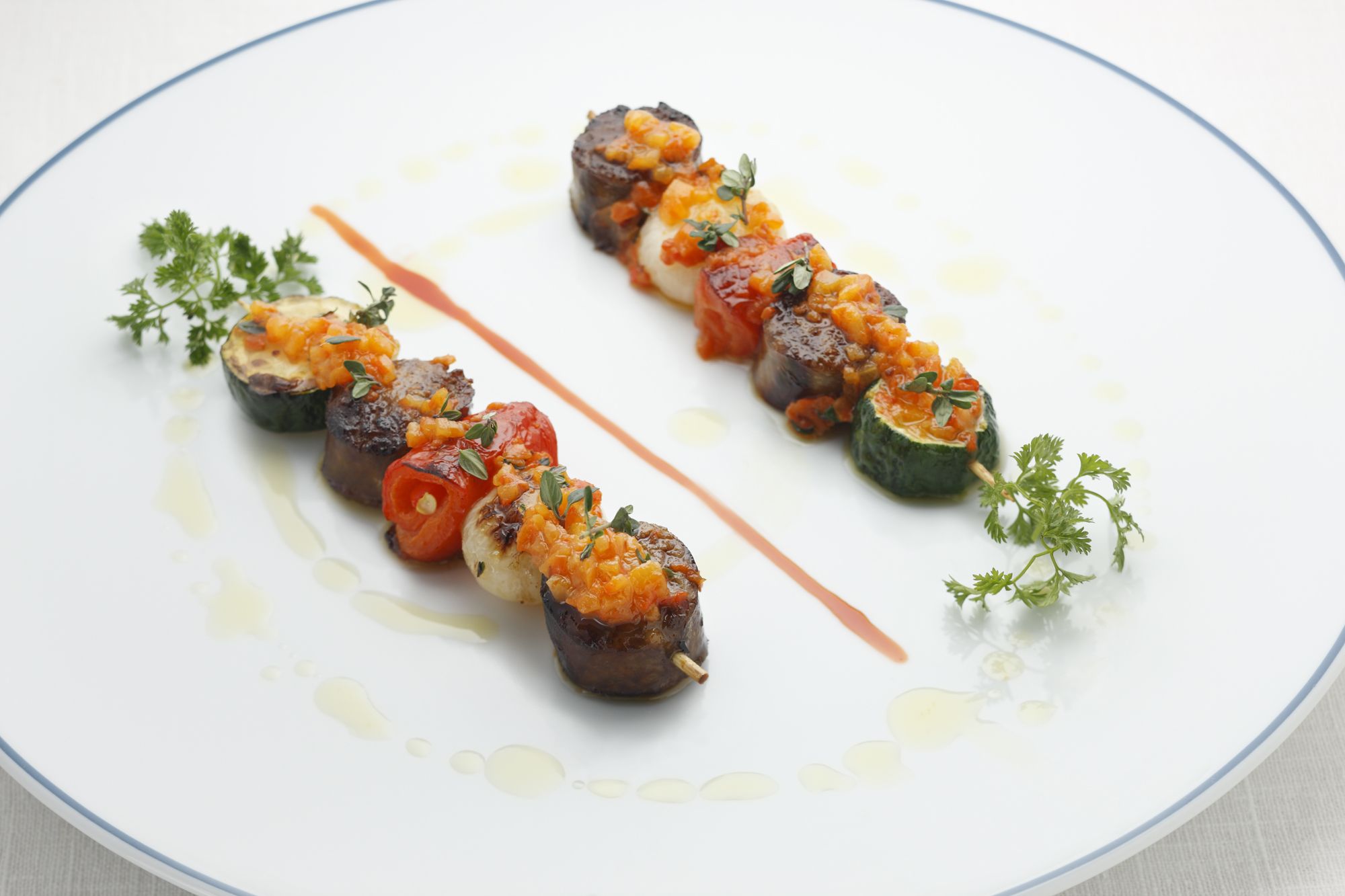 Photos Credit: MGM Resorts International
Julian Serrano is a James Beard award-winning, Michelin-starred chef known not only in Las Vegas, but worldwide. His Picasso restaurant in the Bellagio has received the AAA Five Diamond Award 13 times and now his Lago establishment (which opened in April) is pulling in a lot of attention with its fountain-side setting and Italian-inspired menu. While most people see the famous Bellagio Fountains from a distance, the best view by far is from Lago's shaded, waterfront patio. Guests are only about 30 to 40 feet away from the dancing fountains as they dine, sometimes even feeling the fine spray—which is refreshing instead of bothersome.
Lago uses the Italian "cicchetti" concept—typically served in traditional bàcari or osterie bars in Venice—and borrows from the Spanish tapas tradition by focusing on small plates and side dishes. Chef Serrano has expanded this idea to include varied, yet complimentary, small plates with very diverse tastes. Included on the menu is raw seafood, crostini, slow-cooked short ribs, boneless quail, several vegetarian options, red wine-braised veal shank, and squid ink gargenelli. The cicchetti tradition is enhanced by offering a by-the-glass option from the restaurant's 600-bottle list, meaning you can pair various wines with the many dishes.
We were fortunate enough to speak with Chef Serrano to learn about his culinary origins and how they evolved into Lago.
JustLuxe: Tell us a little about the mission and vision of Lago.
Julian Serrano: It is Italian, but a different type of Italian...To my knowledge, no one had done "small plate Italian" in Las Vegas. You don't get terribly full with the small plate. Sometimes if you eat too much, you lose the delicate tastes of what you are eating.
JL: The simple design and comfortable flow to the restaurant interior is in contrast with the restaurant's location next to the Bellagio fountains, which dance to music that's played every half hour; was this part of our plan?
JS: Glad you noticed that, and yes it was. There is a simple ease with the dining area and the patio outside...many outdoor and indoor tables have great views of the fountains...Sometimes you see rainbows inside the fountains. It is magic, every [half] hour.
JL: But then, there is the Lago menu—the tastes are diverse in color and texture, and the small plates make the tasting all the more compelling. What advantages do you see in having a small plate menu?
JS: There are philosophical and practical advantages. Often, when you go to an Italian restaurant, you order something—pasta for example—and they bring out huge portions. Much of the time you can't eat it all, there is waste, but after you eat a lot…the sensuality of your taste can often become dull.
We didn't want that to happen, so we devised a small plate idea where you can eat and taste consistently, and you can share plates with others at your table. It is a social/communal idea, as well as one that maintains an active level of personal taste interest. There is less waste, more sharing, and more basic engagement while dining.
JL: In our interviews with other celebrity chefs, we have found that early on their taste preferences were very distinct. Some were picky eaters and didn't like much of what was served to them—even as children, there were textures and colors they liked or didn't like. Is this how it was with you?
JS: I agree. A lot of the time I didn't like the food my mother cooked because it was repetitive. I really enjoyed salads, soups and meat. My mother cooked meat well-done and over-cooked vegetables, so I didn't realize I liked vegetables until I discovered that if you cook them for a shorter amount of time you can taste their true flavor.
JL: When did you really think you could become a chef?
JS: When I started school I discovered that I learned very quickly from my teachers...There was a program for the culinary students in which students at a certain level got to practice their skills by cooking for other students at the hotel school. Normally it took one to two months for students to achieve this level. I achieved this level in 10 days!
I really liked cooking because it came naturally to me. I discovered my passion when I was 27 years old and working as a chef in San Francisco. I decided to dedicate 100 percent of my time to being the best chef I could possibly be. I became so focused on my goals as a chef that even when I vacationed I would work for free and plan everything around food.
JL: You have won many awards for your cuisine; which was the most surprising and meaningful to you and why?
JS: The James Beard Award [for] California's Best Chef. This meant a lot to me because the quality of food is so high in California.
JL: When you go home and want to eat something late at night, what do you cook? Or, when you have family and friends at your home, what are your favorite dishes to prepare?
JS: I do not cook anything when I come home at night. I actually don't keep much food in my house! When I entertain family and friends I make simple dishes, such as roasted chicken, chicken and rice, salads, and soups.
JL: Finally, what other dimensions must there be to make a great restaurant? Other than good food, of course.
JS: Great, fresh food with complimentary flavors is of prime importance, but it is not everything. Good energy must always be there from our servers, our chef, [and] everyone who is involved with the creation of the cuisine at Lago. The servers must be friendly and suggest dishes if asked, [ones that] they know well and have tried themselves. The restaurant itself must have great décor that does not intrude or overwhelm the guests, and the flow—the coming and going—must be non-intrusive also. I think we have these things at Lago...We are so fortunate to be here and enjoy so many things—fountains, food, friendliness—on so many levels.