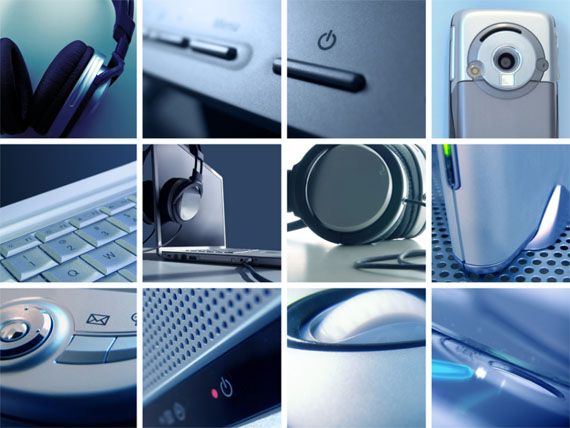 Twenty-two new tech devices have been announced as winners of the
Travel+Leisure's 2011 Tech Awards
. Each one, in its own way, delivers on the promise to make life much easier, social and more integrated, both on and off the road.
Covering twelve categories from tablets to cameras to headphones and smartphones, the list is in the May issue of
Travel+Leisure
, and here on
JustLuxe
.
See our picks for
Best Ultimate Electronics
Tablets | Motorola Xoom
The Motorola Xoom is a substantial Android tablet. It is generally thought to be the first to strike a balance between design, performance and utility with its powerful NVIDIA Tegra 2 dual-core processor, 10.1-inch display and Google's new tablet-specific mobile OS, Android 3.0.
Tablets | Apple iPad 2
The iPad 2 is thinner than the original and has the new A5 chip that offers faster graphics processing and general performance. It also features dual cameras for video chat, HD video recording and stills. Improved design incorporates internal magnets for Smart Cover accessory. 3G versions available on AT&T and Verizon Wireless.
Tablets | Blackberry PlayBook
RIM's BlackBerry PlayBook is a fast, powerful 7-inch tablet with HDMI output, advanced multitasking and security and a browser that integrates Adobe Flash 10.2 for a substantial desktop-style web experience.
Cameras | Olympus Pen E-PL2
This is a popular mirrorless camera. These cameras deliver much of the freedom as many of the options of digital SLRs but at about half the size and weight. The draw for experienced photographers is the prospect of a lightweight camera and for beginners, mirrorless cameras can be less daunting and often easier to use.
Cameras | Nikon D3100
Nikon's D3100 is the company's latest entry-level DSLR. New features now include Live View and video recording facilities - indeed it becomes the first Nikon DSLR to offer 1080p video recording. To satisfy market demands, the resolution has also received a boost from 10 to 14 Megapixels. The D3100 features a Guide mode which asks simple questions about what you'd like to take before setting up the camera appropriately. It's an educational option for beginners as it teaches camera settings, and the D3100 shows example images before finally offering shooting options.
Cameras | Casio EX-H20G
This compact camera is outfitted with a Hybrid GPS system. Not only can it geotag photos faster and more reliably than other GPS-equipped cameras, but it can track movement when the GPS is off or has no signal.
Cameras | Canon Powershot D10
This camera is a waterproof, frost-proof and shock-proof rugged point-and-shoot. It has a respectable 12.1 megapixel sensor, 3x optical zoom and ten meter waterproof rating.
Smartphones | Blackberry Bold
The RIM BlackBerry Bold 9700 boasts a sleeker design that includes an optical trackpad, a 3.5mm headphone jack and a brilliant display. The smartphone is 3G capable and offers Wi-Fi with UMA support, Bluetooth and GPS. It also gets a faster processor and updates to BlackBerry OS 5.0.
Smartphones | Apple iPhone 4
One of the most popular smartphones made thus far, just 9.3 milimeter thick, the iPhone 4 is 24 percent thinner than the previous model. External buttons include a separate volume up and down button, the mute control, and an additional noise cancellation microphone used to suppress unwanted background noise for clearer calling. The device has the same-sized 3.5-inch display like the previous iPhone. However, it incorporates a new display technology that Apple calls Retina Display, which packs in four times the previous iPhone's pixel density, resulting in a 960x460 pixel resolution and a 326 ppi pixel density - meaning exceptional visual clarity when seeing moving or still images.
Smartphones | Motorola Atrix 4G
Motorola ATRIX 4G is designed to essentially become a user's primary digital hub to create, edit and interact with documents, media and content. This is facilitated by Motorola's webtop application and incredible new accessory docks, such as the Laptop Dock, that provide users with a larger screen, keyboard and trackpad enabling them to have an enhanced and more interactive computer-like experience with their devices.
Bluetooth Headset | Jawbone ERA
Jawbone ERA is a Bluetooth headset equipped with military-grade NoiseAssasin 3.0, the latest version of Jawbone's industry-first noise and wind cancelling technology. Originally developed for use by tank commanders and helicopter pilots, NoiseAssassin 3.0 eliminates background noise. It also auto-adjusts inbound call volume and intelligibility to the environment.
External Battery | Mophie Juice Pack Air
The Mophie is an external power source for the iPhone 4 in a light-weight and ultra-thin external rechargeable battery case. The Juice Pack Air is a rechargeable external battery concealed inside of a protective form-fitting case for the iPhone 4. It offers the full protection of a hard-shell case while providing virtually twice the battery life of the iPhone.
Laptops | Apple MacBook Air 11-inch
The new 11-inch MacBook Air is always ready to go. Not only does this notebook weigh 2.3 pounds and has a razor-thin profile, its use of flash memory means the traveler never has to wait to start surfing the web, touching up photos, or making FaceTime calls. The Air features a Core 2 Duo processor, Nvidia graphics and more than five hours of battery life.
Laptops | Panasonic S10
The Panasonic S-series offers an all-day, on-the-go, AC adapter-free, lightweight, desktop power solution in ruggedized chassis. It weighs 2.8 pounds and has a battery that can go for 15 hours. For traveling, it can be put into a briefcase or purse without any protection. With up to 220 pounds of pressure resistant casing, a 30 inch drop rating and a drip-proof keyboard ensure, it's good-to-go on any adventure.
Laptops | Samsung 9 Series
The 13.3 inch Series 9 weighs less than three pounds, has a sleek metallic look and all black brushed metal. It's only .64 inches thick. The Series 9 is powered by a second-generation Core i5 2537M processor - a dual-core ultra-low voltage version of Intel's new "Sandy Bridge" CPU that runs at 1.4GHz with turbo speeds up to 2.3GH and enough lithium polymer battery to allow Samsung to claim 6.5 hours of battery life.
Mouse | Microsoft Arc Touch Mouse
This is a lightweight portable wireless mouse. Curve the body to switch on, flatten to switch off and transport in a suitcase. Tactile scrolling: Flick to scroll, tap to stop, double tap to page up/down. No bluetooth required on this mouse and there is up to 30 feet of wireless range.
E-Reader | Amazon Kindle
Amazon's flagship reading device, one of the best e-book readers on the market.
GPA | Magellan eXplorist 710
The eXplorist series of rugged, waterproof, handheld GPS receivers are perfect for any outdoor travel adventure. The eXplorist provides innovative features, easy-to-use menus, sunlight readable screens and long lasting battery life.
Rental Car | Chevrolet Volt
The Chevrolet Volt is a plug-in hybrid electric vehicle manufactured by the Chevrolet division of General Motors. The Volt has been on sale in the U.S. market since mid-December 2010 and is the most fuel-efficient car with an internal combustion engine sold in the United States, as rated by the U.S. Environmental Protection Agency.
Headphones | Able Planet Clear Harmony
The Clear Harmony active noise-cancelling headphones offer dramatic noise reduction and a rich listening experience. In addition to the active noise cancellation, the Clear Harmony headphones take advantage of a patented sound enhancement technology called Linx Audio, which was developed to increase speech clarity in hearing aids but has the added advantage of enhancing musical harmonics as well. The Able Planet Clear Harmony active noise-cancelling headphones are a great choice for travelers or anyone looking to bring some more peace and quiet into their lives.
Headphones | V-Moda Vibrato
The V-Moda Remix Remote earphones feature a stylish durable design, fit securely and offer lots of bass. They include an integrated mic and remote for the iPhone and iPod and the call answer button works with Android devices as well. They also have a unique plug housing that is designed to withstand traveler's wear and tear.
Video Camera | Flip MinoHD
The Flip Mino HD is a small video camcorder. The new MinoHD one-hour and two-hour video cameras are sleek and stylish with enhanced HD video quality. The new MinoHD video cameras now feature the built-in image stabilization and 720p/60 fps combination allowing the traveling consumer to capture clear and steady video, no matter what the adventure.