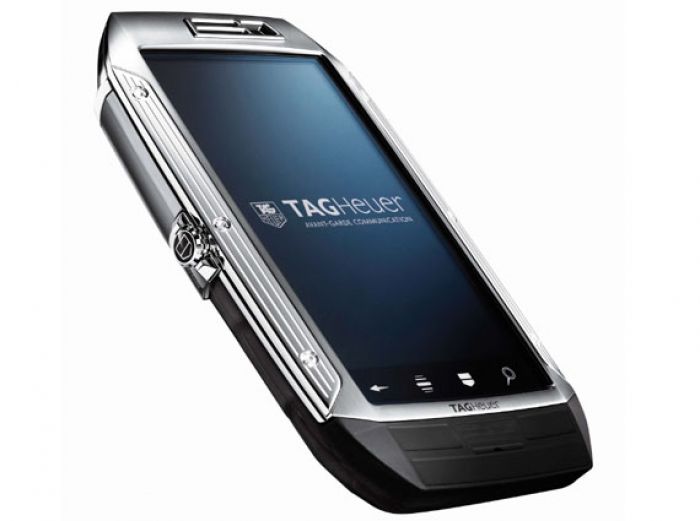 Photo Courtesy of TAG Heuer
The
TAG Heuer
LINK is the world's first Swiss-engineered communications instrument. It appears to be built as efficiently as the luxury brand's wristwatches, as it is fully shockproof. With batteries included, the LINK weighs less than one-half pound. It is 118 mm (4.65 inches) in height, 67 mm (2.63 inches) wide, and 16.6 mm (0.65 inches) thick.
The LINK is made with 316L stainless steel, which is commonly used in making fine jewelry and watches, and has a black PVD covering. It has gold and diamonds that add that extra layer of elegance and style along with four exotic leathers to further protect the device.
Talk time is 6.5 hours and its standby time is approximately 14 days. It has a 3.5-inch bar-type touch screen, a 16-million color screen resolution, and a high-definition five mega-pixel auto-focus camera. The camera supports JPEG, GIF, BMP and The LINK can play music for 11 hours, supporting MP3, AAC, AAC+, RA, and WMA formats. For connectivity, it supports Bluetooth, AGPS, WiFi, and WAPI. It is compatible with any SIM card.
The LINK's 2.2 Android operating system enables high-speed connectivity and can download more than 250,000 applications. It comes equipped with Adobe Flash Reader, Google Search, Google Maps, YouTube, and E-Blogger. It also features numerous TAG Heuer-developed screen designs, widgets, wallpapers, icons, and ringtones.
The TAG Heuer LINK joins the Meridiist, being the firm's second foray into high-end personal communications instruments. Pricing for the LINK starts at €4,700 (approximately $6,825).