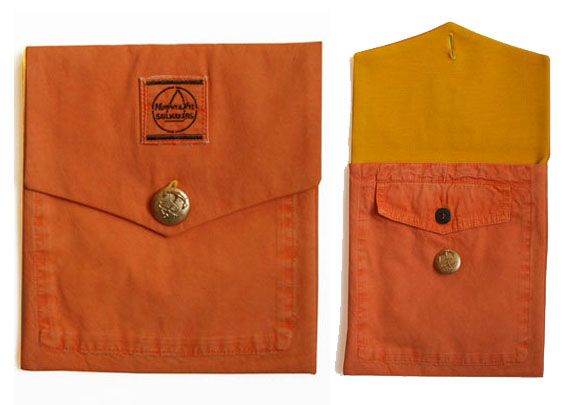 Photo Courtesy of Frederick James
If you just got yourself a shiny, new iPad, then youíre definitely going to be in the market for a nice cover for it. There are lots of
luxury brands
out there creating fashionable and functional plastic, leather, and fabric covers to fit any style; but if you donít want to be like everyone else and donít necessarily care about fashion
or
function, then you might be interested in a cover from the The Bernie Madoff Collection by Frederick James.
No, Bernie Madoff isnít the next big name in fashion - heís the convicted felon who admitted to defrauding thousands of investors of billions of dollars. So what does one have to do with the other? Well, Frederick James, designer and manufacturer of
iPad covers
from rescued or vintage materials, obtained a limited amount of clothing from Madoff and decided to repurpose them into - what else? - iPad covers. Back to school shopping just got a little more interesting.
If you have $250 to drop on a crookís old pair of Banana Republic khaki pants, then you got yourself a piece of history. For $500 your iPad can roam around town in bright orange Murphy & Nye Sailmakers Pants (only two covers were made from this pair; get yours while supplies last!).
Again, if you're looking for a cover that will actually protect your iPad, this isn't it. Frederick James even states on their site, "The Frederick James iPad covers are NOT intended to be protective if you should drop your iPad while carrying it AT ALL." They also mention that even when your iPad is in the Bernie Madoff case, act as if it doesn't have a cover on at all. Practicality is overrated anyway.
Visit
FrederickJames.com
to order your one-of-a-kind "souvenir" from the largest Ponzi scheme in history.
Mason's Off-White Khaki Pants $350
Ralph Lauren Polo Chino Blue Pants $350
Banana Republic Gavin Khaki Pants $250
J.Crew Khaki Pants $250