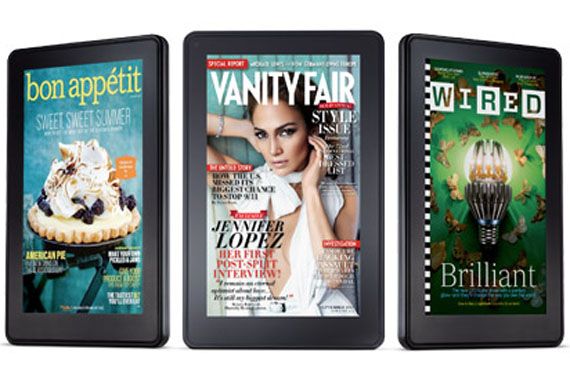 Photos Courtesy of Amazon
Amazon unveiled today the newest
tablet
in their line of Kindle devices. The Fire is a tablet operating on a modified version of the Android operating system with a 7-inch display and an attractive price point of $199.


The Amazon Kindle Fire offers access to 18 million movies, TV shows, songs, magazines, and books from the Amazon Marketplace, and offers free cloud storage for all of your purchased content. Hopefully this means that the company has straightened out the disastrous launch of their cloud music service.


The Kindle Fire is clearly a leading competitor for the Apple iPad thanks to its price tag, but consumers should consider what they really want to get out of their tablet before they make a purchase. In the last quarter, the Apple iPad grabbed 80% of the market share, according to Strategy Analytics, and their dominance comes from the various included features, many of which are also found on the Fire.

Consumption of media is what the Fire does best. If you want a tablet to replace bookshelves, stacks of DVDs, and daily newspapers, then Amazon's product is a great choice. The free cloud service and availability of titles is the real differentiator here.

The Amazon Kindle Fire comes up short, however, in a few areas when sized up against the incumbent Apple iPad. While it offers a web browser— Amazon Silk— the Fire only has wi-fi capabilities, not 3G. This makes it more difficult to access your media, since you have to search out an internet connection. The new screen is vibrant and colorful, which is great for movies and magazines, but this also means that the Fire has lost the easy-to-read Ink Pearl screen that made outdoor reading with Kindles so attractive.

The Fire also lacks the cameras that the iPad offers, making the Amazon version more of a one-sided device that merely receives media rather than having the ability to create and give back. Amazon makes up for this with their Whispersync technology though, which allows you to start a movie on your Fire, and pick it up right where you left off on your TV, provided its relatively-new and has the capability.

Apple has had trouble in the past getting publishers to sign on to their terms and conditions, which take a sizeable cut from their profits, but it seems that Amazon has accrued many exclusive deals to distribute digital content. Here, the Fire really has an opportunity to break up the iPad's market stranglehold, by providing magazines and other content that Apple has been slow to reach agreements with.

Deeper specifications and pre-order information can be found at Amazon.com, and the Kindle Fire ships on November 15.