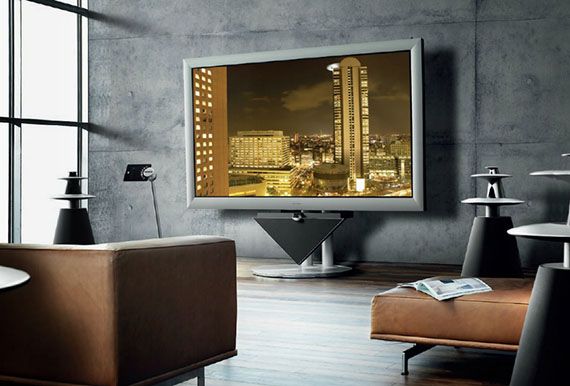 Photo Courtesy of Bang & Olufsen
Since their beginnings in the 1920s,
Bang & Olufsen
has pushed the boundaries of modern electronics, and their new line of plasma televisions continues this historic heritage. The BeoVision 4 comes loaded with many features you would expect only from the lair of a fictional superhero, to create a cinematic experience that your local theatre would be hard-pressed to match.
The Full HD 3D plasma screen on the BeoVision 4 not only promises stunning visual clarity, but their Automatic Colour Management system scans the picture on your TV every 100 hours and adjusts the color balance accordingly, while other sets just continue to age. Bang & Olufsen addresses perhaps the only thing worse than a screen tinged with age, by significantly reducing the glare that often seems beyond your control.

On top of the set is a sensor that continuously measures and adjusts to the ambient light in the room, much like the screen of your smart phone. The screen is also coated in an anti-reflective film, so that you see the movie instead of the person next to you on the couch. If all this technology still leaves you squinting, you can adjust the tilt and swivel of the screen with a simple command on the remote.

Another sleek motorized movement of the BeoVision 4 comes from the distinctive triangle-shaped main speaker, which gracefully lowers itself while the screen raises upon powering the system on. Combine these incredible features with the standard of quality that Bang & Olufsen is known for, and you have quite possibly the best 3D television to grace the market thus far.

The BeoVision 4 comes in 85- or 103-inch screen size options, and you can experience them first-hand at their new Beverly Hills showroom.

For more information about this, and more amazing products, visit Bang&Olufsen.com.