By James Rothaar Aug. 29th, 2011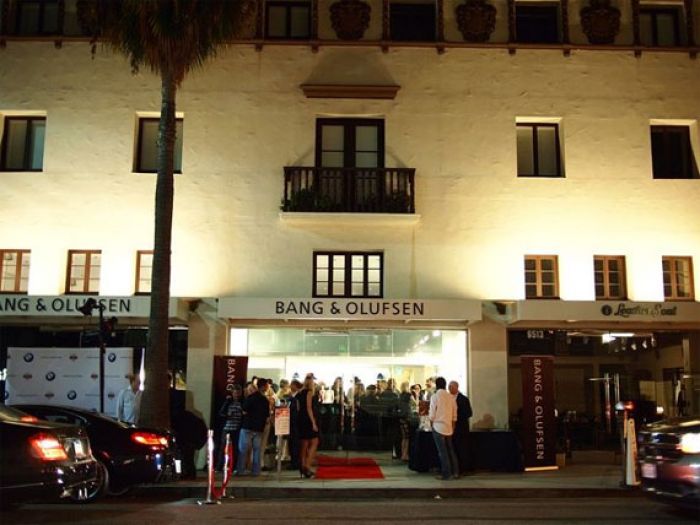 Photo Courtesy of Bang & Olufsen America
Upscale audio and video product producer Bang & Olufsen opened a new showroom this week in Beverly Hills. The new 1,300-square-foot showroom, at the intersection of Rodeo Drive and Santa Monica Boulevard, augments the Denmark-based firm?s presence in the West Los Angeles community. There also is a B&O-owned store in West Hollywood.

"Bang & Olufsen is a world renowned luxury brand with a strong legacy of producing the finest audio and video products around the globe," said Zean Nielsen, president of Bang & Olufsen America.


"For the past three decades, we have been honored to provide Beverly Hills residents and visitors the Bang & Olufsen experience, and we have built a solid retail strategy surrounding the concept to maintain our branded showrooms in highly visible demographic areas."

According to Mr. Nielsen, the Beverly Hills store has always been one of the top-performing locations in North America for his firm. The newly opened showroom will be among the first to show the company?s 3D LCD and plasma televisions, including the BeoVision 4, which is a 3D, 85-inch screen TV that retails at $85,000 (see video below).

It was a festive day, as a morning-time reception for media as well as a special grand opening for customers occurred on Thursday, August 25, 2011. Attendees got to hear the Bang & Olufsen high-end Surround Sound System for the BMW 6 Series coupe along with having a chance to win a Bang & Olufsen product. Imperia Vodka was on hand to provide cocktails for the event.

The elite electronics company, which was founded in 1925 by Peter Bang and Sven Olufson, also makes audio and video products for the automotive and hospitality industries. A B&O sound system is installed in the new Audi A8 sedan. For more information, visit Bang-Olufsen.com.


{start-jlvideo}679{end-jlvideo}
James Rothaar
As an independent contractor, James has written content for Justluxe.com and other leading online luxury lifestyle magazines. Rothaar previously served as the senior-tenured staff writer for JustLuxe, having worked with the digital magazine since 2005. He resides in Jacksonville, Florida, and works as an independent marketing consultant and a freelance writer. James Rothaar has an MBA degree...(Read More)