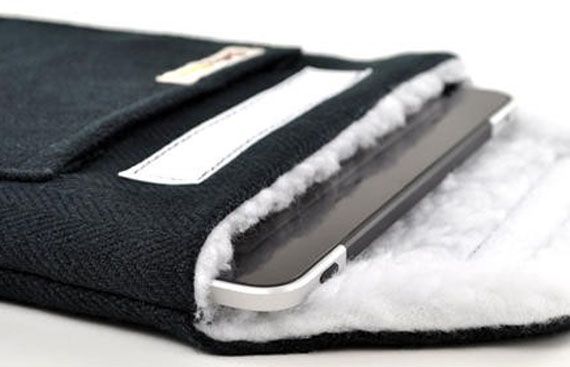 Photo Courtesy of Colcasac
If you received an iPod, iPad or iPhone over the holidays, itís important that you protect your smart device from getting scratched. Here are some accessories to shield your
ultimate electronics
:
We love the Colcasac Zagora
iPad case
(above, $40.00) that is specially designed for the Kindle, iPhone, iPod Touch and iPod Classic. Simply slip the device inside the pocket and Velcro seal it shut inside the heavily padded interior, which protects it from accidental drops and scratches.
For the iPhone4 +4S, be sure to check out the stylish Treadz by iFrogz ($19.99). The silicone protector looks like a tire and offers the added grip needed to protect against dropping.
Grace Digital Audio has introduced a waterproof Eco Pod with internal storage compartment that can also hold your keys, credit cards and cash while safely listening to music. The shock proof case is designed to withstand drops while the waterproof design offers one of the best designs in outdoor protection for the iPhone, Android or mp3 player ($49.99 new or $34.99 refurbished).
Now that you have all the protection for your devices, itís time for a little fun. Be sure to check out Griffin Technology. They recently introduced a remote-controlled helicopter that you can fly by iPhone, iPod touch and iPad using the HELO TC app which transforms the Multi-Touch display into flight controls ($49.99). Itís simple to control with two modes of flight available, including a touch display to control the throttle and joystick or simply tilt your device to move the helicopter back and forth. Trust us - you will have so much fun flying this twin-rotored, indoor helicopter around your house or office that you may want to go after a real pilotís license.
Photo Courtesy of iFrogz
iFrog's Treadz
Photo Credit: iFrogz
Photo Courtesy of Grace Digital Audio
Grace Digital Audio's Eco Pod
Photo Credit: Grace Digital Audio
Photo Courtesy of Griffin Technology
Griffin Technology HELO TC
Photo Credit: Griffin Technology