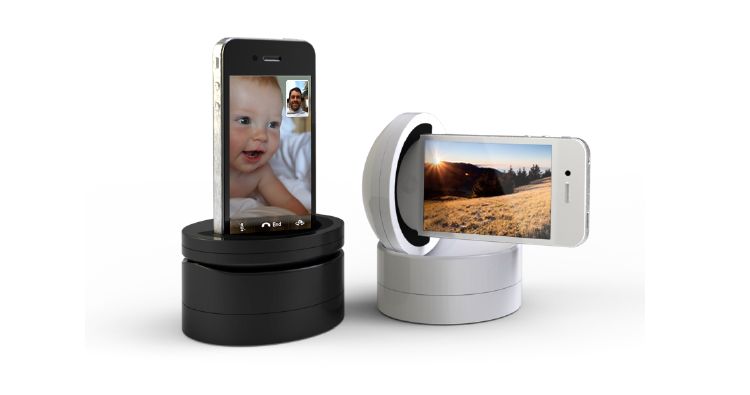 Photo Courtesy of Motrr
Motrr is a small design company based in Santa Cruz, California and their latest
gadget
, Galileo, is one iPhone lovers are sure to flock towards. The device is a small 360-degree rotating platform that your phone easily slots into, allowing you to record video and capture photos easier than ever before. Able to pan and tilt, Galileo gives the user more control than ever. The
luxury electronics
item is sleek enough that it looks like it could have easily been designed by the Apple team themselves, and we're sure the mega corporation is already kicking themselves for not thinking of it first.
The remote iOS-controlled device responds to your commands quickly and easily with a slide of the finger. The setup makes communication and photography incredibly easy. Say you have your iPod Touch set up on Galileo in your backyard so you can watch your kids playing while at work. If they move out of the frame, all you have to do is slide your finger along the screen of your connected iPad and direct Galileo in the right direction. Able to move at speeds up to 200 degrees per second, Galileo would be a great addition to any photographer's arsenal, whether you're a professional or amateur, or even someone who wants to stay connected with distant loved ones.lltitle=Galieleo iPhone Device=iPhone camera users, rejoice! A new iPhone gadget helps the professional or amateur photographer capture photos and videos steadily with the iPhone 4 or 4s. Galileo by Motrr is a small 360-degree rotating platform that allows you to capture images easier than ever before by simply sliding the phone into the device. Able to pan and tilt, the remote iOS-controleld device responds to your commands quickly and easily with a slide of the finger, and even connects with other Apple products through which to control Galileo and even stream live video.
Galileo would also be perfect for anyone wanting to explore time-lapse photography. Recently we told you about
Syrp's Genie
, which brings time-lapse photography to the masses, but even that device may be more complicated than what you're looking for. Galileo is like Syrp's little brother; all you need is your iPhone to get started.
The neat device features a tripod screw so it can be mounted an any tripod, as well as a rechargeable lithium polymer battery to make use even easier. It even charges your phone while it's plugged in so you don't have to worry about battery life. Coming in white, black, or green, Galileo is also great for app developers because of its software development kit (SDK). One would be able to integrate the gadget in existing apps or build new apps around its capabilities.
Galileo was put up on
Kickstarter
looking for funding and set their sights on a goal of $100,000. They've since been backed by over 5,000 people, with a current total of $702,427 reached. If you want your own unit before they're eventually put on the market, with a $116.99 retail price, you can pledge $85 or more and have one shipped to you, with your choice of white or black. If you want the neat limited edition Kickstarter green, you need only pledge $95 or more. As per usual for Kickstarter, there are many different kinds of pledge options that get you more for your money. A pledge of $285 will get you a Galileo and an iPod Touch, while distributor packs go as high as $10,000 for 170 units.
The Galileo works with iPhone 4, iPhone 4S, iPod Touch 4th Generation, and even a GoPro camera. It can be controlled by an iPhone 4, iPhone 4S, iPad 2 and 3, iPod Touch 4th Generation, and any web browser.
For more information visit
Motrr.com