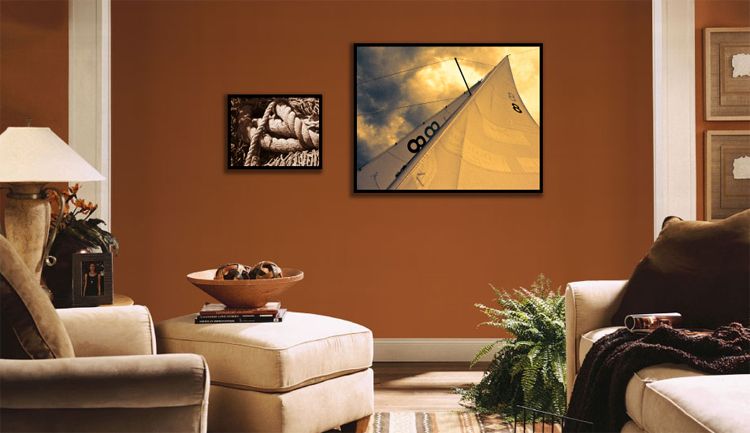 Photo Courtesy of aFrame by TrueAudio
Whether you've experienced this or not, truly
Fine artwork
has the potential to stir your senses and evoke feelings that you never knew you had. With the aFrame Speakers by TruAudio you can expect your art viewing experience to get a lot louder. TruAudio's product allows you connect your Bluetooth-enabled device to a high fidelity speaker system, which is cleverly hidden in your favorite piece of art. If you've ever felt that a Picasso is in need of a Rolling Stones soundtrack or a Georgia O'Keeffe could use a little Sarah McLachlan, then give the TruAudio aFrame a look (and a listen).
This innovative product allows you to choose from the aFrame gallery of artwork (including graphic art, limited edition artwork, oil paintings, watercolors, drawings and photography), which will then be printed on an acoustically transparent material with eco-friendly ink. Each aFrame is installed with a digital amplifier, Bluetooth receiver (which allows you to connect your iPhone and iPad), two 6.5" glass fiber woofers and two titanium tweeters, giving you great sound quality to go with your chosen image. Dimensions start at 16" x 20" and depending on the size of your particular piece, the internal speakers can be built up to several feet in width.
Your artwork choices aren't limited to what's on the site, which is something we especially love. If you don't see anything you like in their selection, you can send the company the exact image you want, whether it be a family photo or a neat shot you captured while traveling in Africa. Another neat perk is that you can interchange between many different speaker covers, altering the look of your one speaker, because the image is attached to the frame via a removable grill.
With prices starting at $795, these
luxury speakers
could easily spruce up any dwelling, from bachelor pads to family homes.
For more information please visit
aFrameAudio.com